Mass killings: MP seeks apology from Centre
Patiala, October 29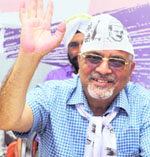 Patiala MP Dr Dharamvira Gandhi has demanded that the Central Government apologise for the various mass killings in the country in the forthcoming session of Parliament that begins on November 1. Citing the example of the Canadian Government that recently apologised for the Kamagata Maru killings in 1914, Dr Gandhi said the Centre had not apologised for several such incidents. "Thousands died in Delhi during the 1984 anti-Sikh riots and several Muslims died in Gujarat riots, but till date no one has been punished. Both the Congress and the SAD-BJP government have been responsible for the murder of hundreds of youths in fake encounters held in the state," he added.
Focus on rehab, state may release 2,000 jailed drug addicts
Patiala, October 29
The state government is thinking of setting free 2,000 youths who are lodged in prisons on charges of possessing small quantities of contraband. The move is aimed at rehabilitating the youths.
Court hearing on Arjun Gill's petition today
Chandigarh, October 29
The anticipatory bail plea filed by Himachal Pradesh's former Director-General of Police (DGP) Gurpreet Singh Gill's son Arjun Gill in a dowry and attempt to rape case will come up for arguments tomorrow.
After plaza, bigger langar hall & serai on cards
Amritsar, October 29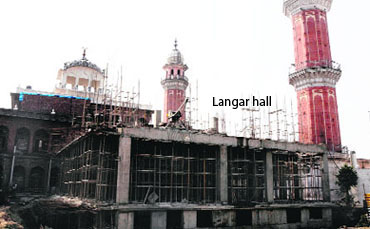 While the first phase of the Golden Temple Entrance Plaza has been inaugurated to facilitate easy movement of the pilgrims at the holy shrine, a couple of key projects like the expansion of the "langar" hall and the construction of a multi-storey "serai" to deal with the increasing rush are also inching towards completion. At present, Sri Guru Ramdas Langar Hall at the Golden Temple Complex can accommodate 5,000 pilgrims at a time.

Explain your dealings with criminals, SAD asks Bajwa
Chandigarh, October 29
The Shiromani Akali Dal (SAD) today asked Punjab Congress president Partap Singh Bajwa to explain his dealings with criminals and disclose why he used hardened criminals to browbeat his opponents in his own party during the Congress vice-president Rahul Gandhi's recent visit to the city. Bajwa, on the other hand, said these allegations were part of a malicious, motivated and mischievous smear campaign launched against him by ruling party.
Kairon has ties with smuggler, alleges Cong
Amritsar, October 29


Senior Congress leader from Tarn Taran Harminder Singh Gill today accused Cabinet Minister Adesh Partap Singh Kairon of links with drug smuggler Sahib Singh. The latter was arrested from Patti in Tarn Taran yesterday. Sahib Singh, a former BSF jawan and a resident of Patti, was nabbed by the state's special operations cell (SSOC) with 14 kg of heroin worth Rs 70 crore in the international market and Rs 9 lakh in cash.


Ban on stubble burning goes up in smoke
Patiala, October 29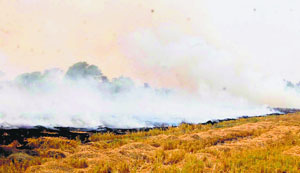 Call it lack of awareness or adamant attitude of the farming community, the unhealthy and dangerous practice of stubble burning continues unabated in almost all parts of the state. With the harvesting of paddy over, farmers have started burning paddy stubble despite repeated warnings by the Punjab Pollution Control Board.


Paddy straw on fire in a field near Moga city. A Tribune Photograph
Protesting block chiefs replaced
Ludhiana, October 29
Partap Singh Bajwa, PPCC chief, who is on a visit to Ludhiana, told The Tribune today that soon dissidence would be quelled and "all will fall in line and work as a cohesive unit."
Truck operators block road as union polls disrupted
Fatehgarh Sahib, October 29
A group of truck operators, supported by Akali MP Prof Prem Singh Chandumajra, blocked the GT Road in Sirhind after voting for the Truck Operator's Union, Sirhind, was stopped. They alleged that polling being held by the district administration was disrupted by a faction, led by senior SAD (B) leader Ranjit Singh Libra and former MLA Didar Singh Bhatti. The police had to resort to lathicharge to clear the road.
Two factions in tug of war over medical association elections
Patiala, October 29
The faculty members of the state-run medical colleges in Patiala and Amritsar are at loggerheads over the elections to the Punjab State Medical and Dental Teachers Association (regd). One group, led by Dr Harshinder Kaur, alleged the incumbent elected members, whose terms had expired, were holding onto office.
AAI shelves plan to set up airport in Ferozepur
Ferozepur, October 29
The proposal of the Union Government to set up a low-cost domestic airport in Ferozepur seems to have been shelved for now. While confirming the same, JP Alex, General Manager, Planning, Airport Authority of India (AAI), in his reply to a query, has stated that there is no plan at the moment to set up an airport in Ferozepur.
Muktsar de-addiction centre lying defunct for three years
Muktsar, October 29
The de-addiction centre in Chief Minister Parkash Singh Badal's home district Muktsar, has been lying defunct for about three years dashing to the ground the state government's claims of achieving a huge success in its drive against addiction.
Fazilka guest lecturers' strike enters Day 3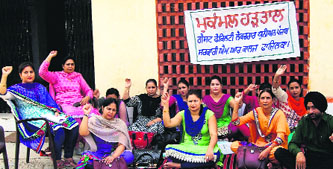 Fazilka, October 29
The strike of the 23 guest lecturers of the MR Government College in Fazilka entered its third day on Wednesday. The lecturers have alleged that they are being underpaid by the college management.

Guest lecturers stage a dharna at Government College in Fazilka on Wednesday. Tribune photo

Tarn Taran clash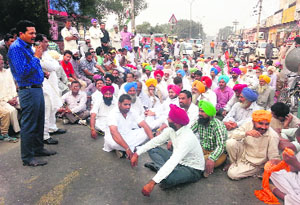 Cong activists protest tardy lifting
Sangrur, October 29
Members of the Kisan and Khet Mazdoor Cell of the Congress today blocked the Sunam-Lehra road at Sunam, about 13 km from here. Led by district chairman Rajinder Raja Bir Kalan, they protested the delay in paddy procurement. Inderjit Singh Zira, state chairman of the kisan cell, also participated in the protest.

Members of the Kisan and Khet Mazdoor Cell of the Congress block a road in Sunam on Wednesday. Tribune photo


Wheat MSP hike meagre: Amarinder
Chandigarh, October 29
Congress deputy leader in the Lok Sabha Capt Amarinder Singh today said the Rs 50 hike announced in the MSP of wheat was meagre. He said, "The comparative figures for the past 16 years—10 years of the UPA government and six of the NDA preceding that—stand testimony to the fact that the Congress-led UPA has always done better than the BJP-led NDA." He said while the average cumulative increase in paddy and wheat MSP during the Congress-led UPA government at the Centre was about Rs 70 per year, it was just Rs 11 during the BJP-led NDA rule between 1998 and 2004. TNS

Anganwari workers to protest in Badal village
Muktsar, October 29
Anganwari workers today announced they would protest at Chief Minister Parkash Singh Badal's native village Badal on October 31. They have been demanding that they be appointed supervisors in the state's Social Welfare and Child Welfare Department. The workers have been protesting near the Muktsar District Administrative Complex for 98 days. Earlier, in the day, they blocked traffic near the DAC to lodge their protest. TNS

'Run for Unity' tomorrow
Chandigarh, October 29
BJP national secretary Tarun Chugh today appealed to the people to participate in "Run for Unity" on October 31 as a tribute to "Loh Purush" Sardar Vallabh Bhai Patel. Chugh said that Prime Minister Narendra Modi had given a call to the nation to observe the birthday of Sardar Patel as "Rashtriya Ekta Divas" (National Unity Day) and appealed to the people to take part in "Run for Unity" on that day. TNS

Discussion on burning of paddy stubble
Sangrur: A discussion on the "Dangerous effects of burning paddy stubble" was organised by the Scientific Awareness and Social Welfare Forum, an NGO, here on Wednesday. Various participants said the state government should enact a law against the burning of paddy stubble to protect environment and preserve the soil. TNS



Hoshiarpur's Hundal in race for Mayor's post in US
Hoshiarpur, October 29
Narinder Pal Singh Hundal from Mahilpur in Hoshiarpur district, an India-born citizen of the USA, is in the race for post of Mayor of Sacramento (West), the capital of the state of California. The elections are scheduled for November 3. He would be contesting as a Democratic Party candidate against the sitting three-time Mayor. OC



Post-Matric Scholarship Scheme for SC students
Disburse fee to institutions, allowance to students: HC
Chandigarh, October 29
Acting on a petition seeking implementation of the Post-Matric Scholarship Scheme for the Scheduled Caste, the Punjab and Haryana High Court has set a four-month deadline for disbursement of fee to the institutions and maintenance allowance to the students. The development is significant as the Centre has sanctioned Rs 227.2 crore vide letter dated August 6 for the purpose.

HC notice to state on selection of 195 English masters
Chandigarh, October 29
The Punjab and Haryana High Court has put the state on notice in connection with a petition challenging the selection of 195 English masters and mistresses, who did not graduate with English (elective) as one of the subjects.

After hectic arguments, HC reserves verdict in Ashutosh case
Chandigarh, October 29
The impasse over Dera Nurmahal chief Ashutosh Maharaj's body in a freezer may soon be over. After more than two hours of hectic arguments, questions and cross-questions, the Punjab and Haryana High Court today reserved its verdict on a petition filed by Dalip Kumar Jha for handing him over his "father" Ashutosh Maharaj's body for the last rites.

Jamalpur killings: Status report filed
Ludhiana, October 29
The team probing the murder of two Dalit brothers in a fake police encounter at Jamalpur in Ludhiana on September 27, filed a status report today. Police officials remained tight-lipped about the report. So far, four persons, including SAD leader Gurjeet Singh, constable Yadwinder Singh and Home Guard jawans Baldev Singh and Ajit Singh have been arrested. The report says that efforts are on to arrest constable Sukhvir Singh, sources said.



5 cops dismissed for extortion
Batala, October 29 Batala Senior Superintendent of Police (SSP) Manminder Singh has dismissed five policemen allegedly involved in an extortion case. A senior police officer said the dismissals would send out a strong message to junior-level policemen. "The district police chiefs are following DGP Sumedh Singh Saini's orders in letter and spirit to get rid of the black sheep in the Punjab Police," the officer said.

Theft case: People who 'thrashed' Rwanda nationals go scot-free
Jalandhar, October 29
The police have failed to take action against those who allegedly beat up two students from Rwanda yesterday. The students were reportedly thrashed on charges of stealing cash from a departmental store.

2 cops among 30 booked
Tarn Taran, October 29 Two gunmen, Tejinder Singh and Head Constable Nishan Singh, and 28 followers of the Divya Jyoti Jagriti Sansthan (DJJS) have been booked for the violent clash between dera supporters and activists of radical Sikh organisations at Jodhpur village near Tarn Taran yesterday.

Bodies of woman, 2 kids found in tank
Abohar, October 29
The bodies of Satveer Kaur (24) of Achadiki village in Abohar sub-division and her children — Praveen (3) and three-month-old Harpreet — were found floating in a water tank at their house in Sahuwala village (Sriganganagar) on Tuesday.

Two youths snatch bag with Rs 16 lakh
Faridkot, October 29
Two motorbike-borne youths allegedly robbed a commission agent's worker of Rs 16 lakh in Jaitu town of Faridkot on Wednesday afternoon.