| | |
| --- | --- |
| Chief Minister Virbhadra Singh during an exhibition displayed by cadets of the Rashtriya Military School at Chail in Solan district on Wednesday. A Tribune photograph | Chief Minister Virbhadra Singh presents an award to the students of the Rashtriya Military School on the occasion of their 89th annual day at Chail. |
Multi-specialty surgical camps in six districts from next month
Mandi, October 29
The government will hold multi-specialty surgical camps in rural areas of six districts of the state from next month. Under the National Rural Health Mission, surgical facilities will be provided free to people in support of Indira Gandhi Medical College, Shimla, Dr Rajendra Prasad Government Medical College, Tanda, private institutes and NGOs.
30% units in Baddi industrial area lack fire certification
Solan, October 29
Several incidents of fire in the state's industrial hub of Baddi-Barotiwala-Nalagarh (BBN) have come to the fore in the past few years. These have put a question mark over the fire-preparedness of the industries, despite them installing fire-safety equipments on their premises.


Women to get upper hand in agricultural, allied sectors
Kangra, October 29
To help women in enhancing livelihood opportunities in agriculture and allied sectors, the Chinmaya Organisation for Rural Development (CORD) started a project Mahila Kisan Sashaktikaran Pariyojana (MKSP) sanctioned by the Ministry of Rural Development here.

Women engaged in the MKSP at Nagrota Bagwan. Photo: Ashok Raina
'Benami' deals of 186 bighas out in Kasauli
Solan, October 29
A team of the Special Investigating Unit (SIU) has unearthed 'benami' transactions of 135.3 bighas in the Kasauli tehsil where fake agricultural certificate, duly attested by the revenue authorities, have formed the basis of land deals by a resident of Kalka town.
PCB issues notices to 50 Kullu hotels
Kullu, October 29
The Pollution Control Board (PCB) has issued notices to 50 hotels of the district after expiry of the no-objection certificate (NOC) required to operate commercial premises providing accommodation.
Angling body resents exemptions to hydro power producers
Palampur, October 29
The Himachal Pradesh Angling Association has resented the decision of the state government on account of exemptions granted to hydro power producers in the state. The association termed the decision catastrophic for the livelihood of thousands of fishermen of the state.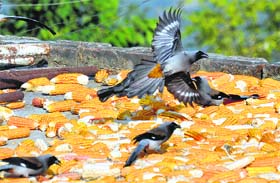 Feasting fliers: Birds enjoy corns on the rooftop of a building near Shimla on Wednesday. Photo: Amit Kanwar
Bali lauds Centre for redrafting motor Act
Shimla, October 29
Transport Minister GS Bali appreciated the efforts of the Union Transport Ministry for redrafting the entire Motor Vehicles Act. The Act had become redundant keeping in view the technological developments and market scenario, he said, while speaking at the 15th meeting of National Road Safety Council (NRSC) and 36th meeting of the Transport Development Council (TDC) held at New Delhi yesterday.
Traffic jams become bane for tourism in McLeodganj
Dharamsala, October 29
Traffic remained stranded for more than an hour in McLeodganj last evening. Hundreds of tourists and locals were stuck in the jam. The traffic jam, even in this lean tourist season, was a result of the mismanagement on part of the local authorities. The PWD contractor started laying the road to McLeodganj late in the evening, about 7 pm, despite the fact that it was raining.
Demand to probe assets of patwaris gathers pace
Shimla, October 29
The Citizens Rights Protection Forum (CRPF) today demanded Vigilance or CBI inquiry into the assets acquired by patwaris and kanungos, who they said operate like property dealers.
CMOs directed to raid ultrasound clinics
Shimla, October 29
The Director, Health Safety and Regulations, Rameshwar Sharma, today directed Chief Medical Officers (CMOs) in each district to conduct checks and regular inspections at ultrasound and genetic clinics in the state to ensure compliance under the Pre-Conception and Pre-Natal Diagnostic Techniques (PC and PNDT) Act.
Administration all set to give Nurpur a facelift
Nurpur, October 29
The local civic administration and Municipal Council (MC) are all set to keep Nurpur town neat and clean under the Swachh Bharat Abhiyan. Sub-Divisional Magistrate Ashwani Sood convened a meeting yesterday with the MC staff, office-bearers of local NGOs and beopar mandal units and formulated a strategy to give a facelift to the town.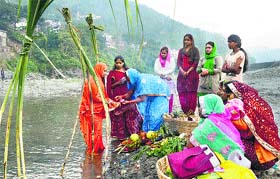 Together in devotion: Women offer Chhath prayers on the banks of the Beas in Mandi on Wednesday. Photo: Jai Kumar
School to benefit of Central govt employees' kids
Una, October 29
Scores of children of serving and former Central government employees will benefit from the state Cabinet decision to provide land on lease for a new Central school at Saloh village of Haroli Assembly segment in Una district.
Woman dies due to 'negligence' of staff at Nurpur hospital
Nurpur, October 29
Irate family members of a pregnant woman, who was admitted at the civil hospital here two days ago, created ruckus late last night after she died, accusing the nursing staff of being negligent.
Rollback hike in VAT on diesel: BJP spokesman
Una, October 29
State BJP spokesman and former minister Parveen Sharma today condemned the one per cent hike in VAT on diesel, approved by the state Cabinet on Tuesday. In a press release issued today, Parveen has demanded immediate rollback of the decision, claiming that it was an anti-people and anti-poor move.
Grading of IPH junior technical staff sought
Una, October 29
Office-bearers of the district Non-Gazetted Officers (NGOs) Federation, led by its chairman Vipan Rana, met Superintending Engineer of the Irrigation and Public Health (IPH) NK Trivedi to press for the grading of junior technical employees of Grades I, II and III here today.
Crash barriers on NH-21 soon
Mandi, October 29
In view of the rising number of road accidents, crash barriers would be installed on the National Highway-21 between Mandi and Jhiri in the district. This was decided at a district-level meeting on road safety here yesterday.
Athletics meet held in Tanda
Kangra, October 29
More than 200 medical students, both boys and girls, participated in different athletics and sports events organised by the Students Central Association here today.
Plan to check increasing ATM robberies in Una
Una, October 29
In view of increasing instances of ATM robberies in the district, a joint meeting of bank and Police officials was held today. It was presided over by Anupam Sharma, SP.
Illicit liquor seized, three booked
Mandi, October 29
The police seized illicit liquor from different parts of the district during the past 24 hours. The Sundernagar police today seized 4,000 ml of illicit liquor from Bihari Lal of Mandir Tanda in Balh tehsil of the district near the new Bus Stand.
Mother of abandoned infant traced
Kullu, October 29
The police have reportedly identified the mother of a newborn girl found dumped in a drain in Manali yesterday. The infant was spotted by residents and was admitted to Mission Hospital, Manali.