Going downhill, PRTC to sell its assets
Patiala, November 5
After being cold shouldered by the Punjab Government regarding its merger with the Punjab Roadways, Pepsu Road Transport Corporation (PRTC) is gearing up to sell its two properties to pay off its liabilities amounting to Rs 300 crore.
ASI among five held for kidnapping boy
Abohar, November 5
The Rajasthan Police today claimed to have nabbed Punjab Police Assistant Sub-Inspector (ASI) Surinder Singh and Constable Sukhwinder Singh aka Sukha along with three others for allegedly kidnapping Naresh Kumar (10). The boy was kidnapped from Jhalawar district last evening.
SAD unperturbed, may turn to old ally BSP
Chandigarh, November 5
Despite BJP's tough posturing, the Akalis are unperturbed. They say they are capable of contesting elections on their own, if need be. Maheshinder Singh Grewal, adviser to Chief Minister Parkash Singh Badal said the party had the ability to win any election on its own.
4 'militants' held near Nankana Sahib
Four suspected militants were arrested as celebrations of Guru Nanak Dev's 546th birthday got underway at Nankana Sahib near Lahore on Wednesday.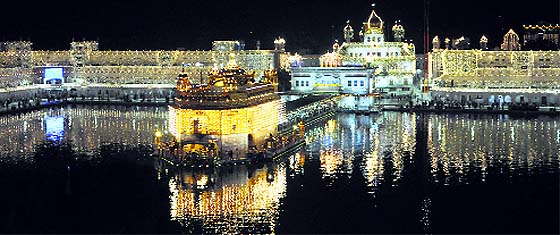 faith full:

(clockwise from top) The illuminated Golden Temple in Amritsar on the eve of Guru Nanak Dev's birth anniversary on Tuesday; a devotee plays a musical instrument as he walks with Panj Piaras; devotees carry Guru Granth Sahib in a palanquin; and a Sikh with a sword during a procession. Photos: Vishal kumar and

afp
Farmers 'capture' power station, switch on supply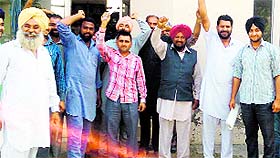 Moga, November 5
Anguished over unscheduled power cuts in rural areas, a group of farmers in Daudhar village of Moga district "captured" a power station and switched on the electricity supply to irrigate their crops.




Farmers protest outside a power station in Moga on Wednesday.
Work on waste management project begins amid protest in Jalandhar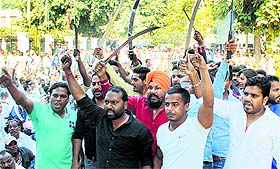 Jalandhar, November 5
Heavy police force was deployed in the city as work on the Solid Waste Management Project began today. The work has been delayed by over two years as safai karamcharis of the Municipal Corporation has been opposing the project.


Members of the Valmiki community protest the upcoming solid waste management plant in Jalandhar on Wednesday, Tribune Photos: Sarabjit Singh
PSIEC to start mining ops soon
Ropar, November 5
Under the new mining policy, the Punjab State Industrial Export Corporation (PSIEC) is likely to start operations at nine sites in the district at a fixed rate of royalty to supply cheap sand and gravel to people.
Arhtiyas on warpath, demand payment
Khanna November 5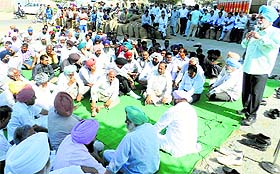 A large number of commission agents today sat in dharna in front of the Pungrain office here. Demanding payment, they raised slogans against the procurement agencies and threatened to block traffic.






Arhtiyas hold a dharna against delayed payments at the Khanna grain market on Wednesday. A Tribune photograph
PGIMER team approves site for satellite centre
Ferozepur, November 5
The visiting team from Post Graduate Institute of Medical Education and Research (PGIMER), Chandigarh, has approved a site near the Industrial Training Institute (ITI) to set up PGI satellite centre.
Two armoured regiments get President's Standards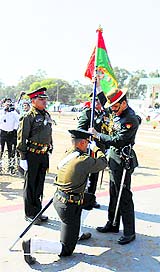 Gurdaspur , November 5
Dalbir Singh Suhag, Chief of the Army Staff (COAS), presented the President's Standards to the 50th and the 84th Armoured Regiments at an impressive ceremony held at the Mamun Cantonment today. Army officers from other countries also attended the event. The President's Standards are flags presented by the COAS on behalf of the President, the commander-in-chief of the Armed Forces. Army units that excel in the battlefield are offered the President's Standards. "The day commemorates the men of both the regiments who laid down their lives for the country," said an Army officer. Scores of T72 tanks gave salute to the Army chief at the sports stadium in the cantonment. Three Army choppers, one waving the Tricolour, flew above.


Army Chief Dalbir Suhag presents the award to the 50th Armoured Regiment in Gurdaspur on Wednesday. Tribune photo
Beas Dera chief meets Daduwal
Bathinda, November 5
The Beas dera head, Gurinder Singh Dhillon, met Sikh preacher and member of the ad hoc Haryana Sikh Gurdwara Management Committee (HSGMC), Baljit Singh Daduwal, at the latter's native village Dadu in Haryana today.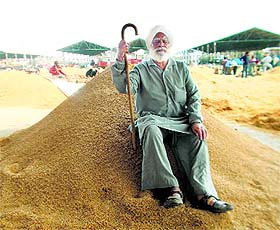 Endless wait

: A farmer awaits buyers for his parmal variety of paddy at the grain market in Abohar on Wednesday. Tribune Photo: Raj Sadosh
Games medallists to be awarded on Nov 11
Chandigarh, November 5
Drawing flak from award-winning sportspersons for dilly-dallying on cash rewards to them, the state government today announced that the players who brought laurels to the nation by winning medals in the Incheon Asian Games-2014 and the Glasgow Commonwealth Games-2014 would be honoured at Tagore Theatre, Chandigarh, on November 11.
Capt opposes punitive taxes on plot owners
Patiala, November 5
Former Chief Minister Capt Amarinder Singh today opposed imposition of retrospective and punitive taxes on colonisers and plot owners in unauthorised colonies in the state. He said it was arbitrary and unjustified on part of the state government to resort to such punitive taxation, particularly on residential plot owners residing there for over 20 years.
Animation film on Sikh history releases today
Chandigarh, November 5
The first animation film on the life of Chaar Sahibzadas produced and directed by Harry Baweja will be released world over on the birth anniversary of Guru Nanak Dev tomorrow. It has been produced in Hindi and Punjabi and dubbed in American English. The film is about the four sons of Guru Gobind Singh.
Two medicos suspended for ragging junior

Bathinda, November 5
Two students of Adesh Institute of Medical Sciences and Research (AIMSR), Bathinda, were today suspended for allegedly ragging a first-year student of Bachelor of Dental Sciences (BDS). The victim was admitted to the Civil Hospital with minor injuries.






Victim Manjit Arora with his parents at the Bathinda Civil Hospital on Wednesday. A Tribune photograph
Fewer Sangrur villages oppose liquor vends
Sangrur, November 5
Many panchayats have lost interest in passing resolutions against the opening of liquor vends in their respective villages since the authorities failed to shut these down. The Excise Department has rejected their resolutions on one pretext or the other. Only 50 panchayats passed resolutions against the opening of liquor vends in Sangrur district till September 30, 2014 against the 79 resolutions passed last year. The last date for submitting the resolutions was September 30. Out of the 79 resolutions passed last year, 46 were rejected by the excise authorities. Liquor vends were closed in just 12 villages. Moreover, liquor vends were shifted out of 10 villages.
Won't allow SYL canal: BKU
Ludhiana, November 5
Reacting to the Haryana government's proposal to resume work on the Sutlej-Yamuna link canal, the Bharti Kisan Union (BKU) today said that farmers would stoutly defend the state's rights under the riparian law.
Arjun Gill's bail plea dismissed
Chandigarh, November 5
The court of the Additional Districts and Sessions Judge, Anshu Shukla, today dismissed the anticipatory bail plea of Arjun Gill, son of former DGP of Himachal Pradesh.
Don't appoint PCS officers: HC
Tribune News Service
The Punjab and Haryana High Court has made it clear to the Punjab government that it can go ahead with the process of selecting PCS officers, but can't make appointments. The directions by Justice Mahesh Grover came after the Bench was told that a petition had been registered on adoption of unfair means by candidates at an examination centre.
HC: Can't issue directions for condoning lecture shortage
Chandigarh, November 5
The Punjab and Haryana High Court has made it clear that leniency in condoning shortage of lectures can be shown by the university authorities alone and it was not appropriate for the courts to issue such directions.
US court to hear `84 riots case on Dec 2
New York, November 5
A US appeals court will hear next month the 1984 Sikh rights violation case filed by a rights group against the Congress. The court will hear the case on December 2, Sikhs for Justice (SFJ) said, adding that its appeal was based on ground that the victims' claim against the Congress was not barred under US Supreme Court since plaintiffs in the case had been granted refugee status by the California Federal Court for being victims of the 1984 violence.