1984 riot- hit await justice; call for bandh today
Will pressure Centre to get justice for victims: Sukhbir
Bathinda, October 31
Deputy Chief Minister Sukhbir Singh Badal today said that his party would build pressure on the Centre to get justice for 1984 riot-hit families. He was in the city to inaugurate a road to Barnala and a railway overbridge.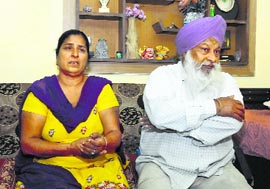 Money alone won't do: Victims
Mohali, October 31
Welcoming the compensation announced by the Central Government, the kin of those killed in the 1984 riots say that justice will be done only when the perpetrators of the crime are punished. Many of them are residing in Phase XI, Mohali. They said their wounds were still fresh and financial assistance alone would not heal these.

Riot-hit Inderjit Kaur and Lakhbir Singh at their Phase XI residence in Mohali on Friday. Tribune photo: Vicky Gharu

30 years on, their struggle far from over
Amritsar, October 31
A day after the BJP-led NDA government at the Centre announced Rs 5 lakh for the kin of each of those killed in the 1984 anti-Sikh riots, those who suffered loss of property said they too should have been given compensation.
Sikh bodies protest
New Delhi: Activists of Sikh organisations today protested at Jantar Mantar, demanding punishment for those behind the 1984 riots and a hike in compensation for them. They submitted a memorandum to the PM . Activists of the All-India Right Victims Relief Committee, the Sikh Forum and All-India Sikh Conference (Babbar) marched from Gurdwara Bangla Sahib to Jantar mantar. Sikh leaders said the plight of victims had worsened. They were yet to benefit from the Rs 715 crore package announced by them PM Manmohan Singh in 2005. The leaders demanded a SIT under a Supreme Court Judge to probe the riots.
FIR against ex-councillor of Congress quashed
Chandigarh, October 31
In a major embarrassment for the Punjab Government, the Punjab and Haryana High Court has quashed an FIR registered against Ludhiana's ex-municipal councillor Sukhchain Kaur after ruling that false implication in the case due to political vendetta appeared to be probable.
AAP wants CPS Avinash removed
Jalandhar, October 31
Activists of the Aam Aadmi Party today demanded the removal of Avinash Chander as Chief Parliamentary Secretary (CPS). The activists said they would hold dharnas and gherao Chief Minister Parkash Singh Badal and Deputy Chief Minister Sukhbir Badal whenever they came to the city if their demand was not met.
State's demand on fertilisers will be met: Union Minister
Abohar, October 31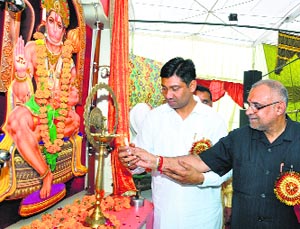 Union Minister of State for Fertilisers and Chemicals Nihal Chand has said that Punjab's demand for chemical fertilisers will be fulfilled. Speaking at a function organised on the occasion of the Gopashtami festival in Abohar today, he said, "A day after I took oath of office, Prime Minister Narendra Modi asked me to ensure that no farmer has to wait in queue at authorised fertiliser sale counters." The decade-long tiring practices would no longer be continued, he said.


Union Minister Nihal Chand and Rajya Sabha member Avinash Rai Khanna light traditional lamps before inaugurating a stray cattle shed in Abohar. a Tribune photograph

Hand over gurdwara to Daduwal, say villagers
Bathinda, October 31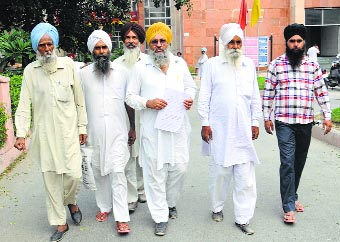 Residents of Kotshamir village have demanded that the district administration should wrest the control of their local gurdwara from SGPC member Amreek Singh and hand it over to Sikh spiritual leader Baljit Singh Daduwal. They have alleged that police personnel deployed in and outside the gurdwara were violating the sanctity of the religious place by consuming alcohol while on duty. The residents demanded they be removed immediately.


Kotshamir residents come out of the DC's office after submitting a memorandum in Bathinda on Friday. Tribune photo: Pawan sharma

COMMONwealth Parliamentary Association meet
Ensure equitable price for agri produce: Experts
Chandigarh, October 31
The three-day meet of the Commonwealth Parliamentary Association (CPA) concluded at Chandigarh today recommending all participating countries to ensure equitable prices for agricultural produce and continuing the minimum support price (MSP) regime for both staple and other crops.
Policy to harness solar power on anvil
Panjawa (Lambi), October 31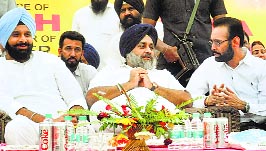 Deputy Chief Minister Sukhbir Singh Badal today said the state government was contemplating to install solar panels on the rooftops of tubewells and residential complexes under its new scheme, 'Net Metering for Renewable Energy'.


Deputy Chief Minister Sukhbir Singh Badal and Non-Conventional and Renewable Energy Minister Bikram Singh Majithia (left) at Panjawa village on Friday. A Tribune photograph

Paddy worth Rs 10 crore taken for free from farmers: AAP
Chandigarh, October 31
Questions are being raised over the weight of gunny bags that are used to fill the paddy procured by various government agencies. The Aam Aadami Party (AAP) today alleged that a fraud worth crores had been committed with farmers by the procurement agencies concerned. "The actual weight of an empty gunny bag varies between 450 and 500 gm, but it is shown as 700 gm in the official record. About 200 gm extra paddy is being taken from farmers for each gunny bag in this manner," said Kultar Singh, a senior AAP leader.
70% samples of curd in Sangrur district fail test
Sangrur, October 31
About 70 per cent samples of curd, 57 per cent of cheese, 36 per cent of desi ghee, 27 per cent of milk and 43 per cent samples of mustard oil collected from across the district failed to pass the test of food safety standards. These samples were collected during the past nine months by the health authorities and tested by the Food Analyst Punjab, Chandigarh.
Bullet hits farmer, kin seek compensation
Sangrur, October 31
The Ghabdan village panchayat and family members of 60-year-old farmer Baldev Krishan, who suffered a bullet injury in the neck on October 19 while working in his fields near the military firing range here, have demanded a compensation of Rs 2.5 lakh from the state government.
Rescued giant turtle put on public display at Chhatbir
Chandigarh, October 31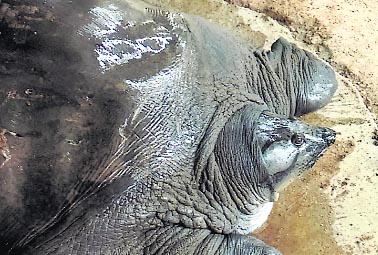 Though the giant turtle rescued from Rajindra Lake in Patiala city on October 24 got a new home at Chhatbir zoo today, the wildlife life authorities have failed to identity the species so far. The zoo authorities, which kept the turtle (weighting over 75kg) in captivity for over six days, have put the animal into a makeshift enclosure for public display.


The giant turtle rescued from Rajindra Lake in Patiala city on display at Chhatbir Zoo, near Zirakpur, on Friday. Tribune photo

Health team raids Moga hospital
Moga, October 31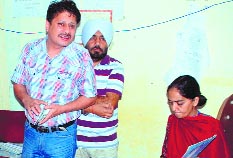 A team of the vigilance wing of the Health Department, with the help of the local unit of the state Vigilance Bureau, raided the District Hospital at Moga on Friday. Officials took into custody the record of issuance of birth and death certificates for the past six years. They inspected the functioning of the maternity ward, particularly diet and medicines being provided to pregnant and lactating women.


Dr Renu Singh, Vigilance Officer (Health Department), checks records at the District Hospital in Moga on Friday.

Diarrhoea scare in Moga
Moga, October 31
Panic has gripped the Asia's biggest grain market at Moga city after a large number of labourers fell ill due to suspected outbreak of diarrhoea and viral infections. Nine migrant labourers were admitted to the district hospital for treatment over the past 24 hours while many others were administered medicines and sent back home.


SGPC unveils blueprint of US Sikh centre
Amritsar, October 31
The SGPC has come out with the blueprint of the Global Sikh Centre for Learning and Information to be set up at Yuba City in California (USA) after a meeting of its Board of Directors in the USA ahead of its foundation stone laying ceremony.


landing behind bars
Jail official gets 3-yr RI for bid to help undertrial escape
Bathinda, October 31
A local court today sentenced three-year rigorous imprisonment to Ropar Assistant Jail Superintendent Gurdeep Singh and three of his accomplices for helping an undertrial try to escape in 2010. A fine of Rs 7,200 was also slapped on each of them.
Drug case: HC stays trial against Chahals
Chandigarh, October 31
Nearly 10 months after the Chahal brothers sought a CBI probe into the drug trafficking case on the ground of "shady, biased and malicious investigations" for shielding bigwigs "enjoying the patronage of the state", the Punjab and Haryana High Court today stayed the trial proceeding against them.
Lok adalat moved against Health Dept
Fatehgarh Sahib, October 31
Having failed to get the multiple disability certificate (MDC) for her 48-year-old husband from the Health Department, a 40-year-old woman has approached the Permanent Lok Adalat (PLA) seeking directions to the department to issue the certificate.
Two get life term for boy's murder
Ferozepur, October 31
The court of Additional District and Sessions Judge JS Mehrok on Friday awarded life imprisonment to two persons for the abduction and murder of a boy. Sukhwinder Singh and Vijay Kumar had hit Inderjit alias Ishu (12) with a stone repeatedly on June 21, 2011. Later, they had dumped his body in the Sukkar drain area on the outskirts of Ferozepur. The court has also imposed a penalty of Rs 25,000 each on the accused. OC


950 gm of smack seized
Abohar: The Sriganganagar police on Friday claimed to have nabbed Satpal Singh of Sadulshehar and Subhash Chander of Dabli Rathan with 950 gm of smack. Preliminary investigation reportedly indicated that the duo had procured a big consignment from Jhalawar and succeeded in supplying a part of it to drug peddlers in Abohar, Fazilka and Dabwali. — OC