MC officials suspend work
Panchkula, October 31
A day after a clash between a Municipal Engineer (ME) of Municipal Corporation and a contractor, the staff of the MC today refused to work and staged a protest outside the MC office in Sector 14, here today.



Differences in BJP to the fore, again
Chandigarh, October 31
Differences between the local BJP unit and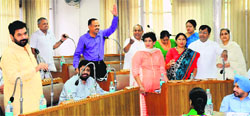 MP Kirron Kher are seemingly far from over. While MP Kirron Kher had recently said she was happy with the UT Administration and even thanked Administrator Shivraj V Patil and UT officials for their cooperation in solving residents' problems put forth by her, BJP councillor Saurabh Joshi during the MC House meeting today targeted Patil and even raised a slogan "Administrator go back".
Congress and BJP councillors argue during a House meeting of the Municipal Corporation in Chandigarh on Friday. Tribune photo: S Chandan
MC House rejects revision of house tax
Chandigarh, October 31
The general house of the local Municipal Corporation (MC) today rejected the agenda to revise rates of house tax.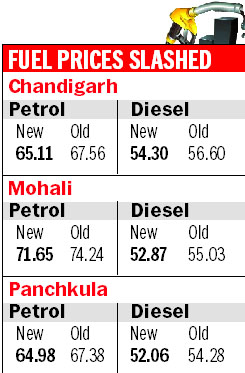 Personal behaviour, not alcohol, behind ruckus after drinks: Club owners
Chandigarh, October 31
During the evening hours of Wednesdays and Saturdays, one can easily spot women going out and drinking in popular clubs and pubs of the city. In less than a fortnight, two cases have surfaced where women created ruckus after getting drunk.
Unbiased Press necessary for country's progress: Minister
Mohali, October 31
Punjab Rural Development and Panchayat Minister Sikander Singh Maluka said today that nowadays the print media and the electronic media were being controlled by corporate houses and politicians.
Cases of voluntary HIV testing double in 5 yrs
Chandigarh, October 31
In what indicates the rising awareness on HIV transmission and its devastating effects, the number of individuals getting themselves tested for HIV infection has doubled in the past five years.
Panchkula gears up for cleanliness drive
Panchkula, October 31
The Panchkula administration is gearing up to start Clean Panchkula Mission, tomorrow, on the directions of new Haryana Chief Minister Manohar Lal Khattar.
City-Jaipur Volvo bus service from today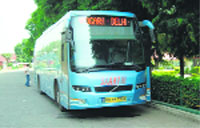 Panchkula, October 31
A Volvo bus service is being started by the Haryana Roadways from Chandigarh to Jaipur. Interestingly, the bus will be flagged off tomorrow at Narnaul by Haryana Transport Minister Ram Bilas Sharma. The Volvo will start from the Sector 17 ISBT at 7.40 am and will reach the Pink City at 8.30 pm. The fare has been fixed at Rs 820 per passenger.
Two women create ruckus outside night club in Sec 26
Chandigarh, October 31
Two women, who were allegedly in an inebriated condition, created ruckus outside a night club in Sector 26 during the wee hours of Thursday and broke the windowpanes of two cars, including that of local Congress president BB Bahl, parked nearby.
Suspected dengue death in Mohali
Mohali , October 31
A former Lions Club President died of suspected dengue here.
Over 700 participants run for unity
Chandigarh, October 31
More than 700 participants from varied segments, including prominent citizens, college and school students, senior citizens, morning walkers, enthusiastically participated in the "Run for Unity" from Sukhna Lake towards Rock Garden today.



City residents take part in a run for unity on Sardar Vallabhbhai Patel's birth anniversary at Sukhna Lake. (left) and Haryana Chief Minister Manohar Lal Khattar participates in the run at DAV College, Chandigarh, on Friday. A tribune photographs
Study tour: MC throws rules to the wind
Chandigarh, October 31
The Municipal Corporation threw rules to the wind to organise study tour. The fact was revealed when BJP councillor Satinder Singh presented guidelines framed by the UT Administration and the MC itself before the MC House today.
Auto operators resort to vandalism on Day 2
Chandigarh, October 31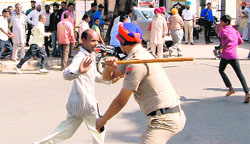 Commuters were at the receiving end for the second consecutive day as striking operators of diesel-run autos resorted to vandalism. They forcibly stopped CTU buses and LPG-run autos from entering Mohali and Zirakpur, as the UT authorities watched helplessly.


A policeman resorts to a lathicharge in Phase VI, Mohali, on Friday. A tribune photograph
Auto-rickshaw union continues strike
Zirakpur, October 31
Members of the Shan-e-Punjab Auto-rickshaw Union, Zirakpur, continued their strike against the UT Administration's decision to restrict the entry of diesel-run auto-rickshaws to Chandigarh.
From today, RLA to affix HSRPs of CH-01-AD series
Chandigarh, October 31
From November 1, the Registering and Licensing Authority (RLA) is going to start affixing High Security Registration Plates (HSRP) on vehicles having registration numbers of CH-01-AD series.
PU to have new fee structure
Chandigarh, October 31
From the next academic session, Panjab University will have two fee structures for inmates of hostels as the authorities are going to renovate a block in every hostel with modern facilities, especially for research scholars. This was decided at a meeting chaired by Vice-Chancellor Arun Kumar Grover with the members of a special committee constituted for this purpose today.
Fervour marks celebrations at PU
Chandigarh: Rashtriya Ekta Diwas (National Unity Day) was celebrated at Panjab University, Chandigarh, with fervour and enthusiasm. More than 1,000 students, researchers, faculty and non-teaching staff members, including PU Vice-Chancellor Prof Arun Kumar Grover, Registrar Col GS Chadha and all senior officers, participated in various activities conducted during the day. They also remembered the contribution of Sardar Vallabhbhai Patel on his birth anniversary.
PU youth festival ends on high note
Chandigarh, October 31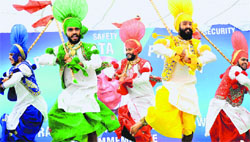 The last day of the 56th Inter-Zonal Youth and Heritage Festival was inaugurated by Haryana Chief Minister Manohar Lal Khattar at DAV Sector 10, Chandigarh.



Students perform bhangra during 56th PU Inter-Zonal Youth and Heritage Festival at DAV College in Sector 10, Chandigarh, on Friday. Tribune Photo: Pradeep Tewari
School bags best academic ranking
Chandigarh, October 31
Bhavan Vidyalaya, Chandigarh, clinched the all-India rank 1 on the parameter of academic reputation with a score of 95/100 in the Education World India School Rankings.
Students end fast
Chandigarh, October 31
Ramanpreet Singh from anthropology and Gursimran and Navjot from geology departments withdrew their indefinite fast.
Vivek High School to celebrate founder's week
Chandigarh, October 31
Vivek High School will celebrate its 19th founder's week from November 1 to 8 in the memory of Sardar Bhagwant Singh.
PECFest 2014 begins with fun-filled events
Chandigarh, October 31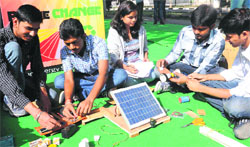 The annual techno-cultural fest of the PEC University of Technology, 'Hero PECFest 2014' began today. It witnessed a footfall of hundreds of people from colleges across the country. The fest started with the inauguration ceremony. Dr Manoj Arora, Director, PEC University of Technology, declared the fest open.
Students make a solar auto-rickshaw during an event on the PEC University of Technology campus in Chandigarh on Friday. Tribune photo: Manoj Mahajan
Students take out cleanliness drive
Chandigarh, October 31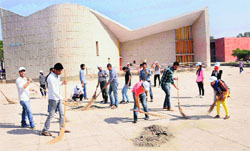 Following the footprints of the father of the nation and to turn his dreams into reality, the Department of Gandhian and Peace Studies, PU, today started a cleanliness drive of the Gandhi Bhawan pool on the campus.




Students during a cleanliness drive at the PU on Friday. Tribune photo: Manoj Mahajan
Play spreads awareness on breast cancer
Chandigarh, October 31
Saupin's School, Sector 32, Chandigarh, in collaboration with the Chandigarh Breast Cancer Trust staged a play, 'Zindagi ki Chhah' today.