Ferozepur-Chandigarh Express
Protest to resume service gets political backing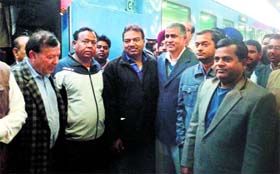 Ferozepur, November 2
The ongoing agitation over the delay in the resumption of Ferozepur-Chandigarh Express entered its seventh day today. Several political leaders and NGOs have supported the demand.




A file photo of officials flagging off the train on March 10. It was later discontinued.

Fearing fog, Northern Rly cancels 11 trains in state
Abohar, November 2
Fearing foggy weather post-Christmas, the Northern Railway have cancelled or partially withdrawn 34 trains. Of these, 11 super-fast trains will not run in Punjab for 47 days beginning December 31.
Rajasthan minister seeks check on water pollution in Punjab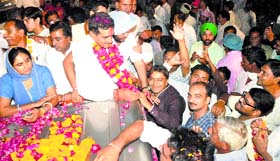 Abohar, November 2
On his first visit to hometown Hanumangarh after taking over as Cabinet Minister, Dr Ram Pratap today said the SAD-BJP Government should check canal water pollution.



Dr Ram Pratap being welcomed at his hometown Hanumangarh on Sunday. Tribune Photo

All's well with SAD-BJP alliance, says Badal

Jalandhar, November 2
Chief Minister Parkash Singh Badal today claimed all was well with the Akali-BJP coalition in the state. He blamed the media for "creating baseless reports of rift between the alliance partners".




Chief Minister Parkash SIngh Badal interacts with a student of a sports college during his visit to Jalandhar on Sunday. Tribune Photo: Malkiat Singh

To halt saffron influx, Cong turns to grassroots workers
Chandigarh, November 2
The Punjab Congress is alarmed at the saffron surge. Apprehending that the BJP may attempt "reverse polarisation" in Punjab too and contest the 2017 Assembly elections on its own, the PPCC is now trying to galvanise its grassroots workers. The BJP has already begun efforts to spread wings in the state's rural pockets.


Sowing crops without burning stubble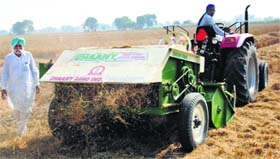 Rampura (Bathinda), October 2
While many farmers continue to flout the norms and burn paddy straw, an award-winning progressive farmer has found an alternative.




Darshan Sidhu with a shredder-chopper in Rampura on Sunday; and (right) paddy stubble on fire. Tribune photos: Pawan sharma

Camel milk in high demand to treat autistic kids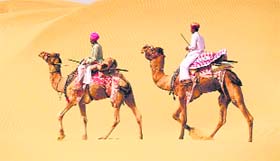 Faridkot, November 2
Following belief that raw camel milk is beneficial for mentally retarded children, particularly those suffering from autism, this drink of the nomadic people from Rajasthan is in high demand in the area.




desert delight: Nomads of Rajasthan give their kids camel milk

Now, file complaints online at common service centres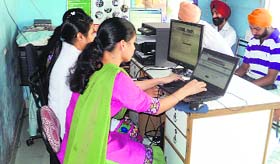 Gurdaspur, November 2
The Department of Administrative Reforms and Grievances has decided to let people file complaints online against bureaucrats at the 270 Common Service Centres (CSCs) in the district at nominal charges. People can file their complaints on publicgrievancespb.gov.in for Rs 10 each.


Residents at a common service centre in Gurdaspur. Tribune file photo

Industry opposes fresh charges levied by MC
Ludhiana, November 2
Demand notices to industrial units by the Ludhiana Municipal Corporation for depositing water and sewerage sharing charges have created a wave of resentment among industrialists. A joint meeting of industrial associations will be held here tomorrow to chalk out a strategy against the MC move.
695 detonators found near Kapurthala Cantonment
Jalandhar, November 2
The recovery of detonators and cartridges in the vicinity of the Kapurthala Cantonment today spread panic in the city.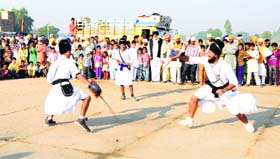 faith warriors:

Gatka artistes perform during a nagar kirtan taken out ahead of the birth anniversary of Guru Nanak Dev in Muktsar on Sunday. A Tribune photograph
4,000 Sikhs to visit Pakistan for Gurpurb celebrations
Lahore, November 2
Around 4,000 Sikhs from India and other countries are expected to reach Pakistan on Tuesday in connection with the 546th birth anniversary celebrations of Guru Nanak Dev. They will visit his birthplace Nankana Sahib in Punjab province.
Three Fazilka buildings get heritage status
Fazilka, November 2
The state government has granted heritage status to three historical buildings situated in Fazilka town. The Culture Affairs, Archaeology and Museum Department, Punjab, has granted heritage status to Raghuvar Bhawan, the Goal Kothi and the Bangla.
Govt must nab bigwigs in drug trade: Sharma
Chandigarh, November 2
The state BJP has decided to take up the issue of drug menace in Punjab with Prime Minister Narendra Modi and Union Home Minister Rajnath Singh. It has advised Chief Minister Parkash Singh Badal to show "political will" to nab the bigwigs involved in the drug trade.
1984 riots: Sikh outfits begin 'justice march'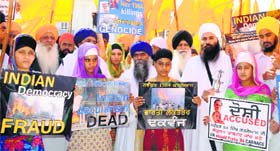 Amritsar, November 2
To commemorate the 30th anniversary of the 1984 riots, activists of various Sikh organisations, led by the Dal Khalsa, Damdami Taksal and SAD (Panch Pardani), today started a march under the banner of 'Rights and Justice March'.

Sikh activists take out a march seeking justice for the 1984 riot victims in Amritsar on Sunday. tribune photo: vishal kumar

State govt yet to lift ban on Kothari report
Chandigarh, November 2
A report on the 1984 anti-Sikh riots published by the Peoples' Union for Democratic Rights (PUDR) and the Peoples' Union for Civil Liberties (PUCL) continues to be banned in Punjab.
Tension over satsang by dera followers
Tarn Taran, November 2
Tension prevailed in this border district after activists of various Sikh outfits opposed a satsang by followers of Divya Jyoti Jagran Sansthan (DJJS) here today.


Man jailed for selling beef fat as ghee
Patiala, November 2
The Special CBI Court has awarded four-year imprisonment to four persons in the beef tallow case dating back to 1982.


BSF guns down smuggler, seizes Rs 110-crore heroin

Khasa (Amritsar), November 2
The BSF has gunned down an Indian smuggler and injured two others at Bohar Wadala border outpost in Gurdaspur sector. Two of their accomplices managed to escape.





BSF IG Ashok Kumar and other officials near Bohar Wadala in Gurdaspur. Photo: vishal kumar

Arms smuggling kingpin arrested
Faridkot, November 2
The district police today arrested Gursher Singh Pannu of Chandigarh, an alleged prime accused in the racket involving sale of smuggled firearms. He was travelling in a BMW car sporting red beacon in the town.
Crime on the rise in Batala
11 cases have been registered in the last 12 days
Batala, November 2
The Batala Police have come under fire with the incidents of crime on the rise in the city. Robbery incidents are being reported almost everyday in the city and adjoining villages. Eleven cases have been registered in the last 12 days.
10 tippers used for illegal mining impounded
Ropar, November 2
The police impounded 10 tippers and three JCB machines allegedly being used for illegal mining at Bhaddal village yesterday. The identity of the owner of the plant from where these machines were impounded was yet to be ascertained.
Nine arrested for theft
Fatehgarh Sahib, November 2
The Mullepur police have arrested nine persons, including six women, for stealing steel from various factories and shops in Mandi Gobindgarh and recovered seven quintals of stolen steel from their possession.