53 heritage buildings under fire threat
Shimla, November 2
Fiftythree heritage buildings are under fire threat here following 185 fire hydrants are out of order, fire detection is late and fire fighters remain ill-equipped and understaffed to meet any emergency. According to a fire prevention survey, out of 450 fire hydrants in the city, 185 are out of order. There are hydrants which do not fit into the fire-fighting hoses and equipment that results in loss of precious time, revealed firemen.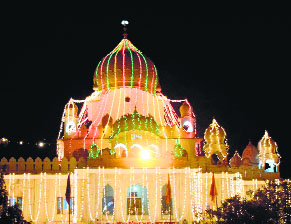 Gurdwara Guru Gobind Singh in Mandi illuminated ahead of gurpurb on Sunday. Photo: Jai Kumar

VIGNETTES
Honesty personified was RSS Chauhan
As the Chairman of the HP State Electricity Board, RSS Chauhan overheard a few officials chatting that the executives use official vehicles to come to workplace and then check the attendance registers to cross-mark those who come late without even having a feel of their difficulty that they face in footing the way.
DC orders probe into building fire
Shimla , November 2
District Collector, Shimla, Dinesh Malhotra today ordered a magisterial inquiry into the fire that destroyed the 104-year-old heritage Minto Court building that housed the headquarters of the Border Roads Organisation (BRO) Deepak Project. No computer and data was saved from the fire, said BRO officials. "But we are taking stock of the exact loss to the documents and data as we lost most of it", said Chief Engineer (Deepak Project) Brig SK Kataria.
Opposition flays CM's remark on Giri water plan
Solan, November 2
BJP general secretary Dr Rajiv Bindal today condemned Chief Minister Virbhadra Singh's statement on the Giri Potable Water Scheme. He said it was surprising that a scheme which was providing water to Solan residents since 2008 was being termed incomplete. The CM had yesterday said that the scheme was inaugurated in an incomplete state without commissioning a dedicated sub-station for its effective functioning by the BJP to gain political mileage.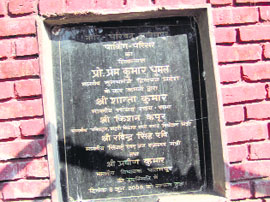 Cong has ignored previous govt's projects in Palampur
Palampur, November 2
The Virbhadra Singh Government has failed to take up the construction of a dozen development projects for Palampur town, for which foundation stones were laid by former Chief Minister Prem Kumar Dhumal and his Cabinet colleagues during the BJP regime between 2007 to 2012.

Former CM Prem Kumar Dhumal laid the foundation stone of a multi-storey parking project in 2008 but no sign of construction can be seen even after six years. Photo by writer

Baddi turns into hub of export units
Solan, November 2
The state's industrial hub of Baddi-Barotiwala-Nalagarh (BBN) is transforming into a hub of export-oriented units (EOUs) with more and more units shifting their focus to exports and giving up domestic production, after lapse of the Central excise benefit in March 2010.
Illegal slate mining goes on in Khaniara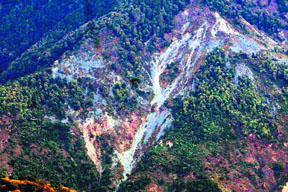 Dharamsala, November 2
Illegal mining is going on in slate mines of Khaniara as the state government has failed to deposit Rs 1.6 crore with the Union Ministry for Environment and Forests for mining. Due to the failure of the state government to deposit the said amount, the residents of Khaniara have lost the right to carry out for slate mining in the Dhauladhar hills.


The slate mining site in Khanyara village near Dharamsala. Photo: Kamaljeet

Excise Dept sees 20% hike in tax collection
Solan, November 2
The Excise and Taxation Department has registered nearly 20 per cent hike in its tax collection by September end vis-à-vis the corresponding period last year. The government aims to generate an added Rs 26 crore since Parwanoo houses a depot of the Indian Oil Corporation, which supplies oil across the state and would significantly enhance revenue collection in Solan.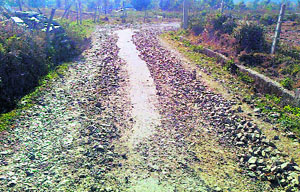 Roads on border in Kangra cry for attention
Palampur, November 2
Most of the state and national highways connecting Kangra district with the adjoining state Punjab are in a bad shape. Despite tall claims made by the state government, nothing has been done to repair these highways which were damaged during the last rainy season.

A potholed road in the Palampur region. Photo: Ravinder Sood

Admn to ban entry of heavy vehicles in Palampur
Palampur, November 2
On the directions of the state government, Palampur SDM Bhupinder Attari convened a meeting of residents of the town, including members of Beopar Mandal, Municipal Council, panchyat, police and NGOs, on Friday to discuss the traffic situation in the town.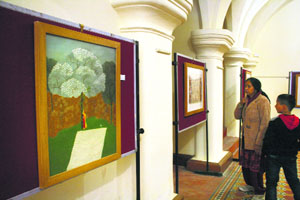 Art for art's sake: Visitors at a painting exhibition organised to celebrate 150 years of Shimla as the former summer capital of India at the Gaiety Theatre in Shimla on Sunday. A Tribune photograph

Shanta worried over rising bus mishaps
Palampur, November 2
MP Shanta Kumar has expressed concern over the rising road mishaps in the state. Speaking to mediapersons today, he termed the mishap near Chamba yesterday as unfortunate and conveyed sympathies to the families of the deceased.
Khara Danda road a nightmare for commuters
Dharamsala, November 2
The 4 km Khara Danda road from Dharamsala to McLeodganj is in a shambles. The road along the entire stretch is filled with potholes. The authorities concerned have failed to do patchwork on the road. It is also an alternative road to McLeodganj that is used during traffic jams on the main road.
Need to set up trauma centre in every dist
Una, November 2
A seminar on arthroscopy and endoscopy was organised for orthopaedic and general surgeons, besides anaesthetics, of Una district and Anandpur tehsil of Punjab by Kanwar hospital, Una, on Saturday here as part of the Continuing Medical Education (CME).
40 attend 2-day literary festival in Mandi
Mandi, November 2
A two-day literary fest Sangman-20 commenced here today. Nearly 40 litterateurs from across the country came to deliberate over various issues. Prof Anand Pradhan from Jawaharlal Nehru University said the author should write in favour of truth and justice, as in the present circumstances, efforts were being made to suppress the voice of the dissident.
Ban on animal sacrifice opposed
Mandi, November 2
Members of the Sarv Devta Sewa Samiti have opposed the decision of the High Court to ban animal sacrifice at religious places. At a meeting held today, Samiti president Shivpal Sharma said the entire dev samaj was taken aback with the decision of the court.
Patients screened for plastic surgery at camp
Una, November 2
Voluntary organisation Himotkarsh Parishad today organised a screening camp for patients in need of plastic surgery at the district Ayurvedic Hospital. Plastic surgeon Dr Puneet Pasricha of Pasricha Hospital, Jalandhar, screened 45 patients, who would be given free treatment at the hospital, said Parishad president Kanwar Hari Singh.
Raising Day celebrated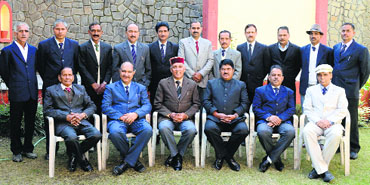 Mandi, November 2
Members of the Indian Ex-Servicemen Movement (IESM) celebrated the 72nd Raising Day of the Intelligence Corps with patriotic fervour at Chakkar yesterday.

Brigadier Khushal Thakur (retd) (third from left) and other former servicemen during the 72nd Raising Day in Mandi on Saturday. Photo: Jai Kumar

NGO holds annual function
Nurpur, November 2
The local branch of the Himotkarsh Sahitya, Sanskriti and Jan Kalyan Parishad, an NGO, organised its annual function here on the premises of Noorpur Public School, which was presided over by local MLA Ajay Mahajan. Presiding over the function, Mahajan lauded the social and public welfare activities of the parishad and contribution by its members without procuring any government funds. He also awarded trophies with citation certificates to winners of inter-school competitions in group songs, declamation contests and group dances. SP Sharma, senior vice-president of the parishad, briefed various social, cultural and public welfare programmes launched by the state unit of the parishad. OP Gupta, president of the local branch of the parishad, spoke on the activities undertaken by it during the past one year in the area. OC
Centre for all-round growth of state: MP
Sundernagar, November 2
The BJP government at the Centre is committed towards the all-round development of the state, for which several schemes for the betterment of women have also been launched. Mandi MP Ram Swaroop Sharma said this here today. He was here to attend the BJP mahila morcha conference of district units of Sundernagar and Mandi, where he was the chief guest. He said several development schemes pertaining to the Mandi parliamentary constituency have been finalised and the state government has been asked to do certain formalities for the execution of the projects. He later cleaned the premises of the historical Mahadev temple. OC
Woman sarpanch attacked
Mandi, November 2
The police have booked a villager for allegedly assaulting a woman panchayat president under Balh tehsil in the district yesterday. In a complaint to the police, Rewati Devi, Dusra Khabu panachayat president, alleged that when she was present at the site of Mahatma Gandhi National Rural Employment Guarantee Act work at Dusra Khabu, Gurdev Singh, a resident of the same locality, came there and started abusing her and also beat her up. The police registered a case under Sections 355, 341, 323 and 509 of the IPC at the Balh police station. TNS
21 hurt in Una road mishap
Una, November 2
Twentyone pilgrims, including three women and six children, were injured when a truck in which they were travelling in met with an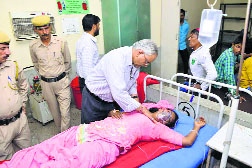 accident at Pandoga village in Una district today. The injured were from Ajaula village of Kapurthala district in Punjab and were going to pay obeisance at the Pirnigaha shrine in Una. Preliminary reports revealed that the driver decided to hit the vehicle against a roadside hillock after its brakes failed. The injured were shifted to the Una district hospital. A case has been registered and further investigations are on. OC

One of the injured being treated at the Una district hospital. Photo: Rajesh Sharma

Varsity bags Rs 73.7 lakh Central project
Solan, November 2
Shoolini University has bagged a Rs 73.71-lakh project under the Human Resource Development Scheme for creation of Infrastructure Development facilities for BTech and MTech food technology courses by the Ministry of Food Processing Industries (MOFPI), Government of India. A press release of the university said the assistance will enable purchase of 26 machines and equipment of food processing, one canning line and one dairy processing line. The financial grant also includes an assistance of Rs 5 lakh. TNS