More leaders write to Sonia against Bajwa
Ludhiana, November 6
The "oust-Bajwa campaign" allegedly being orchestrated by the Congress dissidents is not over yet. The previous day, around 40 individuals claiming to be the District Congress Committee (DCC) office-bearers tendered their resignation.
We don't want to part ways with BJP: Badal
Sultanpur Lodhi, November 6

Chief Minister Parkash Singh Badal today said he did not want to part ways with the BJP. But if the latter was adamant on doing so, the SAD had no other alternative but to accept the decision.




Chief Minister Parkash Singh Badal at Sultanpur Lodhi in Kapurthala on Thursday. Tribune Photo :Malkiat Singh

BJP unlikely to break alliance in near future
Chandigarh, November 6

Some BJP ministers have complained to BJP's Punjab affairs in charge Ram Shanker Katheria that they have not been given "complete" charge of their ministries. Katheria reportedly told them that the BJP did not want to walk out of the SAD-BJP government in the immediate future as this would amount to "murder of democracy."

State BJP chief Kamal Sharma (second from left) addresses the media in Amritsar on Thursday. Tribune photo

Modi govt punishing farmers for SAD-BJP differences: Bir Devinder
Chandigarh, November 6
Former Deputy Speaker Bir Devinder Singh today said the bitter discord between two alliance partners of the NDA-the SAD and the BJP-was adversely affecting farmers of Punjab.


After training, govt to register matriculates as health workers


Chandigarh, November 6
State Health Minister Surjit Kumar Jyani and Health Department officials are working on an ambitious plan to register one lakh matriculates as health workers after a month's training. They will administer first-aid in small towns and villages. "Their role will be limited to providing first-aid to people in case of medical emergencies," Jyani told The Tribune.
Health Minister SK Jyani
Soon, societies for sheltering animals
Nawanshahr, November 6
Health and Family Welfare Minister Surjit Kumar Jyani today said 17 new de-addiction and rehabilitation centres would be functional in the state in the next three months.
Govt releases Rs 250 cr for cancer patients
Chandigarh, November 6
The state government today released Rs 215.50 crore for various empanelled hospitals in the state where 18,185 cancer patients are being treated.
Exports to Pakistan resumes via Attari
Amritsar, November 6
After remaining suspended for three days in wake of Wagah terror attack, the trade between Indian and Pakistan through the Attari border is back on track with resumption of exports to the neighbouring nation from today. The imports had already restarted yesterday.
Stubble burning fuels breathing problems
Sangrur, November 6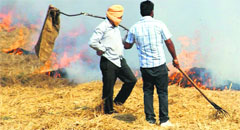 The number of patients facing respiratory problems has gone up in the area these days. The trend is being attributed to burning of paddy stubble in the fields by farmers. Doctors say the number of patients suffering from throat infections, allergic bronchitis, productive cough, asthma, itching and burning in eyes has doubled these days.
Preparing women prisoners for life after jail
Patiala, November 6

That all women want to look beautiful is no secret and murder convict 42-year-old Ranjeet Kaur (name changed) is no exception. She rushes to the newly opened beauty parlour behind the high-security walls of the Central Jail here on special occasions and whenever her relatives come to meet her.
Women jail inmates undergo training in tailoring and make-up in Patiala Central Jail.
Tribune photo: Rajesh Sachar
Year on, no travel agent applies for licence in Muktsar
Muktsar, November 6
Not even a single immigration/travel agent has applied for a licence in Muktsar district in the last year. Sources say the lax authorities are to blame. They have even failed to prepare the list of immigration firms and ticket agents and submit it to the district administration.
Delay in promotions: Doctors step up stir
Patiala, November 6
The State Action Committee, constituted by teachers of Government Medical Colleges in Patiala, Amritsar and Faridkot, has stepped up their stir over the delay in promoting teachers. They have intensified their protest since the Health Advisor to the state government, Dr KK Talwar, have sought the list of doctors awaiting promotion from these three medical colleges.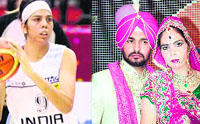 'Deserted' by husband, India ex-cager files FIR
Patiala, November 6
A former India basketball player, whose husband allegedly deserted her and went abroad, has filed an FIR against her spouse.


File photo of Harjeet Kaur
Anti-Sikh riots: Dal Khalsa seeks UN intervention
Hoshiarpur, November 6
Alleging that the Union Government has failed to provide a resolution to political conflicts in various regions of the country, Sikh group Dal Khalsa has appealed to the United Nations to intervene.
Gurpurb celebrated amid tight security in Pakistan
Amritsar, November 6
Thousands of pilgrims from India, Pakistan and other countries participated in Guru Nanak Dev birth anniversary celebrations at Nankana Sahib amid tight security arrangements by Pakistani agencies.
Kolkata's Victoria Memorial to display paintings on Sikhs
Kolkata, November 6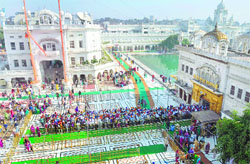 To celebrate Gurpurb, the Victoria Memorial Hall here has put on display a relatively modern miniature painting of the first Sikh Guru and plans to hold an exhibition of old paintings centred on the community next year. The miniature by W Kapoor Singh, a non-celebrity, shows Guru Nanak flanked by two others, one playing a musical instrument, in the shade of a tree.
Devotees wait in a queue to pay obeisance at the Golden Temple on Thursday. a tribune photograph
Kerry sends greetings
Washington, November 6
Greeting Sikhs on the birth anniversary of Guru Nanak Dev, US Secretary of State John Kerry today said that America stood with them in recognition of their shared values and a mutual commitment to human dignity.
Need for autonomy in education: Experts
Hoshiarpur, November 6
The GGDSD College, Hariana, in collaboration with Shiksha Sanskriti Utthan Nyas, Punjab, organised a one-day seminar on "Autonomy in Education". The keynote address was given by Atul Kothari, National Secretary, Shiksha Sanskriti Utthan Nyas, India.
Book on Bhai Kahan Singh released
Patiala, November 6
Punjabi University Vice-Chancellor Dr Jaspal Singh released book "Sangeetacharya Bhai Kahan Singh Nabha" written by Dr Ravinder Kaur Ravi, an assistant professor at the Music Department of the varsity. The book is based on music-related writings of Bhai Kahan Singh Nabha. The writer had earlier written two books-"Bikhre Moti" and "Itihaas Khandaan Raees Bagrian".Major AP Singh, great grandson of Bhai Kahan Singh Nabha, and head of the Music Department Dr Gurnam Singh was also present on the occasion. — TNS


No recovery from retd staff, SC told
New Delhi, November 6
The Punjab Government has informed the Supreme Court that it would not recover any excess payment made to class III and IV employees due to wrong calculation of the salary or other benefits.
HC grants interim stay on plea by Pune-based breeding firm
Chandigarh, November 6
The Punjab Government's notice asking the general public against procuring "semen straw" from non-governmental sources for artificial insemination of buffaloes and cows has given birth to a controversy.


Robbery at gunhouse: 2 of gang arrested in Faridkot
Faridkot, November 6
The district police arrested two members of a gang and recovered 10 stolen fire weapons from them last evening.
6 wanted for murder, burglary arrested
Hoshiarpur, November 6
The district police today claimed to have busted a gang of robbers with the arrest of six persons.
Four of Tarn Taran family shot at
Tarn Taran , November 6
Four members of a family sustained bullet injuries in a clash in Jaur village, 35 km from here.
Two held in Malerkotla murder case
Sangrur, November 6
The police today claimed to have cracked the blind murder case of an electrician whose body was recovered from a field at Ratolan village near Malerkotla on November 1. The youth, Mohammad Sameer of Malerkotla, had gone missing on October 29.
Extortion case: CIA raids Abohar house
Abohar, November 6
The CIA staff today reportedly raided the house of Rinku, an accused in an extortion case, on Street number 4 here. Rinku and Nagpal along with four policemen had allegedly extorted Rs 13 lakh from Satpal Aggarwal and his friend Ashok Kumar at Satpal's house in Sector-51 in Mohali on November 2. Though the four accused policemen have been nabbed, Rinku and Nagpal are still at large.
Cops taken to Jhalawar in kidnapping case
Abohar, November 6
The Hanumangarh police today handed over Punjab Police Assistant Sub-Inspector (ASI) Surinder of Patti and his accomplices to the Jhalawar police team in a kidnapping case. They had kidnapped Naresh Kumar Meena (10).