Punjabis' health needs a healing touch
Punjab, known for its brave warriors and hardy farmers, is under severe health stress. If the recent studies are to be believed, all is not well with the health of Punjabis. Lifestyle diseases like diabetes, hypertension and cardio-vascular diseases, have been increasingly afflicting farmers and their families
R. K. Luna
Punjab, forgotten as the land of five rivers, is now better known for the dirty waters of Buddha Nallah, the artery of diseases in central Punjab. Many a times, harmful quantities of uranium have been found in its groundwater known to cause cancer and a host of diseases and disorders to the women and children. The Malwa region, earlier famous for its rich cotton fields, has now been nick-named as the "cancer belt of Punjab".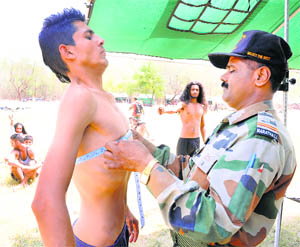 Punjabis are feted for their robust health but prevalence of lifestyle diseases has eroded their health quotient, according to studies
The recent studies by the Post Graduate Institute of Medical Education and Research (PGIMER) has brought out sensational revelations for the food bowl state. The report states that of pregnant women, 58 per cent are found to be anaemic and 4.9 per cent of these have severe anaemia. Among the children of 6-59 months, 43.4 per cent suffered from malnutrition. Not only this, 9.4 per cent children in this age group were found to be suffering from severe anaemia. The survey jointly conducted by the International Institute for Population Sciences, Mumbai and the Centre for Research in Rural and Industrial Development (CRRID), Chandigarh has unfolded that hypertension, a lifestyle disease, is tightening its noose in Punjab. Around 34.8 per cent population of the state is already suffering from it. Of the affected population, 11.3 per cent have moderately high and 4.3 per cent very high hypertension.
It may not be surprising as another study reported that 35.7 per cent in rural and 33.4 per cent in urban areas are liquor takers. Not only this, an increasing number of people in Punjab are tobacco users. The population of smokers in the cities has climbed to 14.2 per cent while it is 10.5 per cent in the rural areas. Besides 10.2 per cent men are reported to use other forms of tobacco to get a kick. This puts about four million Punjabis at the risk of developing tobacco-related diseases and of these, about one million are at the risk of dying prematurely because of tobacco use. The statistics are appalling.
Health indicators
The government may be complacent about the fact that the health indicators in Punjab are better than many other states, but a closer look will tell otherwise. The infant mortality rate places it at fifth rank in India. During 1981-2008, the infant mortality rate has dropped significantly from 81 to 41 per thousand live births but afterwards it has stagnated at about 30 per 1,000 live births, as against 23.8 in Kerala and 14.6 in Mizoram. Even the child mortality of 15.0 is not better than Himachal Pradesh, Goa and Jammu & Kashmir.
Whereas 93.0 per cent deliveries in Kerala, 79.3 per cent in Tamil Nadu and 90.9 per cent in Goa are institutionalised, in Punjab it is only 38.4 per cent. On the other hand, only 52 per cent children under the age of five years with diarrhoea receive oral rehydration therapy and only 13 per cent of under-five children with acute respiratory infections receive antibiotics. In Kerala, a person at birth is expected to live for 75 years, while in Punjab, the average life expectancy is about 71.4 years. The death rate which has declined from 9.4 to 7.2 during 1981-2004, has risen after 2005, inspite of advanced medical facilities. This is a cause of serious concern.
There are numerous studies that point to high incidence of cancer, skin diseases and abnormalities during new births. The first state survey of cancer victims in Punjab in 2013, revealed a high incidence of disease in the Malwa belt. The survey reported average cancer prevalence of 216 cases per lakh population and suspected cancer cases of 319 per lakh population. As many as 33,318 cancer deaths have been reported to occur in the last five years, yet another 84,453 persons had cancer like symptoms. Whereas Mansa district had the highest prevalence of 290 cases per lakh, Moga had the highest suspects of 565 per lakh of population. A series of studies conducted by PGIMER, Bhabha Atomic Research Centre and other reputed institutions have indicated that drinking water being supplied, particularly in the Malwa belt, was a cancer cocktail as it was a combination of pesticides, heavy metals, fluorides and nitrates. The area has emerged as the epicentre of diseases.
Unhealthy markers

Though the state is surplus in food, women and children are malnourished and have high rates of anaemia.

There is a high percentage of alcohol intake, smoking, drug addiction in the state.

The traditional food platter with diversity of leafy vegetables, uncultivated foods and coarse grains has been replaced with monotypic foods.

Many health indicators of Punjab are not better than other states of India.

Public health spending in the state has consistently gone down since the 1980s.

The cost of medical care both in public and private sectors in Punjab is the highest in the country.

Public healthcare has been divided into four departments without a coordination mechanism
Skewed sex ratio
Still another blow to Punjab is the preponderance of males over females. The sex ratio (females per 1,000 males) is a social indicator denoting the empowerment and equality of women in society. It is 893 against the national average of 940. The child sex ratio in the age group of 0-6 years though improved a bit from 798 in 2001 to 846 in 2011, but it is way behind the national average. This demographic imbalance has many ill-effects on the society.
In fact, Punjab is finding it difficult to achieve the Millennium Development Goals. The public health sector share out of the total budgetary expenditure has plummeted from around 9.0 per cent during 1980-81 to 6.97 per cent during 1989-90, 5.46 per cent during 1992-93, and further falling to 4.35 during 2004-05. The position is so pathetic that when Punjab spending on public health was only 5.5 per cent, states like Kerala and Rajasthan were spending 19.8 and 21.6 per cent, respectively between 2004-10. Therefore, spending on public health in Punjab is far from satisfactory. As a result of poor spending, the share of medical education, research and training has consistently gone down leading to deterioration in tertiary, secondary and primary healthcare. The situation can be gauged from the fact that population served per bed has increased from 817, during the early 1980s to 1555 during the last decade.
In a developing society, level of health should increase, if not proportionately, with the economic prosperity. By virtue of the robust economic growth and abundant granary, one might have expected Punjab to do better in other dimensions of utmost significance for human life as well. However, unfortunately it has not happened so far. There is no major increase in the number of government- aided health institutions in Punjab since 1990s. The grim picture of public health institutions can be estimated from the large number of sanctioned posts of doctors and paramedical staff which are lying vacant since the past several years.
The major factors inhibiting the growth of health sector in Punjab are the existence of a large number of small public health institutions, deficient in basic facilities and regular specialists, medical and paramedical workers, therefore making them hardly of any use to the public. Thus, despite having 5,601 public health institutions, including allopathic and ayurvedic dispensaries, primary health centres and hospitals, around 90 per cent of non-hospital health care and 67 per cent of hospital health care cases are handled by private health care services. Inability of the state in providing quality health care, particularly at the tertiary stage, deprives the underprivileged from accessing medical services. If the state's limited resources are consumed by the bigger private corporate hospitals promoted by the Government, the state's funding for the common cause of general public has to suffer.
Rising cost of medical care
An immediate concern of this policy is the rising cost of medical care in the state. Average expenditure for hospitalisation in Punjab, according to the Expert Group constituted by the state is as high as Rs 15,431 per hospitalisation, which is reported to be one of the highest in the country. Even in Government health institutions, charges are the highest at Rs 7,700 per hospitalisation. For cancer patients, the average cost of treatment is estimated to be Rs 2.75 lakh. Because of the high costs of treatment, cancer-affected families are forced to curtail their basic needs, including expenditure on food, child care and education, ultimately pushing them to poverty.
During the past years, Punjab Government has introduced two reforms in health sector viz. opening of health care services to the private sector and setting up the Punjab Health Systems Corporation (PHSC). The latter was established under the World Bank-sponsored project in which more than 150 Government health care institutions were transferred to PHSC. But both these measures have failed to improve health services in the state. Health care in Punjab has not only become costlier, but also selective. Another attempt by the Government to engage doctors and paramedics through Zila Parishads on a "service contract" basis since 2006 has also proved to be ineffective. As a result of compartmentalisation of health services between four different departments, disparities have emerged between the rich and poor, urban and rural people.
A state-specific health policy is the basic pre-requisite for changing the health scenario of the state. The health policy should take a holistic view of the state's health, identify requirements and priorities, set up objectives, and ensure optimal utilisation of allocated resources. The health policy should also give due care to curative aspects, alongwith preventive measures. Improving curative services include easy accessibility, service availability for longer duration, clean premises, provision of adequate medicines and diagnostic services under one roof. The policy must ensure regulation and monitoring of both public and private sector care systems.
Health care should be integrated with the public amenities like safe drinking water, sanitation, availability of nutrient supplements, removal of drug addiction and other occupational hazards in the urban areas. Insurance cover which is abysmally low, particularly in the rural areas, needs to be targeted through government programmes. Low out-of-pocket spending can be enhanced through expansion of healthcare insurance schemes like Rashtriya Swasthya Bima Yojana (RSBY).
Customer satisfaction
The private sector can play a vital role in improving the healthcare infrastructure, but without proper accreditation, few private players, are likely to gain credibility, resulting in lower customer satisfaction. Complaints abound that longer stays in hospitals than necessary often cause overbilling to the patients. Acts like overcharging of medicines, not treating weaker sections at compensatory rates have to be curbed.
Integration of health services in a more coordinated manner would help to reverse the low sex-ratio in the state which is based on gender discrimination on or after birth. It will also help in the process towards reduction of anaemia prevalence, better nutrition and provision of good healthcare and feeding practices. One of the factors working against good nutritional status is the fact that poor food preparation practices makes food deficient in nutrients.
Loss of diversity in Punjabi platter is also responsible for loss of nutrition to a greater extent. Growing a variety of organic food comprising herbs, leafy vegetables, coarse grains, in as natural way as possible, and use of traditional uncultivated foods can overcome the problem. In this respect, literacy of women can play an important role to bring the desirable effects.
Government must reverse its policies of realising maximum revenue through promoting the sale of liquor and cigarettes. The state must also not feel great about having seized increasing quantities of heroin or having arrested larger number of people involved in the drug trade. The government instead should focus on curbing the drug peddling by creating mass awareness and education.
Most of the non-communicable diseases like cancers, diabetes, cardiovascular diseases, chronic obstructive pulmonary diseases are due to the changes in the lifestyle and poor environmental indicators. Rise of diarrhoea and cholera in the urban slums can only be prevented by providing clean water and sanitation. When 21.70 per cent families are without toilets in the state, more toilets have to be provided to eradicate sanitation-related diseases.
Similarly, better ways of solid waste disposal, cleaning of rivers and providing safe drinking water to the public will take care of most of the problems in the state. The farmers must also exercise safe methods of cultivation without excessive use of chemical fertilisers and pesticides that ultimately are affecting their own health directly or indirectly.
—The writer, a retired Indian Forest Service officer, is the author of The Big Grain Drain