Punjab needs to build rural leadership
The rural population not only lives in poverty, the focus of development being urban-centric, villages remain backward due to poor infrastructure in education and health-care
Manjit S. Kang
Mahatma Gandhi remarked in the beginning of the 20th century, "The soul of India lives in its villages." The 2011 census revealed that about 69 per cent of India's population (>830 million) lives in more than 640 thousand villages, of population sizes varying from 500 to more than 10,000. Thus, India is mainly rural in character and rural development should receive greater emphasis than it has received before.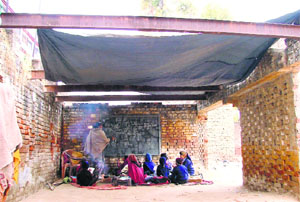 Students of Government Primary School, Jail Road, Ludhiana, sit on the floor with a tarpaulin for a roof. State of rural schools is worse
To find a suitable solution to any problem, it is necessary to know the causes of the problem. In Punjab, rural areas have two major problems: the lack of quality education and infrastructure. Many village schools lack teaching staff. Several schools do not even have a headmaster or principal. Government school buildings, in rural areas or urban, in most cases, are a shambles.
I recently visited a government senior secondary school for boys in a suburban area that caters to both rural and city students. That school had about a dozen vacant posts, which had not been filled for a long time. The school buildings, which were brand new in 1963, were in a state of disrepair. It is not just suburban government schools that are in such a deplorable state, the state of affairs is worse in rural government schools. Villages mostly have government schools. Private schools are coming up in some villages, but they are not affordable for all.
In Punjab, the difference in quality of education between rural and urban schools can be ascertained from the fact that according to a survey conducted by Punjabi University about a decade ago, Punjab Agricultural University's student population was about 95 per cent from urban schools and only about 5 per cent from rural schools; while in the 1960s, it was just the reverse. The main reason for the 95 urban to 5 rural student ratio was that Punjab Agricultural University (PAU) had started giving an entrance examination to 10+2 candidates for admission to the B.Sc. (Agri) and B.Sc. (Home Science) programmes. In the test, candidates who had completed their 10+2 education from urban schools would disproportionately outperform those who had received their 10+2 education from rural schools.
This was a clear indication of the poor education imparted in rural schools. Thus, PAU was filled with urban students, whether or not they were truly interested in agriculture. As a professor in the USA, I encountered many postgraduate students with B.Sc. (Agri) degrees from Indian agricultural universities, who, after getting admission in M.Sc. programmes in the USA, deceptively began taking courses in computer science or electrical engineering because they were not interested in agriculture to begin with, and had to face grave consequences for their actions.
This scenario calls for serious reforms in education in rural schools. While the PAU has started admitting students after the 10th grade to increase the number of rural students, it does not solve the problem of poor educational standards of rural schools.
Like Nobel Laureate John Boyd Orr has said: "You cannot build peace on empty stomachs"; similarly, we can say "you cannot build rural leadership on poor education". Quality education should be on top of the list for building leadership, as philanthropist Shiv Nadar has aptly opined, "My aim is to develop and build leaders for India. And that is only possible through good education." In my opinion, all rural schools should have agriculture as a subject.
Throughout India, another problem with education, in general, is the law that allows students to be promoted without examinations until the 8th grade. A corollary of this system is that teachers have also lost interest in teaching.
Basically, activities that enable rural leadership development need to be promoted for holistic rural development. These would include encouraging and empowering youth and women in accepting leadership roles. Farmers should form cooperative societies whereby they can pool their resources for purchasing expensive farm machinery, building infrastructure for protected cultivation of high-value crops (e.g., vegetables), planting and harvesting crops, storing foodgrains, and marketing. I know of several farmer groups who are successfully doing this and strengthening their financial condition.
Women must be involved in various activities through gender-sensitive approaches. For example, drudgery reduction (creating safe drinking water sources closer to their homes, improved stoves/ solar devices, etc.) , involvement in decision making, capacity building in technical skills, information technology, and leadership development, facilitating self-help groups (dairying, food processing, micro-financing, etc.), creating economic independence, and ensuring as well as encouraging women participation in Panchayati Raj Institutions.
Rural men and women must be made aware of grants that they can avail themselves of. For example, Ministry of Rural Development (Government of India) has earmarked large amounts of funds for Mahatma Gandhi National Rural Employment Guarantee Scheme, Ajeevka-National Rural Livelihood Mission, Rural Housing, Prime Minister's Gram Road Scheme, etc.
The National School of Leadership exists with the objective of making leadership education available to the common man and woman.
This School has started the "Lead India" campaign under which educational camps are organised in rural areas. Both teachers and students can participate in bringing to the rural masses leadership skills.
This can enhance the chances of rural youth of finding suitable jobs. The noted agricultural scientist, Prof. M.S.Swaminathan, has proposed to establish knowledge and resource centers in all villages. Through information and communication technology (ICT), rural areas can make much progress. Government of India has included knowledge connectivity in Program for India's Progress and approved funds for 10,0000 Service Centers to serve rural India. Jamsetji Tata National Virtual Academy, established in 2003, has more than 1200 grassroots educationists to pave the way for rural knowledge revolution.
— The writer is former Vice-Chancellor, Punjab Agricultural University, Ludhiana.