Reliving the memories of 1984
Thirty years after the anti-Sikh riots that raged in Delhi, there are no easy answers to these questions: What should the Sikhs do? Should they forget the past? Should they live in the past? Or should they live with the past?
Mohinder Singh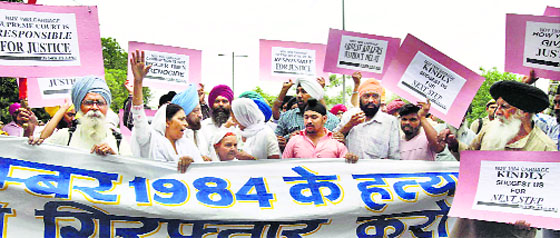 Justice delayed and denied:

A file photo of the victims of the anti-Sikh riots protesting at Rajghat in 2013. The State is either ill-equipped or unwilling to punish those guilty of perpetrating violence in these riots. If the troops had been called in earlier, at least the lives of about 2,000 people could have been saved. PTI
LET me begin my story from my diary of 1984, to be precise that of March 24. On that day I escorted my teacher Dr Ganda Singh to the Rashtrapati Bhawan where he was to be conferred the Padma Bhushan by Giani Zail Singh, the then President of India. In the glittering ceremony, I noticed Mrs Indira Gandhi, the Prime Minister, Members of her Cabinet and other dignitaries and distinguished citizens who were to be honoured for their contribution in different fields. After the ceremony when we were going out for tea, Dr Ganda Singh, who had some eye problem, banged into the glass door of the Ashoka Hall and his Padma medal and spectacles fell on the floor. Rajiv Gandhi, who was walking beside him, quickly picked up the two items and passed them on to him and gently escorted him till the tea was over.
Prominent Sikhs
Later that evening, the Guru Nanak Foundation had arranged a reception for Dr Ganda Singh. It was attended by almost all prominent Sikhs in the national capital with the late Khushwant Singh as the main speaker. While writing my diary for that day, I felt proud that the Sikh community, which constituted less than 2 per cent of the Indian population, has done so well in independent India. Some of the prominent names that came to my mind were those of Baldev Singh, the first Defence Minister of independent India, Surjit Singh Majithia, Deputy Defence Minister of India, Swaran Singh as the Minister for Defence and later External Affairs, Hukam Singh and Gurdial Singh Dhillon as Speakers of the Lok Sabha, Buta Singh, Minister for Parliamentary Affairs, Sport, Works and Housing, Dr Manmohan Singh as Governor of the Reserve Bank of India, Arjan Singh and Dilbagh Singh as Chiefs of the Indian Air Force and many Sikhs in other important positions. In spite of talk of grievances, some real and some imaginary, Sikhs were doing well in all walks of life, be it business, sports or services.
Little could I imagine that this best period in the history of the Sikh community would turn out to be the worst because of Army action in the Golden Temple, killing of Prime Minister of India, Indira Gandhi by two of her Sikh bodyguards and countrywide anti-Sikh riots that followed. On that fateful day, I happened to be in Chandigarh for an official meeting where we got to know that Prime Minister Indira Gandhi was dead though a formal announcement was made late that evening. While I managed to reach my home in Hauz Khas late that evening, what came as the first shock was to see the Green Park gurdwara set on fire. My family heaved a sigh of relief when I knocked at the door. In that group of 40 houses, I was the only turbaned Sikh. My immediate neighbours, all Hindus, were more worried about my safety than me. On the top floor, a young boy had stocked soda water bottles and stones to keep the mob away in case of any attack. Another neighbour who carried his service revolver offered to stay with our family the whole night to ensure that we were duly protected.
Alarming situation
On November 1, when violence spread throughout the city as a result of organised gangs taking over command of the anti-Sikh pogrom, the situation became rather alarming. I was advised by my teacher Prof Bipan Chandra to move to his home in the JNU campus. I was told that the mob was checking all vehicles at the IIT crossing, looking out for Sikhs and it was advisable for me to hide myself in a blanket and lie down in the leg space in the Ambassador car, with my wife and daughters occupying the backseat. My wife was advised to camouflage her identity by changing her dress. It was for the first time that I found my distinct identity, of which I always felt proud, had become my liability in spite of my opposing militant activity in Punjab and fighting the ideology of hate throughout my teaching career.
My daughters who faced this trauma for the first time could not understand as to what was happening in a secular country. My younger daughter asked as to who had killed the Indian Prime Minister. Before I could answer, Bipan Chandra replied, "Ideology of hate". She was too young to understand that it was this ideology which had led to the division of India and, later, the killing of Mahatma Gandhi who was opposed to any division on communal lines. That night I missed my sleep and kept on thinking how political parties use the ideology of hate for electoral gains. What disturbed me the most was the fact that Sikhs outside Punjab, who for their own reasons did not support the militant movement in Punjab, had become victims of mob violence for no fault of theirs.
Communal politics
In spite of my best efforts, I could not reconcile to the overnight change of the Sikh image from trusted lieutenants of the Indian State to a potential threat to its unity. I regretfully recalled how Punjab politics was communalised for electoral gains, with disastrous consequences for the Sikh community and the Indian State. The next day we heard about the violence spreading to different parts of Delhi and other parts of the country and the police and state machinery mutely watching this carnage. Later in the evening, Gopi Arora, a senior civil servant, asked Bipan for his advice as to how to check the growing violence. Bipan's answer was simple, "You control the media. Let the TV and radio keep on announcing rioters being killed by the police." But HKL Bhagat, who was the Minister for Information and Broadcasting, had other plans up his sleeve. On the contrary, he wanted to use the media to create a mass hysteria against the Sikhs, with an eye on the forthcoming Parliamentary elections. The Mishra Commission noticed that when Mrs Gandhi's dead body was lying in state in Teen Murti, a group of people walking passed the body raised slogans, "Khoon ka Badla Khoon," which was duly covered by the country's only television channel, Doordarshan, and repeated 18 times for obvious reasons.
Attacks and pelting stones on the cars in the entourage of the President of India, who rushed to the AIIMS, soon after his return from Yemen, and other incidents of October 31, 1984, are mentioned by the Nanavati Commission as "first signs of public resentment resulting in an angry outburst in Delhi," but what happened for three consecutive days and nights between November 1 and November 3, in the national capital in the presence of heads of many countries who had joined in the national mourning, could not have happened without a free hand given to the organised gangs consisting of party workers and criminal elements from different political outfits. Gangsters armed with weapons of destruction like pistols, petroleum and other inflammable materials surrounding hapless Sikhs inside their localities and houses points toward an organised pogrom.
According to the Mishra Commission, "If troops had been called on the morning of November 1, 1984 and Army columns had been moving in the streets properly, lives of at least 2,000 people could have been saved." According to Nanavati Commission's report, "There is enough material on record to show that at many places police had taken away their (Sikhs) arms and other articles with which they could have defended themselves against the attacks by the mobs."
According to the Nanavati Commission, at some places mobs indulging in violence were allowed to use DTC buses or other vehicles belonging to the State Transport Corporation. The modus operandi of the attackers was almost the same in various localities. The attackers "either came armed with weapons and inflammable materials like kerosene, petrol and some white powder or were supplied with such materials soon after they were taken to the localities where the Sikhs were to be attacked."…. "Male members of the Sikh community were taken out of their houses. They were beaten first and then burnt alive in a systematic manner. In some cases, tyres were put around their necks and then were set on fire by pouring kerosene or petrol over them. In other cases, a white inflammable powder was thrown on them which immediately caught fire. This was a common pattern which was followed by the big mobs which had played havoc in certain areas."
The silver lining in the otherwise dismal picture was the role played by the well-meaning members of the civil society and organisations like the People's Union for Civil Liberties (PUCL), People's Union for Democratic Rights (PUDR) and the Sikh Forum. At that difficult moment when most of the Sikhs had taken shelter in the homes of non-Sikh neighbours and friends and poor widows and children taken to relief camps, it were mainly non-Sikhs, especially Mrs Mohini Giri and her colleagues from the Guild of Service and War Widows Bhavan, who rushed relief to Teliwara and other areas in East Delhi which were not easily accessible. Faculty and students of the JNU played a positive role in coming out in open defence of the hapless Sikhs, who had become objects of hate and ridicule overnight. It was only appropriate that when Sant Harchand Singh Longowal came to visit Delhi to express sympathy with the members of the Sikh community, the first thing he did was to visit the JNU, wherein he started his speech by thanking non-Sikh sisters and brothers for saving many Sikh lives.
While immediate relief was provided to the victims of the riots in different camps, no long-term strategy was planned for their emotional and economic rehabilitation and integration in the mainstream. VP Singh, who became the Prime Minister of India in 1989, in his wisdom provided small flats to the widows of 1984 riots in Tilak Vihar, Sector 16-J, Rohini and Garhi in East of Kailash, thus giving the national capital the dubious distinction of having "widows colonies" to be used as a votebank during every election. In spite of nine inquiry commissions, during the Congress, Janata Dal, NDA and UPA rule at the Centre, justice has eluded the Sikhs.
This shows that the State is either unequipped or unwilling to punish the guilty. In spite of the Mishra Commission fixing the responsibility of the Delhi carnage on Congress workers and criminal elements and giving a clean chit to Congress leaders, popular Sikh memory will neither forgive nor forget HKL Bhagat, Sajjan Kumar, Jagdish Tytler, Dharam Das Shastri and others for their role in the anti-Sikh riots.
Now that history has come full circle — from November 1984, when the Sikhs were hiding their identity and taking shelter in safe havens — to May 2004 when Dr Manmohan Singh, a turbaned Sikh, was elected to highest executive office of the Prime Minister of the world's largest democracy: What should the Sikhs do? Should they forget the past? Should they live in the past? Or should they live with the past? These are the questions to which there are no easy answers. —The writer is Professor of Eminence, Punjabi University, Patiala
Violence unleashed
* After the assassination of Indira Gandhi on October 31, 1984, by two of her Sikh bodyguards, anti-Sikh riots erupted on November 1, 1984, and continued in some areas for days, killing more than 3,000 Sikhs.
* Sultanpuri, Mangolpuri, Trilokpuri, and other Trans-Yamuna areas of Delhi were the worst affected.
* Mobs carried iron rods, knives, clubs, and combustible material, including kerosene
and petrol.
* The mobs swarmed into Sikh neighbourhoods, and arbitrarily killed any Sikh men or women they could find.
* Their shops and houses were ransacked and burned down.
* In other incidents, armed mobs stopped buses and trains, in and around Delhi, pulled out Sikh passengers and either lynched them or doused them with kerosene before burning them alive.
* Others were dragged out from their homes and hacked to death with bladed weapons.