OPED —

Women
When the victim is treated as accused
Rajesh Gill
LEGISLATION after legislation, amendment after amendment, seminar after seminar; and yet, every fortnight a woman lays down her life, suffocated by a system that refuses to respond to her grievances and deliver justice to her. Some time back in Haryana, two teenaged girls, with a bright professional career awaiting them, killed themselves because they could no longer bear the humiliation and hurt caused by repeated acts by some goons amounting to eve teasing and molestation.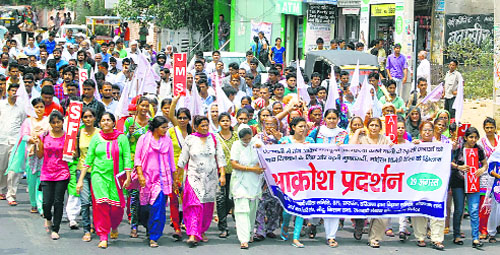 Women of social organisations protesting for a thorough probe into the suicide of the minor girls in Rohtak. They felt humiliated because they were being teased and stalked.
They definitely had shared their agony with parents, police etc., but yet found themselves fighting a lone battle.
Very recently, in a prestigious medical college in Punjab, a postgraduate student, a young woman, whose parents must have invested hugely both emotionally and financially towards her professional training and future, committed suicide because she found it unbearable and was tired of persistent harassment and torture.
Violated by relatives
Matter of shame

According to the NCRB Report of 2012, Andhra Pradesh tops the list of States in percentage contribution to incidence and rate of crimes committed against women at 11.53 per cent.


It is followed by West Bengal (12.67), Uttar Pradesh (9.65), Rajasthan (8.64), Madhya Pradesh, Maharashtra and so on.


Among cities, Delhi, the Capital of India tops with 14.18 per cent contribution to incidence and rate of crimes committed against women, followed by Bengaluru with 6.18 per cent.


It is significant to note that the largest megapolises which are supposed to symbolise gender equality and freedom unfortunately are the most unsafe places for women.
Need to enhance feminine qualities across genders
The culprit definitely here is the "masculinity", exhibited through an aggressive body language, vocabulary, habits and actions. Showing respect (especially to a woman); expressing concern; making sacrifices; resisting peer pressure; being soft and considerate; are all taken as feminine traits. Boys in Punjab and Haryana are trained to be aggressive, impatient, ambitious, disrespectful, ruthless and untidy. It is time these cultural norms and stereotypes are reversed. Imagine a society with only masculine traits (since women too are acquiring these in the name of gender equality); where impatience and violence rules. What we need instead is a feminine society where high value is attached with patience, affection, sacrifice and modesty.
Laws do not have the potential of wiping out the age-old cultural norms that actually govern our lives. These regulate our behaviour irrespective of what laws prescribe. While we are performing magnificently at policy making and legislation; things have really gone awry at the very basic level, i.e. within families, at school and in neighbourhood. Let us go back down to the basics in an endeavour to build a more respectful society.
Capital loss
Delhi has emerged as the capital of crimes against women with an unparalleled spurt in such incidents this year, every day of which on an average saw five rapes, 10 molestations, 10 kidnappings and two eve-teasing cases.Crimes against women — rape, molestation and eve-teasing-registered a five-fold increase in 2013, compared to in the same period last year. As per the data, registration of offences has jumped by a significant 35 per cent in 2013, as compared to 2012. There is a 56 per cent increase in crimes such as outraging the modesty of women involving assault and a 37 per cent rise in offense of insult to women
In a recent study on destitute women, one of my students has found startling facts about how scores of teenaged girls are violated by their own close relatives, supposed to be their protectors; and in case they run away from home to escape this persistent harassment, strangers, of course men, pounce upon them, at times leaving their progeny in their wombs, and causing permanent scars on their bodies and souls. Many of these victims get mentally disturbed in the process. They are unable to make out as to who impregnated them and how they can get out of this state.
As it happened in one of the short-stay homes in City Beautiful some time back, such mentally challenged women are continuously violated by the very men who are supposed to look after their wellbeing. The question is why do the laws meant to protect women become redundant at such moments? Does it then make any sense to have so many amendments and new statutes? After all, where is the problem?
Do we nip the evil in the bud?
Absolutely not! I have come across a number of women, rich and poor, young and old, illiterate and highly educated, sharing their stories of continuous humiliation caused by their male bosses, colleagues and even subordinates at the workplace, which goes on and on; despite repeated signals by them against such acts. Recently, a senior woman professor shared with me how when she was young and single, she was repeatedly complemented on her dress and physique by her senior male colleagues, despite her annoyance. Scores of young women research scholars have shared with me how they have been suffering embarrassment at the hands of their male supervisors and even Class IV employees, whose eyes are perpetually fixed upon their chest. The question is, why don't these women complain?
No courage to complain
Why do women not have the courage to complain? Yes this is a million-dollar question. Having been on several committees against sexual harassment at the workplace, my experience has shown that a majority of women keep on suffering acts of sexual harassment or even professional harassment not necessarily amounting to "sexual" harassment, quietly. A few of course muster courage and complain.
By and large, such women, an aggrieved party, are made to explain their position as if they are the accused. Not to speak of male colleagues, even their female colleagues and superiors would give them a smirking look, ridicule them and would often side with men, only and only because these men are at the centre of power. It is a pity that many of such women complainants get bogged down by such smirks and taunts, by their own sisters, getting into depression due to persistent stigma.
I have often seen both male and female members of committees against sexual harassment taunting the victims even when all evidence supports their accusations. In one such committee, when a young woman complainant appeared before the members, along with her father who supported her, one of the members commented: "Look! These girls take so much effort in looking beautiful and wear jeans-sheens; and then they complain that they have been sexually harassed."
Biased committee
I felt ashamed to be a part of a committee that was so patriarchal and biased. In another such committee, when a complainant came with her parents and narrated her painful experience of continuous harassment by a male teacher, two women members started counselling the parents "Look, if this complaint is pursued, your daughter will earn a bad name. She has to be married off too. So please give it a thought before you pursue your complaint." As expected, the parents gave in writing that they did not want to pursue it and withdrew their complaint.
Protector turns perpetrator
Very often, when an aggrieved woman gathers courage to lodge a formal complaint, she finds herself absolutely alone, with nobody to support her. Even the authorities to whom she makes a complaint, threaten her as if she is the accused. Instead of getting a sympathetic hearing from the authorities, even when it is prima facie a genuine complaint, she often has to fight a lone battle. This is mainly because in every case, men are in an absolute majority at the helm of affairs.
Fortunately, I have also come across men, though very few in number, who have the capacity to empathise with an aggrieved woman, yet most of them find these cases titillating and amusing. They are without any human consideration at all. Wherever a complainant gets justice, it is only and only because of the head of the institution. It is he/she who has a major role to play. If driven by sycophants, he/she is likely to play with the statutory provisions, on the other hand, one who has a moral commitment and guts, sees to it that justice is delivered to the genuine complainant, while a fake complainant gets penalised for misusing the statutory benefit. However, the greatest harm is done by the institutions which with their patriarchal approach refuse to adjudicate the issue with objectivity and integrity.
Victim pushed to the wall
While a majority are immune to facing personal comments, sexual gestures and gendered humiliations on a daily basis, only a few take the courage to expose such acts at the cost of their own career, reputation and peace of mind. Mostly, for them it is like banging their heads against a wall, with no response, no reaction, no sympathy; being pushed to the wall, to an extent, that the only way left to them is to end their lives. Only after a suicide takes place, the whole system comes into motion, though just for a few days, again waiting for another one, and the story goes on.
Raising one's voice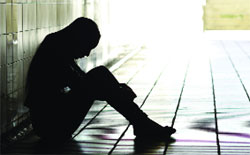 The question these lost lives leave thus is for all of us to answer: How long shall raising your voice against injustice remain an offence? A recently quoted statement by a senior judge explains the situation very appropriately. Justice R.S.Sodhi, former Delhi High Court judge said, "Exposing corruption per se is absolutely within acceptable norms of disclosure.....We must know the horses that are dirtying in the shed and get rid of them." (quoted in Excise Law Times, Vol. 307, Part 4:A143, September, 2014). It is high time we evolve a system that punishes the culprit and not the victim.
The writer is Chairman, Department of Sociology, Panjab University, Chandigarh