UT police move at a snail's pace, fail to file chargesheets in stipulated time
Chandigarh, November 3
The Chandigarh Police seem to be lethargic when it comes to filing chargesheets in the court within the stipulated 90 days. Some police stations in the city have a long list of cases in which there has been a delay of over a year in filing chargesheets.
Diesel autos: UT to assess impact on environment
Chandigarh, November 3
Close on the heels of the decision to ban diesel-run autos in a phased manner, the UT Transport Department today announced to conduct an environmental impact study of Bharat Stage-III diesel-run autos that have been allowed to run till March 31, 2015.
Battling odds, they show the way to the able-bodied
Chandigarh, November 3
Setting an example for others who lose hope in life, Sarita Dubey of Kanpur, who lost three limbs in an accident, showed her zeal for life through colours on the canvass with her foot. Giving a tough competition to other contestants taking part in the fourth National Abilympics under the art and craft category held in Chandigarh today, Sarita was seen making her canvass attractive by rapping it with a cloth using her foot, which plays the role of a hand for her.



Sarita shows her skills in artwork during the fourth National Abilympics at the National Institute of Technical Teachers Training and Research in Chandigarh on Monday; and (right) Ayub Khan assembles a bicycle during the event. Tribune photos: S Chandan
Patients can wait, ambulance being used for renovation work
Panchkula, November 3
Ambulances procured by the former Congress government under the Referral Transport Scheme to shift women and their newborn babies back home after the delivery are being put to a strange use at the General Hospital in Sector 6 here. The special "Kilkari" ambulance, that was launched in all districts by the former CM, is now being used to transport sand and other construction material at the old building of the hospital, where renovation work is under way.

5-year-old girl drowned in water tank
Dera Bassi, November 3
A five-year-old girl was drowned in a water tank at Meerpur village near Mubarikpur this afternoon. The body of Aachna, daughter of Gagan, an employee with a private chemical factory, was found floating in the water tank at a corner of the courtyard of the house at about 1.30 pm.
Aachna, the victim



Now, cash prize for winners
Chandigarh, November 3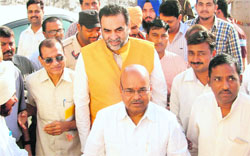 For the first time the Central Government has decided to give cash prize to the winners of National Abilympics. This was announced at the inauguration of the 4th National Abilympics in Chandigarh today by Union Minister for Social Justice and Empowerment Thaawar Chand Gehlot.
Union Minister for Social Justice & Empowerment Thaawar Chand Gehlot (second from right) at the BJP office in Sector 33, Chandigarh, on Monday. A Tribune photograph

Service charge: Officials told to enforce orders
Chandigarh, November 3
To implement the orders of the UT Administration on not charging of service charges, the UT Excise And Taxation Department today directed all its officials to verify whether the orders were being complied with or not. The department received two complaints and owners of the restaurants concerned were asked to stick to the orders.
Youth falls into Sukhna, saved
Chandigarh, November 3
A 22-year-old local youth was saved by the Chandigarh Police after he accidently fell into the Sukhna Lake, on Monday morning.
Auto operators call off strike after assurance by MLA
Chandigarh, November 3
The three-day ordeal of commuters due to the strike by diesel-run auto operators ended today with auto operators calling off their strike following assurance by the Mohali MLA, Balbir Singh Sidhu, who had taken up their issue with the UT Administrator.
Money belonged to 32 jewellers
Chandigarh, November 3
The 48-year old businessman, Samir Jain, who was robbed of Rs 1.10 crore had collected the money from 32 city-based jewelers to purchase gold from Delhi.
Ban sought on two songs
Chandigarh, November 3
Just about four days before the release of Bollywood flick "The Shaukeens", NGO Arrive Safe Society today moved the Punjab and Haryana High Court for banning two songs from the movie.
Mohali to get unified service delivery centres
Mohali , November 3
In order to benefit more people, steps are being taken to open unified service delivery centres in the district. Each centre will cover an area having a radius of 5 km. Prominent places for these have been identified.
Office-bearers elected
Chandigarh, November 3
Shiv Manas Mandir, Industrial Area, Phase II, here, elected its new office-bearers. Deepak Sharma was elected as chairman, Suman Shankar Tiwari president, Sanjeev Sagar general secretary and Harsh Abrol senior vice-president.
Hospital removes condemned vehicles
Panchkula, November 3
As part of the Clean India mission, "condemned" vehicles were removed from the premises of the General Hospital, Sector 6, here today.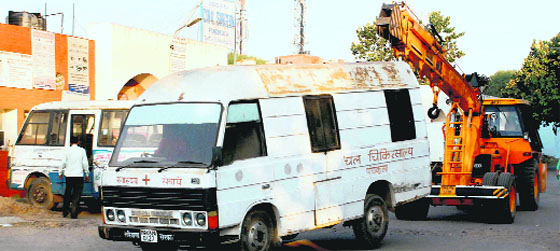 An ambulance being towed away at the General Hospital, Sector 6, Panchkula. Tribune photo: Nitin Mittal

Computer shops to remain shut
Chandigarh, November 3
Traders dealing in computers and their accessories will keep their shops shut tomorrow.
PU Registrar's appointment under HC lens
Chandigarh, November 3
Guljit Singh Chadha's appointment as the Panjab University (PU) Registrar today came under the Punjab and Haryana High Court scanner with the filing of a petition for quashing his selection on the grounds of being absolutely illegal, arbitrary, discriminatory and without jurisdiction.
School gets nod to clean Sector 42 lake premises
Chandigarh, November 3
After much drama and confusion, Government High School (Smart School), Sector 53, which took a unique initiative of extending its Swacchta Abhiyan to the Sector 42 lake, has finally got the approval from the Education Department to carry out the mission.
PECFest ends on starry note
Chandigarh, November 3
Several competitions marked the concluding day of the PECFest 2014 here today.
Part-time lecturers seek hike in salaries
Chandigarh, November 3
The Joint Action Committee (JAC) today decided to take up the pending issue of enhancement of salaries of contractual vocational lecturers with the Education Department.
Dept to hire 483 JBTs, 103 nursery teachers
Chandigarh, November 3
After nearly seven months of delay, the Education Department has finally inviting applications to fill 489 posts of junior basic teachers (JBTs) and 103 posts of nursery teachers (NTT) on regular basis.
Vigilance awareness week observed
Chandigarh, November 3
St John's High School observed vigilance awareness week by conducting various activities like slogan-writing competition, debate and lecture on the topic.
Guest faculty in schools to be paid more
Chandigarh, November 3
There is something to cheer for the guest faculty, including JBTs, TGTs and lectures, teaching in government schools. Their remuneration has been hiked by the UT Education Department.
Film by Saupin's students adjudged best
Chandigarh, November 3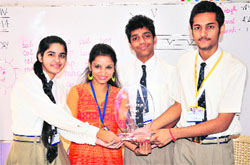 Students of Saupin's School, Sector 32, brought laurels to the school as their movie, 'Bolti Tasveerein', which highlights the power of women, was adjudged the best movie at Harmony 2014 organised by The Global Education and Leadership Foundation, Gurgaon.



The proud winners with the trophy. Tribune photo: S Chandan

Musical play by Class III students enthrals audience
Chandigarh, November 3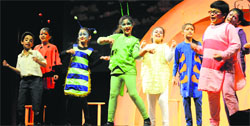 The 19th founder's week celebrations at Vivek High School, Sector 38 B, Chandigarh, today saw a musical adaptation of 'James and the Giant Peach' by Roald Dahl being staged.


Students stage a musical play, "James and the Giant Peach", at Vivek High School in Chandigarh on Monday. Tribune photo: Vicky Gharu