Sonia Gandhi to decide on Cong RS candidate from state: Ambika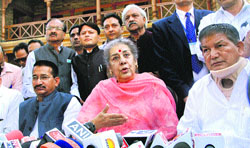 Dehradun, November 3
Ambika Soni, Congress general secretary and in-charge Uttarakhand party affairs, today said a decision regarding the selection of candidate for the lone Rajya Sabha seat from Uttarakhand would be taken by party president Sonia Gandhi.

Ambika Soni, Congress General Secretary, addresses a press conference in Dehradun on Monday. Tribune photo: Vinod Pundir
Amjad Ali Khan: Striking notes of harmony
Dehradun, November 3

Sarod maestro Ustad Amjad Ali Khan's life has been one of constant learning and enrichment of the lives of his audience. He has done this not just through his music — He has shared with his audience an entire kaleidoscope of memories profoundly rich in significance, that no school of learning can teach.

Sarod player Ustad Amjad Ali Khan performs during a programme at St Joseph Academy in Dehradun on Sunday. Tribune photo: Abhyudaya Kotnala


Demand for Gurdwara construction
Sikh body to protest on November 6

Haridwar, November 3
As Guru Nanak's birth anniversary falls later this week, the All India Sikh Conference has started preparing to stage a march up to Har-ki-Pauri to press for construction of Gyan Godri Gurdwara in Haridwar. The All India Sikh Conference has announced a protest march on November 6, demanding handing of the current office of Bharat Scouts and Guides to Sikh representatives so that the Gyan Godri Gurdwara can be reconstructed at the said site.

Bharat Scouts and Guides office in Haridwar. Tribune file photo
Realty check
Revised circle rates set to boost coffers of govt
Dehradun, November 3
The recent revision in the circle rates of property in the state capital is set to increase coffers of the state government by almost Rs 200-250 crore per annum. This was stated by District Magistrate Chandresh Yadav here today.
Sea of Gujarati pilgrims at Pantdeep Swami Narayan Mahotsava
Haridwar, November 3

Devotees and pilgrims hailing from Gujarat are arriving in large numbers to take part in the Swami Narayan Mahotsava being organised at the Pantdeep Kumbh Mela ground in Haridwar these days.


The grand entrance of the venue for the religious function organised by followers of the Swami Narayan sect at the Pantdeep Kumbh Mela ground in Haridwar on Monday. Tribune photo: RAMESHWAR GAUR

First organic waste fertiliser plant inaugurated in Haridwar
Haridwar, November 3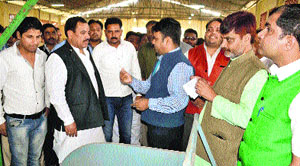 Agriculture Minister Harak Singh Rawat inaugurated the state's first organic waste converter fertiliser plant here today. The plant has been installed at the Agriculture Production Mandi and benefit the peasant community as fertiliser made from the plant will be provided them at subsidised rates.

Agriculture Minister inspects waste converter plant in Haridwar on Monday. Tribune photo: RAMESHWAR GAUR
Devotees take holy dip in Ganga on 'Prabodhini Ekadashi'
Haridwar, November 3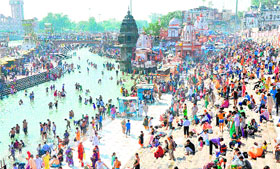 The four-month-long "Chaturmass", as per the Hindu calendar, got over today with devotees observing "Devothani" ekadashi also known "Prabodhini Ekadashi". The devotees took a dip in the holy Ganga and offered rituals to Lord Vishnu and deity Laxmi on the occasion.

Devotees take a dip in the Ganga at the sanctum sanctorum of Braham Kund, Har-ki-Pauri in Haridwar on Monday. Tribune photo: RAMESHWAR GAUR

'Vocational training should be on govt's priority'
Dehradun, November 3
Pankaj Gupta, chairman of the Industries Association of Uttarakhand (IAU), said imparting vocational training to unemployed youths and helping them to set up own business units in order to contribute to economy should be on priority of the state government.
Regatta: Indian Navy beat Army team
Pithoragarh, November 3
The Indian Navy team defeated the Indian Army team in the annual Governor's Gold Cup sailing regatta competition organised at Naini lake that concluded in Nainital last evening.
Sajwan dance, song troupe declared winners
Mussoorie, November 3
Sajwan dance and song troupe were declared winners in the cultural event organised under the aegis of Aglad Ghati Krida and Sanskritik Samiti being held at Kempty near Mussoorie that continued till midnight yesterday. The Jaunpur Sanskritik troupe was declared second and Nag Devta Club from Tilogi village stood third.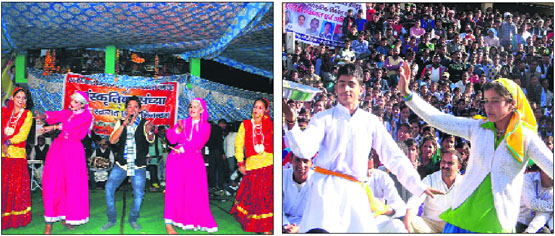 A cultural bonanza: Folk items in progress during a rural sports and cultural event organised at Kempty near Mussoorie. A Tribune photograph

Govt to take steps to meet energy demand: Expert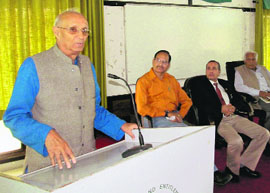 Dehradun, November 3
The Rural Litigation and Entitlement Kendra (RLEK) organised a one-day consultative meet for stakeholders of power projects here today. Prof Dhirendra Sharma, a renowned scientist, said science, technology and society were interlinked and connected with the human civilization.

Avdhash Kaushal, chairman of Rural Litigation and Entitlement Kendra, addresses a meeting of stakeholders in Dehradun on Monday. Tribune photo: Vinod Pundir

Efforts on to overcome power overloading: UPCL
Dehradun, November 3
The 35th meeting of the standing committee of the Central Electricity Authority was conducted here today. SS Yadav, managing director, Uttarakhand Power Corporation Limited (UPCL), said the corporation had been working to improve electricity distribution system in the state.
Maestro pays tributes to Gandhi, Tagore
Dehradun, November 3
Sarod maestro Ustad Amjad Ali Khan yesterday paid tributes to poet laureate Rabindranath Tagore and father of the nation Mahatma Gandhi at the Swarangan concert held to mark the 100th anniversary of Pt Hanuman Mishra of Benares gharana.
CPM protests hike in fares of buses
Dehradun, November 3
Demanding a reduction of bus fares, a delegation of the Uttarakhand chapter of the Communist Party of India (CPI) Marxists (M) met Chief Minister Harish Rawat and submitted a memorandum here today.
Man with 10 kg pangolin scales arrested
Dehradun, November 3
The Special Task Force (STF) has arrested a man on the charges of smuggling scales of pangolin here today. The accused was arrested by the city police after registering a case against him.
Kisan Mela held in Tehri district
Mussoorie, November 3
A workshop for farmers in Kisan Mela was organised at Srikot in Tehri district today. Agriculture and Land Conservation officer KP Sharma during the workshop said the government would help farmers who assist in land consolidation (chak bandi) exercise being carried out in the Nyaya Panchayat region here.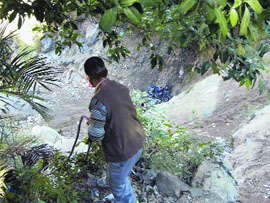 Three injured as motorcycle falls into 100 metre gorge
Mussoorie, November 3
Three persons, including two pillion riders, were seriously injured when the motorcycle on which they were riding skid off the road at Khyarsi bend near Kempty village and fell into a 100-metre gorge here today.


Locals rescue the injured from a deep gorge near Kempty village in Mussoorie on Tuesday. A Tribune photograph

Pharmacists' agitation continues
Dehradun, November 3
The agitation by unemployed pharmacists entered its ninth day today. The agitators have threatened to intensify the protest if the state government does not take effective steps to address their grievances. The agitating unemployed pharmacists, under the banner of Unemployed Diploma Pharmacists (Allopathy) Association, gathered at the Raipur bus stand here today. Speaking on the occasion, Manoj Tripathi of the Unemployed Diploma Pharmacists (Allopathy) Association said appointment of unemployed pharmacists in health centres and service rules are among the association's demands. He said the association members would call off their agitation only after their demands are fulfilled. TNS
Cash reward for police as thief nabbed
Mussoorie, November 3
The Mussoorie police arrested a Nepali youth, who broke out into the house of a tourism board member, here today. He was caught red handed with a knife, jewellery and cash. Members of the Mussoorie Hotel Association gathered at Hotel Surya Kiran and commended the efforts of police in charge Sandeep Negi and his team. Manmohan Singh Mall, president, Municipal Council, presented a cheque of Rs 11,000 to the police team, who caught the thief within 24 hours. Ajay Bhargav, secretary, Mussoorie Hotel Association, commended the efforts made by the police in solving the case. TNS
BJP activists stage protest
Dehradun, November 3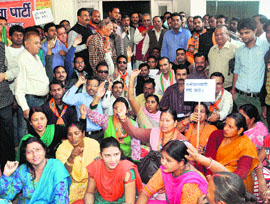 BJP activists protested against the pending development works at the Public Works Department (PWD) here today. The agitators demanded that the PWD officials should take steps to complete the pending works soon. They were led by GMS Mandal president, Vinod Sharma. He expressed concern over anomalies in the construction of roads. He said the nodal agency should take effective steps to complete the pending works in the given time frame. RP Bhatt, Rajendra Kumar, DS Rawat, Manjeet Gujjral, Nisha Agarwal and Babloo Bansal were also present. TNS

BJP workers protest against pending development works in Dehradun on Monday. A Tribune photograph
Homoeopathic pharmacists lock college
Dehradun, November 3
Agitating homoeopathy pharmacists locked Homoeopathy Pharmacists College to register their protest here today. The agitators under the banner of Unemployed Homoeopathy Pharmacist Diploma Holders' Association gathered at Raipur bus stand and took out a rally. The agitators' demands included filling vacant posts, appointment of diploma holder homoeopathic pharmacists in government hospitals, sanctioning of service rule. — TNS
Abhimanyu Academy log win in cricket
Dehradun, November 3
Abhimanyu Cricket Academy (ACA) defeated Mothrowala Cricket Academy in the ongoing Nazar Khan Memorial 3rd Youth Cup Cricket Tournament held here today. Batting first, Mothrowala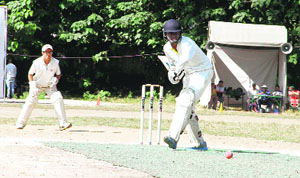 Cricket Academy scored 168 runs in allotted 30 overs. Abhimanyu Cricket Academy comfortably chased the target in 26.4 overs. In the second match, Vikas Nagar pipped Children Academy. Batting first, Vikas Nagar scored 159 runs in 25 overs while Children Academy was all out for 150 runs. TNS

A batsman of Mothrowala Cricket Academy plays a shot in a match against Abhimanyu Cricket Academy at Rangers College Ground in Dehradun on Monday. Tribune photo: Vinod Pundir

Border trade with China over Rs 4 crore: SDM
Pithoragarh, November 3
Over Rs 4 crore trade was undertaken with China this year under border trade from the 16,500-ft high Lipulekh pass in Pithoragarh district. The final figures were released by trade office in Dharchula sub-division today. Trade officer and Dharchula SDM Pramod Kumar, said Indian traders imported goods worth Rs 2,14,71,707 from Taklakot Mart in the Chinese territory of Tibet while they sold goods worth Rs 1,91,20,515 to their Tibetan clients. "The imported goods include Pashmina wool, raw Tibetan wool jackets, shoes and animal skins, besides several medicinal herbs," said the trade officer. — OC