last word: Pankaj Advani
Four world titles make him the greatest
From billiards to snooker, and then back to billiards to win a clutch of world championships, this Bangalore lad has established beyond doubt he is master of the cue.
By Sabi Hussain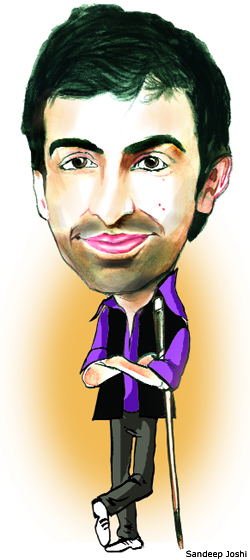 Pankaj Advani was barely 10 when he noticed that his elder brother, Dr Shree Advani, would vanish for a couple of hours every evening after school. On enquiring about Shree's whereabouts from his mother, Kajal, he learnt that his brother was pursuing a new hobby called snooker. He joined Shree and his friends to unravel the mystery. For Pankaj, it was love at first sight. He was mesmerised by snooker, about how a cue was responsible for a ball to be accurately put away in a pocket. After observing for a couple of weeks, Pankaj had his first shot at the sport. He got the pot right in the first attempt, and as they say, the rest is history.
Barely a year after starting in the sport, Advani made the final of the first tournament he played, the B.S. Sampath Snooker Tournament in Bangalore. His opponent in the final was a familiar face – big brother Shree, but it was the younger sibling who won. Advani continued his dream run of maiden appearances at the World Snooker Championship in China in 2003, where he defeated Pakistan's Mohammed Saleh in the final. He then went on to win his first ever World Billiards Championship 'Grand Double' in Malta in 2005, when the dual formats were first introduced. Earlier this year, he again played in his first ever World 6-Red Snooker Championship and came home with the winner's trophy.
To the world, Advani is known by many names – the 'Unstoppable Man of Indian Cue Sports', India's 'Golden Boy', and India's only '12-time World Champion'. But he is always going to be the little brother to Shree. Pankaj was only six when their father passed away. Since then, Shree has been a father figure to him.
Shree is a well-renowned sport psychologist, who has made a world of difference to our unique champion. Being a national-level billiards player himself makes Shree a professional with valuable experience. He has an impressive clientele among athletes, including the likes of Robin Uthappa (cricket), P.V. Sindhu and Parupalli Kashyap (badminton), and Arjun Maini (F1 hopeful).
In 2006, Shree flew up from Melbourne, where he was working as a corporate trainer in sales and life skills, to visit his mother and Pankaj in Bangalore. He noticed Pankaj was preparing hard for the Doha Asian Games, but felt something was lacking. He sat his younger sibling down and took him through some sessions of mental training. A week later, Pankaj won his maiden Asian Games gold and on return, dedicated the medal to his brother. That's when Shree knew he was on to something. He went back to Australia, put in his papers, and came back to India to explore the field of sport psychology. Shree light-heartedly says, "I introduced Punks (Pankaj) to his career, and he to mine."
The mind, according to Pankaj, is our greatest asset. It must be given attention to. Working on the body alone, be it technique or fitness, isn't enough. If the mind is neglected, it will turn out to be our greatest hurdle at some point in one's career. While snooker involves accuracy, billiards requires, in addition to accuracy, tons of endurance and prolonged spans of concentration. In the English snooker circuit, in which Pankaj spent two years, over 95 per cent players were Brits, the remaining from China, and a fistful from Europe and Australia. The locals in the UK have a clear advantage of playing many tournaments on home soil. Unlike badminton and tennis, even the qualifying rounds take place there. This means that all outsiders have to spend six-eight months, if not longer, away from home to compete with the Brits in their backyard. Billiards, on the other hand, has a fairer system with tournaments being conducted in all corners of the world.
Pankaj fulfilled his desire to compete in the UK circuit in 2012 and 2013, and has credited the rise in his level of game partly to that experience. After relinquishing his pro-snooker spot this year, Pankaj returned to billiards with a bang, winning all four world championships that he has participated in 2014.
The reason Pankaj has had a phenomenal year, arguably his best ever, is because he gave himself the chance to be available to represent India. After two years of snooker in the UK, Pankaj realised that he deeply missed billiards, home and playing for the country. When Pankaj was asked about the move from a snooker-only circuit, he said, "Billiards is my wife and snooker my mistress." Even after winning the Snooker World title over a decade ago, Pankaj had admitted that he preferred billiards over snooker. This goes to show how passionate he was even back then about the mother game of cue sports. Eleven years later, he now owns 10 world titles in billiards and 2 in snooker.
India has a rich history in cue sports. Some of the best known billiards legends in the world – Wilson Jones, Om Agarwal, Michael Ferreira and Geet Sethi, to name a few – came from India. Pankaj Advani has not only kept the tradition going but has also carved out his own legacy. Advani's astonishing four world titles this year have made him the greatest.