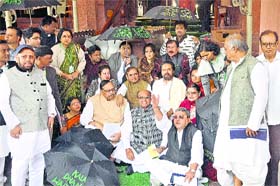 'Black umbrella' protest: TMC MPs and JD(U) chief Sharad Yadav protest over black money during the Winter Session of Parliament on Tuesday. Photo: Manas Ranjan Bhui
Govt mulls safety system for women passengers
New Delhi, November 25
The government is proposing to set up a unified system at the national and state levels to ensure safety of women and girl child in public transport, which would be funded through the "Nirbhaya Fund". This was said by Minister of State for Road Transport and Highways Pon. Radhakrishnan in the Rajya Sabha today.
BJP asks all MPs to hold public meetings in poll-bound Delhi
New Delhi, November 25
The BJP is neither taking the Delhi elections lightly nor is willing to take any chances in what is the centre stage of national politics. The party's top leadership is believed to have asked all its sitting MPs, both in the Lok Sabha and the Rajya Sabha, to pitch in for the Delhi polls scheduled next year.
Select panel on Insurance Act gets extention
New Delhi, November 25
The Select Committee of Parliament on amending the Insurance Act to raise foreign investment cap was today given two more weeks till December 12 to submit its report amid vehement opposition.
coal scam
Wasn't allowed to quiz Singh, CBI tells court
New Delhi, November 25
The CBI today told a special court probing a coal allocation scam case that it was not permitted to examine Prime Minister Manmohan Singh, who was then holding the additional charge of coal portfolio. Special CBI Judge Bharat Parashar asked the agency, "Don't you think examination of the then coal minister was necessary in the matter? Don't you feel the need to examine him? Don't you think his statement was necessary to present a clear picture?"
Pacts among members may have to wait
Kathmandu, November 25
Prime Minister Narendra Modi arrived here for his first-ever SAARC Summit expressing keenness to promote greater integration at all levels for the socio-economic development of the region and hoping the two day-meeting of the leaders will result in enhancing connectivity.
Suspense continues over Modi-Sharif meet
Kathmandu, November 25
India today reiterated that New Delhi is committed to have a meaningful dialogue with Pakistan even as Prime Minister Nawaz Sharif said the ball was in India's court to restart the stalled process.
Dalit MLAs, MPs meet in Chandigarh
Chandigarh, November 25
Dalit MLAs, MPs and several other leaders from all political parties of Punjab, Haryana, Himachal Pardesh and Jammu and Kashmir held a meeting today to pressure the government for constructing a memorial of Dr Ambedkar in New Delhi.
UP riots: Panel postpones sitting
Muzaffarnagar, November 25
The one-man inquiry commission probing the Muzfarranagar riots, has postponed its sitting scheduled on November 26, as the government has not responded to its request for extension of tenure.
Centre set to ban sale of loose cigarettes
New Delhi, November 25
The government is all set to ban the sale of loose cigarettes currently accounting for 70 per cent of all smoking tobacco sales in the country. Health Minister JP Nadda today told the Rajya Sabha in a written reply that the government had accepted the recommendations of an expert committee formed earlier to review anti-tobacco laws.
Gujarat sets aside compulsory voting Bill
Ahmedabad, November 25
The Gujarat Government is learnt to have decided to keep in abeyance the implementation of the compulsory voting Bill while hiking the women's quota from the present 33 per cent to 50 per cent in all local self government bodies in the state.


Sindhuratna fire: 7 Navy officers guilty
New Delhi, November 25
The Indian Navy has found seven officers culpable of various acts of omissions and commissions that led to the mid-sea fire on board submarine INS Sindhuratna. Two officers had died in the accident on February 26 and the then Navy Chief Admiral DK Joshi had quit owning moral responsibility.

Defence Minister Manohar Parrikar at Parliament on Tuesday. Photo: Manas Ranjan Bhui
delhi-chennai section
China to study bullet train feasibility
New Delhi, November 25
After Japan's offer to help on the Mumbai-Ahmedabad bullet train corridor, China has come forward to conduct and pay for a feasibility study for a high-speed rail line to link Delhi with Chennai.
Kathak queen Sitara Devi passes away
Mumbai, November 25
Legendary Kathak danseuse Sitara Devi, the "empress of dance" and the force behind bringing this classical dance genre to Bollywood, died after a prolonged illness today. She was 94. As condolences poured in after Sitara's death, Prime Minister Narendra Modi recalled her "rich contribution" to Kathak.
Kathak danseuse Sitara Devi
Amit Shah to launch 'Mission Assam' in Dec
Guwahati, November 25
Beginning with Prime Minister Narendra Modi's meeting with party workers here on November 30, the saffron party will launch its 'Mission Assam' to capture power in the 2016 Assembly elections.
Amitabh quells rumours on Dilip Kumar's health
Mumbai, November 25
It took a message from superstar Amitabh Bachchan on Twitter to quell rumours about the health of veteran actor Dilip Kumar early this morning. After messages on social networking sites spread the rumours of Dilip Kumar passing away at the Lilavati Hospital, Bachchan took to the social networking site to say that the thespian was hale and hearty.
Sena threatens agitation over Jaitapur N-plant
Mumbai, November 25
The Shiv Sena has reiterated its opposition to the proposed nuclear power plant at Jaitapur and warned of an agitation if the Maharashtra Government did not scrap the project. Party chief Uddhav Thackeray told party activists in Konkan last week that the Sena will continue to oppose the project even if it joined the BJP-led government in Maharashtra.


Su-30MKI gets flying again during Indo-Russian exercise
Halwara, November 25
As part of the phase-II of the Indo-Russian bilateral exercise, Avia Indra I, Russian air force team participated in the 'air-to-ground' firing by aircraft and helicopters of the IAF at Sidhwan Khas Range near Halwara today.
A Russian team along with members of the Indian Air Force alight from an Mi-17 helicopter at Air Force Station, Halwara, near Ludhiana. Tribune photo: Himanshu Mahajan
Hackers withdraw Rs 1.13 cr from NRI's account
Mangaluru, November 25
A Canada-based NRI has lost Rs 1.13 crore from his account with a bank in Manipal after hackers made their way into his e-mail account and got the money transferred to two of their accounts overseas, according to a complaint lodged with the police.