attari 'cross-fire' incident
Youth shot at by policemen critical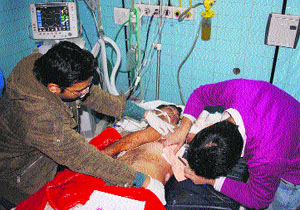 Amritsar, November 29
Family members of Inderjit Singh Bittu, who was shot at by Special Weapon and Tactics (SWAT) team near the Attari International railway station yesterday, today demanded that he be shifted to a good private hospital for better treatment. The family said the government should bear the expenses of his treatment.

Inderjit Singh Bittu, who was shot by the Punjab police, under treatment at Guru Nanak Dev Hospital in Amritsar on Saturday. PHOTO: RK SONI

Publishing of Guru Granth Sahib
Chinese national booked for hurting Sikh community's sentiments
Amritsar, November 29
The Kotwali police have booked the Chinese national, identified as Thaminder Anand, for allegedly hurting the sentiments of the Sikh community.
Passport: Close scrutiny of birth certificates on
Amritsar, November 29
The Regional Passport Office has announced that it would get FIRs registered against applicants submitting fake birth certificates.
Indian, Pak artistes, singers plegde for peace at Saanjh

Amritsar, November 29
Unhinged by the acts of terror and political indifference across the borders, Saanjh, the annual Amritsar- Lahore peace festival, became a platform for Indian and Pakistani artistes to promote peace through music and cultural exchange.



Saanjh festival opened with much aplomb and mersmerising performances by Sain Zahoor and Krishan Lal Bheel in Amritsar on Saturday. PHOTO: RK SONI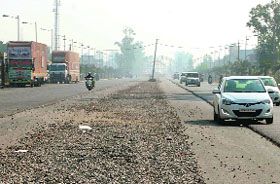 Bad roads put commuters at risk
Amritsar, November 29
The "faulty" construction of roads in various parts of the city is posing a serious threat to commuters, many of whom have met with accidents in the past few days. The authorities have constructed roads partially, leaving them uneven, thus leading to mishaps.

A view of the uneven middle portion of a road in Amritsar on Saturday. PHOTO: RK SONI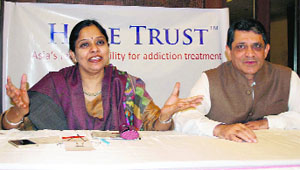 Hope Trust visits drug-affected areas
Amritsar, November 29
The Hope Trust, an organisation working for de-addiction, during its visit to various parts of the state, has found that heroine abuse among residents of border areas is as high as 75 per cent.

Rajeshwari Luther, director, Hope Trust, addresses mediapersons in Amritsar on Saturday. Photo: RK Soni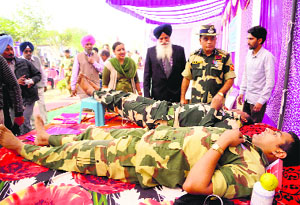 BSF organises medical camp
Amritsar, November 29
The Border Security Force, under its civic action programme, today organised a medical check-up and blood donation camp at Government Girls High School in Attari. About 50 jawans and officials donated blood at the camp while hundreds of students and villagers were checked and given free medicines.

BSF jawans donate blood during a medical camp at Attari near Amritsar on Saturday. Photo: RK Soni

NDRF team conducts mock-drill exercises
Amritsar, November 29
A team of the 7 Battalion, National Disaster Response Force (NDRF), Bathinda, conducted mock-drill exercises for the participants of the ongoing refresher course in disaster management (ID) at the Academic Staff College of Guru Nanak Dev University.
Need to join hands to fight drug abuse: Former DGP
Amritsar, November 29
Former DGP Shashi Kant exhorted non-governmental and social organisations to work together to fight against drug menace and land grabbing in the state.
from schools, colleges
GGSS cagers bring laurels
Amritsar: The under-16 basketball team of Government Girls' Secondary School, Mall Road, brought laurels to the city by winning the National Basketball Association tournament held at Ludhiana. Twelve teams from various districts of Punjab took part in the meet. In the final, the local school beat the Ludhiana team 59-30. In the under-13 category, the school stood at the second position.