By Karuna Goswamy
Please print out his page to solve the crossword.
Across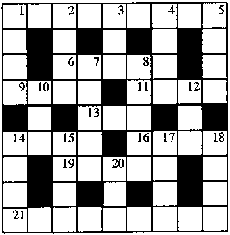 1. One of a famous musical 'duo' who died recently
6. Important joint in the lower part of the body
9. Besides; in addition
11. Expanse; region
13. There was one "of the Sixth Happiness", at least in films
14. Can be strung on a necklace
16. Extreme side of a road or path often used for parking
19. The family name that is firmly associated with Dhrupad singing
21. A kind of dog with large spots on its coat
Down
1. Peruvian city
2. The most celebrated of all Christian festivals (abbr.)
3. Kind; variety
4. State; affirm
5. Loose outer wear, as in ancient Rome
7. UP township at the fringe of Delhi
8. Ravana's island kingdom
10. — Remick, well-known American actress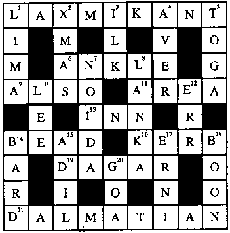 12. Make a mistake
14. A "Bhat" in the Indian tradition
15. King Nushirwan, "the Just", was called by this name
17. Hans —, famous Swiss sculptor and painter
18. What the gods confer upon those that they favour
20. India's tourist paradise.