1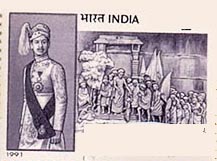 Identify the portrait in the stamp

2 What else is depicted in the stamp?

3 When was it issued?

4 In what denomination was it issued?

5 What was the purpose of issuing the stamp?

6 What is the monetary unit of French-Polynesia?

7 If a stamp bears the name Eamoy, can you tell the name of the country which has issued it?

8 What is the full form of abbreviation HS in philately?

Answers

1 Chithira Tirunalbalarama Varma.

2 Sculpture on temple entry by Devi Prasad Roy Chowdhury.

3 On 7-11-1991.

4 200 paise.

5 To pay tribute to this great reformer who was also hailed as 'Ashoka the second'.

6 ICFP franc of 100 centimes.

7 Samos.

8 Hand stuck.