No dearth of flooring options
No matter what you choose for the floors in your home, as long as long as these are well laid, complement the decor of the house and room, echo the mood that prevails, and are well maintained, they will look good, opines Harkiran Sodhi
BUILDING a house involves many aspects that have to be thought of and carefully planned. One of the things that will run throughout the house and certainly tend to get under your feet if you are not happy with it, is the flooring.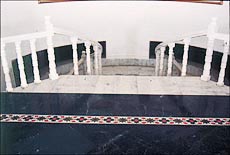 Thankfully, flooring options have dramatically increased from the limited options available earlier where all you had to chose from was marble chips. The reason for their popularity over other choices was largely their price. Though the overall cost was effective, tough and easy on heavy traffic and cleaning, marble chips floors never were a sight for sore eyes.
Traditionally we did see a wide variety of flooring choices from the soft luster of marble to lovely polished wooden floors, Jaisalmer stone, terracotta, old style red cement, to the more modern ceramic tile finding its way into places other than bathrooms.
Today there is a rather bewildering range of flooring options available in the market for those who are building or renovating their homes. Depending on the budget and the type of usage, the area to be used in floors now can actually be made to look different and exciting. One of the most popular choices with people in our country has been marble. This was the stone that palaces were built in and even today people feel the look of marble cannot be outdone by even the most expensive granite flooring. Marble has always symbolised style.
The best Indian marble has been makrana marble from Rajasthan. Apart from this Italian marble, Spanish marble or Greek marble is also available for those who are willing to pay the extra amount. The colours, textures and grains that marble is available in is quite impressive.
Granite flooring is another popular option that is placed in a higher category than marble in the price bracket and by some in the looks bracket as well. There are of course others who feel granite is too cold and impersonal a stone to even merit any competition to the warmth of good quality marble.
Once it is well polished, granite has a very rich and impressive look. As it is a hard rock, granite is also a tough and easy to maintain floor even on high traffic floors. A popular mixture today is one of marble and granite. Many people feel that both these stones can be dull and unimpressive when on their own but mixed together they form an eye-catching pattern. Often the main floor is in marble with contrasting borders of granite that can also line the main flooring if desired. This breaks the monotony as well as moderates the price over using the more expensive granite alone.
Ceramic tiles have also improved over the years in both quality as well as design and colours they are available in. Earlier the tiles were limited to a 4x4 inch size in basic solid colours. Today not only have the sizes changed to a wide variety but so have the range of colours, from soft pastels to vivid earthy colours. These tiles can fire anyone's imagination. Delicate borders to contrast with the main tiles are another new addition in their design range.
Looks apart, the technology used in making ceramic tiles has also changed over the years. The system of making tiles, which were made by pressing clay and dust under high pressure into moulds and then baked, has now been modified. Extra pressure is now exerted on the tiles, which results in better moulding and that in turn gives more hardness. This basically means that these tiles are now far more durable than they were earlier and much easier on the eye as well.
For those in a hurry and on a budget there is the option of linoleum or vinyl for the floors. Popular in some low budget houses in the West, linoleum or vinyl flooring has a great benefit. It is quick to install. Said to be fire resistant, waterproof and having extra cushioning, vinyl flooring today even comes in a look and colour to simulate a real wood floor covering.
Where homes reflect a strictly ethnic look, brick or terracotta tiles complete the look. Brick, if used properly on the floor, can actually look good and is very easy to maintain as well. Its largest drawbacks are that the shine of other floors is missing in this case and that the areas that are prone to getting wet like the bathroom, are not best suited to brick on the floors. Terracotta tiles are in vogue and are available in pre-polished plain as well as etched options.
Kota stone and Jaisalmer stone are the other options that are available for flooring today. Both these are more commonly used in the verandahs and the outer staircases as these stones are cheaper to use and quite hardy as well. These are also available in different colours though the range is rather limited.
Wooden flooring has always been something that spells warmth and is associated with the charm and beauty of the old hill homes that one saw. Parquet flooring which consists of ready-to-lay thin tile strips that can be put together in many different varieties of styles has gained a lot of popularity.
Parquet flooring needs care both while installing it and after. A professional is needed to lay this floor. Ideally parquet flooring needs a base that is perfectly smooth and well finished as well as not prone to damp conditions. Also, such floors are high on the maintenance, particularly if the parquet flooring has not been covered with a melamine finish to give it that extra-added durability.
No matter what you choose for the floors in your home, as long as the floors are well laid, complement the decor of the house and room, echo the mood that prevails, and are well maintained, they will look good.
This fortnightly feature was published on December 20, 1998