A salute to Soldier
By Madhur Mittal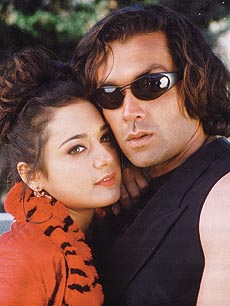 SOLDIER boasts of terrific production and technical values. Producers Kumar and Ramesh S. Taurani and directors Abbas Mastan have gilded their lavish offering. Captivating work by cinematographer Thomas Xavier has added to the gloss. A peppy musical score by Anu Malik has chartbusters aplenty, including the extra bhangra rap song, Balle Balle just added after a hectic shoot at Filmistan Studios.
Moreover, Bobby Deol (with his newfound muscles) and Preity Zinta with her provocative sensuality, make a prime pair with ample mass appeal. They are backed by excellent emoters such as Raakhee, Ashish Vidyarthi, Dilip Tahil, Salim Ghouse and some surprises!
As for the story, sorry, can't let the cat out of the bag since the film eventually ends up as a taut thriller and whodunit, see? All I can say is that Bobby plays a lethal contract killer and he's too hot to handle.
May the best Khan win !
An independent opinion poll being conducted amongst Mumbai's cinegoers to select "The Most Likeable Hero" has Shah Rukh Khan and Aamir Khan running a neck and neck race, with both notching up virtually on points on a par with each other.
Bringing up the rear were Sunil Shetty and Govinda and yes, Akshaye Khanna.
Surprisingly, many top leading men — notably Akshay Kumar, Sunny Deol, Salman Khan, Ajay Devgun — do not figure in the final shortlist at all!
The main criteria eliciting film buffs' responses include attributes like, talent, screen presence, accessibility and nature.
Well, may the best Khan I mean, the best man... win!
A glittering anniversary
Incidentally, it was the Shah's and wifey Gauri's wedding anniversary very recently and the couple made it a point to paint the town red on the special occasion.
After hitting a few night spots, the euphoric Khans landed up at the Taj's ultra disco, The 1900s, to a tumultous welcome by an even more thrilled crowd. Gauri, well known for her tireless passion for the dance floor, was hardly seen sitting in her seat. And, whenever Shah Rukh joined in the dancing, the DJ imaginatively superimposed his hit hummable from Dil Se —Chal Chhaiyya Chhaiyya — on to whatever number was being played at that time!
Needless to underscore, 'twas a night to remember — for everyone. By the way, was that glittering, swinging diamond pendant around Gauri's neck also a preceding part of the anniversary celebrations?
Paying the price ?
What did Saif shout to Salman while fleeing from the Bishnois in the jungle of Jodhpur? "Buck up, yaar!"
While the wag's wit is indeed funny, the whole sordid episode of Salman Khan being arrested for poaching and his father Salim Khan's farmhouse being raided, is anything but that.
On the contrary, there's an ever increasing sentiment that there is personal persecution involved... perhaps, even a political one. It is, therefore, heartening to find that, after the initial, cautious reaction, the film industry is now solidly supporting the Khans. They evidently, are only being made to pay the price for their celebrity status.
Rumour has it
... that Vinod Khanna has shelved his plans to launch elder son, Rahul, in movies, because he is keen to first keep his promise (s) to the citizens of Gurdaspur who voted him to Parliament. Wow!
...that Manoj Kumar's ambitious project, Jai Hind — The Pride, is in the doldrums due to the actor-filmmaker's failing health. Sad.