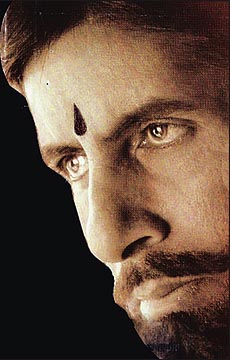 "This thing about age is all rubbish"
IT should have been the best of times for Amitabh Bachchan. After a gap of five years — vacation, as he calls it — he's back to where he belongs — Bollywood.
But his first two comeback vehicles, Mrityudaata and Major Sahab have proved to be box office dubs. Now the Big B is fervently hoping that his third offering, Bade Mian Chhote Mian erases the jinx of an aging star who flopped in his second attempt.
But he still hotly disputes the age factor with a frown. "This thing about age is all rubbish. If one of my two last films had been a hit no one would be talking about it," he says.
He has been distressed by the vehemence of criticism about his choice of roles. Though hardcore Bachchan fans feel he's working to a plan — pitch yourself opposite younger stars and ride piggyback on their popularity. So you have Amitabh with Govinda, Ajay Devgan, Manisha Koirala, Shilpa Shetty, Tabu and more.
He feels that Bade Mian Chhote Mian is just the kind of thumping hit which has eluded him in his second coming. He gushes about being a fan of Govinda and says he simply can't match his ability, his style of dancing and his energy. "I've got a lot to learn from him," says he.
There are many other things which Bachchan seems to be learning in his Second Coming. That audience tastes have changed.
That comedies are not what they used to be. This is evident from his comment about Bade Mian Chhote Mian when he says, "It's a movie which you have to watch after leaving your brains behind at home. Its basic function is to raise a laugh."
Excerpts from an exclusive interview with N. Sharma.
Bade Mian Chhote Mian is your first movie with David Dhawan. Any special experiences?
Just one. It's been a great experience working with him. David has a unique style of working. He is an out and out entertainer and wants his films to be a happy experience for the audience. His sole aim is to make people laugh and because of his comic flair people usually come back again for another laugh. That's the secret of his success. I hope it works this time as well.
Most of David Dhawan's films with Govinda work like magic. Do you think your's and Govinda's chemistry will work as well?
I faced very stiff competition from Govinda. He's such a versatile star. I've got to learn from him. We've both worked in Hum before. But I'd say that Bade Mian Chhote Mian is actually the first film we are pairing together in the proper sense of the term. He's a fun actor to work with, full of life and action. I had to work very hard to cope up with his energy levels. My feet still ache from trying to match his style of dancing.
Tell us something about Bade Mian Chhote Mian
In this film both me and Govinda play double roles — as two goofy cops and as two petty thieves. It's a laugh-a-minute movie. All you have to do is to suspend your intelligence. Don't get me wrong. It's pure comedy where you don't have to use your brains or imagination. It's three hours of pure fun. Like all comedies its basic function is to raise laughter.
Don't you feel over the years the concept of comedy has changed drastically? Some years ago we had films like Chupke Chupke and Gol Mal. Now we have Bade Mian Chhote Mian....
Every era is different and cinema reflects changing times and tastes. In the days of Ashok Kumar, Raj Kapoor and Dilip Kumar things were different. They changed in my time. And now in the present generation things are bound to change. So there's no point in such comparisons.
When you were at your peak in the 70s and 80s Bollywood discovered a formula to make hit films. Do those formulas still apply?
See there was never any secret formula to make a hit. If there was one there'd be no flops. The only successful formula is to make a good film and good films are always appreciated by viewers.
It seems you too have not hit upon the right formula for a superhit for your comeback.
I never left the industry so where's the question of a comeback? I don't know why everyone keeps talking about my comeback. All I was doing was taking a Sabbatical, a vacation from my work. When you rejoin your duty after a holiday does that mean you are staging a comeback?
Okay let's put it this way, you haven't succeeded in the last couple of years....
I admit Mrityudaata didn't do well. The problem is that many people in the film industry keep sticking to the tired old ideas which succeeded in one era but are stale today. As far as Major Sahab is concerned it's not done too badly.
Most of your fans says that you should now play roles which suit your age. Don't you feel a little out of place dancing around the trees with girls young enough to be your daughters?
I try and take up roles which suit my age. But if a producer signs me for a romantic role and I feel comfortable with it, I will definitely take it up. This thing about age is all rubbish. If one of my two last films had been a hit no one would be talking about it.
With age do you feel a sense of loss as far as choice of roles is concerned?
One is definitely restricted. I have to be very careful about what I select. You've seen me act a mature man in Major Sahab and what I select. You'll see me act my age in Kohraam. Unlike Hollywood, the Indian audience doesn't accept older people as heroes.
How did you feel doing a dance number with Madhuri Dixit who has a guest appearance in Bade Mian Chhote Mian?
It was simply fabulous. I always wanted to do a film with her, but unfortunately we never got chance to work together and even when offers came they never materialised, for one reason or another. After doing a dance number with her in Bade Mian Chhote Mian I am even more eager to work with her. She is a marvellous dancer and actress. I hope some producer will soon offer as a good film.
What do you think of the younger generation of stars, like Ajay Devgan, Govinda, Manisha Koirala, Shilpa Shetty, Tabu and Sonali Bendre, with whom you are working?
They are great fun to work with.I am very impressed with these young people.They are so focussed, so career-driven and so determined to succeed. In fact I keep learning a lot of things from them.
In most of your films there is a second hero. You and Govinda, you and Ajay Devgan... Is it because you feel that a film can no longer run only your name?
Even when I was at my peak, I did two or three hero-oriented films. I worked with Rajesh Khanna in Anand and Namak Haram and Vinod Khanna in Muqaddar ka Sikander and Hera Pheri and with Rishi Kapoor and Vinod Khanna in Amar Akbar Anthony. Shashi Kapoor was my co-star in Deewar and Namak Halal and Dharmendra in Sholay and Chupke Chupke. In fact in most of my superhit films there were two or more heroes.
So I am just continuing that trend. It's not that because I am growing old that I have to depend on another hero to prop up a film. It's something I've always done and will continue doing.
There's talk that producer Vashu Bhagnani is planning to make a film with you and your son, Abhishek?
Vashu has done successful films like Coolie No 1 and Hero No 1. But right now I am busy with a number of projects. Many things will have to wait.
Tell us something about Abhishek. He has opted out of Aakhri Mughal. Is he doing any other film?
Yes he's doing Refugee, whose mahurat was held recently.
What are the projects you are busy with?
Padmalaya's Suryavansham, Veeru Devgan's Hindustan Ki Kasam, Mehul Kumar's Kohraam, apart from Lal Badshah.
Prakash Mehra is reported to be ready to make Zanjeer-II and he is hoping you and Jaya will sign on the dotted line considering that Pran has already agreed....
Let's see. If Prakash Mehra comes up with the offer. I think me and Jaya will probably accept it.
Bollywood gossip has it that you have signed a film with Ram Gopal Verma and the other hero is Shah Rukh Khan?
We have met a few times but so far nothing concrete has materialised. I am an actor, and I seriously consider all the proposals that come my way.
There was talk of you turning to direction?
I am incapable of making a film. I don't think I'll ever venture into direction.