Delicious strawberry preparations
By Harkiran Sodhi
AS you probably know strawberries are priced according to their size. If you need the strawberries to puree or cut fine, then you could easily cut on the cost by buying the smaller sized, and less expensive strawberries. If you need just a few strawberries to decorate, then keep the biggest and the best ones in the box aside for this.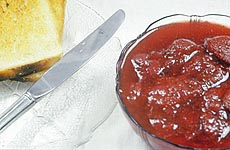 Store the strawberries in a mesh basket in the fridge without washing them. This way they can last for two to three days depending on their stage of ripeness. Once washed, strawberries will perish faster; so try to consume them immediately.
You will find all types of recipes using strawberries. Some are easy to make and whip up in an instant, some are more time-consuming but great to eat, while others just make eating so much more fun and different. Here are some interesting recipes:
American strawberry shortcake
Serves 8
Preparation time: 30 minutes plus baking time.
Ingredients
250 gm or 8 oz (2 cups) flour
60 gm or 2 oz (¼ cup) caster sugar
2 tsp. baking powder
½ tsp. salt
125 gm or 4 oz (½ cup) butter
1 egg
120 ml or 4 fl oz (½ cup milk)
1 tblsp melted butter
For the filling;
500 gm (1 lb) strawberries
125 gm or 4 oz (½ cup) sugar
250 ml or 8 fl oz (1 cup) heavy cream
2 tblsp sifted icing (confectioner's) sugar.
Method: Make the filling first. Reserve a few of the best strawberries unhulled, to decorate. Hull the remainder and divide into half. Slice one lot in halves; place in a bowl and toss with 60 gm or 2 oz (¼) cup sugar. Crush the other half of the strawberries with the remaining sugar. Whip cream with icing sugar until soft peaks form. Refrigerate the filling.
Sift flour, sugar, baking powder and salt into a bowl. Cut butter into mixture with two knives. Break egg into a bowl and add 120 ml, or 4 fl oz (½ cup) milk; mix lightly. Make a well in the centre of flour mixture, add milk and egg all at once and mix quickly with a fork until moistened. Turn the mixture into a greased 20 cm (8 inch) sandwich or layer cake pan and smooth the top. Bake in a pre-heated oven at 2200C or 4250F for 25 to 30 minutes or until a skewer inserted in the centre comes out clean.
To serve immediately turn shortcake out onto a wire rack and split into two layers. Place the bottom layer, with the cut side up on a serving plate and brush it with melted butter. Spoon on half of the crushed and sliced strawberries, put on the other layer of cake on and top with remaining strawberries. Pile cream in the centre and decorate with reserved whole strawberries. Serve immediately while still warm.
Strawberry jam (makes: 500 gms)
Preparation time: One hour
Ingredients:
1 kg strawberries
750 gm sugar
2 tsp sodium benzovate
Method: Wash the strawberries thoroughly and then cut them into halves. Put the cut strawberries and the sugar and cook for about an hour, constantly stirring the mixture. Remove it from the flame when it thickness and let it cool. Add sodium benzovate, which is a preservative and store in a dry bottle in the fridge.
Strawberry liqueur
Makes: 2 litres
Preparation time: 45 minutes. Best kept for minimum three months to ferment.
Ingredients:
1 bottle of vodka
2 kg of strawberries
2 kg of sugar
Method: Wash and cut the strawberries and put them in a large pan. Add the sugar to the strawberries and cook for about half an hour. Keep aside to cool and then add vodka to it and mix thoroughly. Put the contents into an airtight container and store for two the three months. Put the mixture in a mixer and blend till the mixture is well mixed. Strain it into bottles. The strawberries liqueur is ready to be served.
Strawberry bombe
Serves-6
Preparation time-20 minutes
Freezing time as needed
Ingredients:
500 gms strawberries
1 cup or 250 ml heavy cream
¼ cup or 30 gms icing sugar (also called confectioner's sugar)
2 tablespoons of fruit liqueur
4 cups or 1 litre vanilla ice cream
Wipped cream for decoration.
Method:
Put a 8-cup jelly mould into the freezer an hour before starting. Puree strawberries to make 1 cup or 250 ml. Whip the cream and the icing sugar till it is stiff and then fold in the fruit liqueur and the pureed strawberries. Take the mould out of the freezer and line the sides with the vanilla ice cream and fill the centre with the strawberry cream mixture. Cover the top of the mould with silver or aluminium foil and put it into the freezer to set till it is firm. When you are ready to serve, take out the mould and serve it after unmoulding it and decorating it with the remaining strawberries and whipped cream.
Tip: If it is difficult to unmould the bombe you can dip the mould container into warm water for a few seconds and then try to unmould it.



This feature was published on April 18, 1999