Spotlight on Rinke Khanna
By Madhur Mittal
AND so it has come to pass, as, indeed, it had to. Dimple's youngest daughter and Twinkle's younger sister — teenaged Rinke Khanna — has made her screen debut after all... with this lively, youth oriented film called Pyaar Mein Kabhi Kabhi.
Welcome, Rinke to the big and blitzy Bollywood.........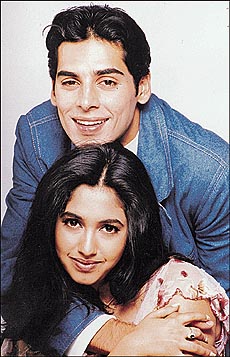 Made in record seven months, PMKK is also the virgin offering of the Tyger Productions banner. It introduces over half-a-dozen new faces (and figures!) and boasts of prime film-making values — both technically and in content. As producer Shailendra Singh says: "This picture is going to open up an altogether new avenue in Hindi motion films. The concept itself matters more than starry presence."
Interestingly, director Raj Kaushal voices similar sentiments. Pyaar Mein Kabhi Kabhi is an enthralling experiment. It breaks away from the clinched formulae and blazes a refreshingly different path, you know. Having had the privilege of assisting the late Mukul S Anand for four years, this is my first, independent feature film."
What does Rinke, paired romantically opposite popular model (Dino Morrea) turned actor (Siddhant), have to say? "I'm so very excited! And I'm sure the film is going to be lapped up by the young generation of today. Because it speaks their language and deals directly with their ambitions and unexpected hassles.
My role is terrific. It's about how a young girl ("Khushi"), deeply interested in dance and the performing arts, meets up with a group of students — and the way her life changes 'dramatically'. It is about being independent, you know..... Which is precisely what beautiful Rinke Khanna happens to be!
International hoax?
The movie International Khiladi has certainly sparked off a heated debate, I tell you. The film's eventual box office fate apart, Akshay Kumar is literally in the eye of the starry storm. You may like/dislike him, but you can't be indifferent to him, right?
For starters, Akshay is being accused of deliberately running his hi-speeding bike off the ramp and into the spectators at a recent star nite at Durban, thereby endangering precious lives "only to get callous, petty publicity for his latest release, International Khiladi!
"Moreover, his staunch critics claim that, contrary to the film-maker's statement that the actor has indeed done all the sensational, death defying stunts himself in the movie, "only a few mild action scenes have featured Akshay while the rest are merely the magical result of clever computer juxtapositioning of the actor's face!"
For crying out loud, how can these guys have such, perverse imaginations? In Mumbai, a war of words is on with Akshay's detractors sneering: "Oh, yeah?" and his supporters thundering: "Oh, yeah!"
The direction bug
Even as the biggest industries and conglomerates worldwide are anxiously rushing to become Y2K compliant as soon as possible, our very own Bollywood has let loose an even more alarming virus — the direction bug.
The rate at which they're going, very soon, just about every film technician might just end up being a full-fledged, independent director! The bug is so all pervasive that even lyricists have set their sights on becoming film directors! Can you beat that?
Yes Boss scripter Sanjay Chhel is virtually ready with his directorial debut, Khubsoorat (starring Sanjay Dutt). Newcomer Apurva Asrani, after turning film editor (thanks to the promos he did for Ramgopal Verma's Daud and Satya, is already planning to direct a movie... as is top rank choreographer, Farah Khan with, who else but Shah Rukh Khan!
The well-known cinematographer Ashok Mehta is now directing Manisha Koirala in Moksh and, reportedly, even Saroj Khan is keen to be a director-choreographer....! (Action master Ravi Dewan (Vinaashak) and editor Ashok Honda (Rakshak) are already busy directors, thanks to the patronage of Sunil Shetty.) So, see what I mean?
Will we only have directors in Bollywood by 2000 AD? Who will then write films, edit, choreograph and shoot them in the first place?