Action fails to click
By Ervell E. Menezes
ACTION seems to dominate Hollywood films these days. Take Ronin or Payback and all you have is a slim storyline and loads and loads of action. In fact in Ronin you have two veterans in the business trying to do their thing even though they are well past their prime.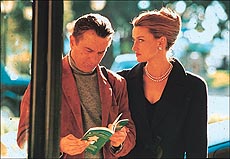 Sam (Robert DeNiro) and Vincent (Jean Reno) are two old hands and when Deirdre (Natascha McElhone) comes on the scene they are not sure on which side she is. But the action shuttles from Paris (with its perpetual police sirens) to Nice and back again and the viewer is kept thoroughly confused. After a while he doesn't even care to figure out what is going on. It is pure action for action's sake, exciting car chases shot from helicopters and for the first time one sees a car chase in the opposite direction on an expressway (with cars coming in the opposite direction). It is all slick and racy and director John Frankenheimer falls prey to form rather than content.
I last saw Frankenheimer in The Island of Dr Moreau and that was more like the Frankenheimer of the 1960s when he made films like Seconds, The Train and Grand Prix "Ronin is not my kind of entertainment and it only shows that big names like DeNiro and Reno don't necessarily mean the film is good. Incidentally, the title is taken from the Ronin of feudal Japan who like the samurai without a lord, are not fighting for a cause but for cash. But these mercenaries don't give us our monies worth.
When Mel Gibson isn't making ambitious historical films like Braveheart he is happy playing a cop (Lethal Weapon and its sequels). In payback, he seems to be playing a robber out to recover the money that he was cheated out of by his partner. It gives him enough scope to kill cold-bloodedly for revenge.
The synopsis goes thus: "The heist was an easy one; the cash was already hot. So when two thieves, Porter (Gibson) and Val Resnick (Greg Henry) stole it, it couldn't get any hotter. Then it came the time to split the goods and Val made three mistakes: he took Porters money, his wife and he tried to take his life."
When Porter surfaces he is intent on taking revenge. Hardened, destitute and unyielding, he goes for the kill. It is a common enough subject with Hollywood and Mel Gibson seems typecast for such roles. Director Brian Helgeland seems to enjoy handling this vengeance theme, but if you've seen one of them, you've seen all. And I'd rather see Gibson in Tim (with Piper Laurie) that all his action films (Mad Max included) put together. As a retarded young man in love with an older woman he gives one of his most sensitive portrayals to date.
In that respect Entrapment is probably the most entertaining of the new releases and the fact that Sean Connery is cast in the lead role contributes to its success. Actually larceny has been a common enough subject with Hollywood over the years. In fact the late-1960s were full of films like Topkapi (Melina Mercuori and Maxmillian Schell), How to steal a million (Peter O'Toole and Audrey Hepburn,) Carnival of thieves and The Great train robbery. The next phase was of films based on the theme of hijacking like The taking of Pelham one two three: Then came the skyjacks. Recently Mission: Impossible marked a sort of return to the larceny theme. Now it's Entrapment.
Connery plays Robert "Mac" Dougal, a Scotsman with an untarnished reputation of being the world's greatest art thief. After a priceless Rembrandt is stolen from a New York skycraper by a mysterious figure who daringly dangles from the roof by the use of hightech gadgetry, the evidence points at Mac. Insurance investigator Virginia "Gin" Baker (Catherine Zeta-Jones) convinces her boss Hector Cruz (Will Patton) that the culprit is the legendary art thief Mac and gets the green light to track him down.
But can she do that? That's the million dollar question. With Cupid shooting his arrow the plot gets thicker. But the situations are tailor-made for action and suspense. May be the high-tech gadgetry lulls the viewer at moments but director Jon Amiel does well to sustain interest right through the film. Connery, of course, is his usual suave, lisping self. What's more, he plays a Scotsman (which he is in real life) with a castle and the climax is set for the millennium and the twin towers in Kuala Lumpur. It is good exciting action but in the end it is the repartee between Connery and Zeta-Jones (remember her in Mask of Zorro?) that is its winning feature. Don't miss it.



This feature was published on July 18, 1999