Ghai uses four aces
By Madhur Mittal
SHOWMAN Subhash Ghai seems to have come up all trumps with his latest presentation — Taal. With an awesomely appealing starcast of Anil Kapoor, Aishwarya Rai and Akshaye Khanna, Ghai has garnished his magnum opus with the heart-stopping, pulsating music of A.R. Rahman. So doesn't that make it four aces up his sleeve?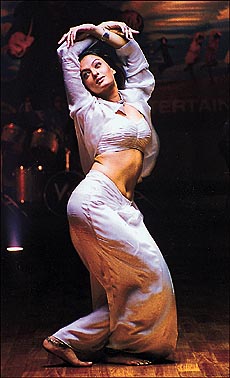 The unusual thing about the musical score is that Ghai had to sit with Rahman for nights on end (since the music whiz works best at night), and the end result is just — Wow! Even performance-wise, it's going to be tough to decide who scores.Though most people are putting their wager on Akshaye — but then he's always been the "chosen one" of the industry and the media — both Ash in her lissome diva avatar, and Anil Kapoor with his new-found success are no less!
There's this breathtaking number shot at the prestigious Skydome Stadium in Toronto, where 30 musicians from the Toronto Symphony Orchestra and more than two dozen Canadian dancers perform under the tutelage of the irrepressible Shiamak Davar. And of course, Ash's ethereally enthralling dance. So it's like show time already folks.
Sri to make a comeback
It's true, the beautiful and talented Sridevi — after a self-imposed hiatus to look after daughter Jaanvi — is all set to make a comeback in films. Not in hubby Boney Kapoor's new film — starring brother Anil and Aishwarya Rai — but in Meri Biwi Ka Jawab Nahin with 'khiladi' Akshay Kumar.
Let's wait, watch and see how Sri fares on her comeback trail. All the best Sri — you are one of a kind!
Sanjay is smiling again
After Raja a couple of years ago, Sanjay Kapoor was happy with a hit under his belt. But then, the jinx soon caught up with him like a crazy magnet. Everything was glum for the youngest Kapoor. Even marriage with long time girlfriend Maheep Sandhu, couldn't lift his sagging spirits for a long time.
And then, Sirf Tum happened. Slowly but surely, the film went on to become a hit. Though the euphoria hit the entire Kapoor household, Sanjay was still skeptical — after all failures, like successes, can leave you numb and disbelieving. But when the crowds at the theatres started growing, Sanjay was a content and happy man. "Though I still can't believe it," he says with a wry grin.
Kargil crazy
With Kargil occupying the headlines day after day, our opportunistic film-makers have rushed forward to register titles for their forthcoming ventures. And the titles, well, there's Kargil, Mission Kashmir, Kargil Se Kanyakumari Tak, Kargil Ki Kasam, Kargil Hamara Hai. At this rate the Kargil upheaval will almost be over even before the first shots of these films are canned!
Rumour has it...
... that Mamta Kulkarni is thinking of migrating to Australia. After all, it's better to be Down Under than go under heaps of court cases!
... that Kajol will continue to act in films, but only with hubby Ajay or the heroes he approves(!) of. I guess those who are not in Devgan's 'favourites' list can forget about Kajol as their co-star!