The town was once an important trade centre
By Manoj Dhiman
TODAY'S sleepy old town of Ferozepore, known more for its cantonment, was once an important trade centre.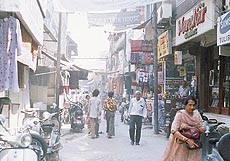 The town, which occupied pride of place in the British Empire, is today sidelined as it has lost all its commercial value with the closing of the border at Hussainiwala after Independence.
The only major thing which has happened in the last many decades is the setting up of an engineering college here recently. However, this was not always so.
Moga, Muktsar and Faridkot were earlier part of Ferozepore district that is believed to have got its name from Feroz Shah Tughlaq or a Bhatti chief, named Feroze Khan.
The Manj Rajputs say the town was named after their chief Feroze Khan, who lived in the middle of the 16th century. The principal traders were Bhabras. When the place was struck by a pestilence in 1543, traders moved to Kot Isa Khan.
The influence of the Sikhs on the region started from 1758, when they defeated Adina Beg, Mughal Governor of Lahore. Three years later, when Hari Singh, chief of Bhangi misl, captured Kasur and nearby areas, one of his sardars, Gurja (Gujar) Singh, along with his brother Nushaha Singh and his two nephews — Gurbakhsh Singh and Mastan Singh — took possession of Ferozepore. Later, Gurja (Gujar) Singh gave Ferozepore to his nephew, Gurbakhsh Singh. The Ferozepore territory then contained 37 villages.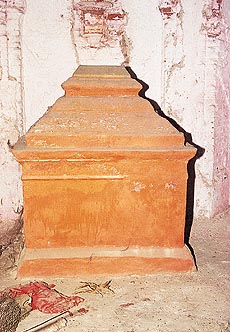 In 1792, Gurbakhsh Singh, while dividing his possessions among his four sons, gave the fort and territory of Ferozepore to his second son Dhanna Singh. In 1819, Dhanna Singh died, leaving his widow Lachman Kaur. In 1820, Lachman Kaur went for a pilgrimage to the shrines of Haridwar, Gaya and Jagannath after having placed her father-in-law, Gurbakhsh Singh, in charge of the territory.
During Lachman Kaur's pilgrimage, her husband's nephew, Baghel Singh, gained admittance to the fort under the pretext of visiting his grandfather, and occupied it.
After about three years in 1823, on her return from the pilgrimage, Lachman Kaur made an appeal to the British authorities against the occupation by Baghel Singh. Capt Ross, the Deputy Superintendent of Sikh Affairs, represented her case to the Lahore agent. Maharaja Ranjit Singh recalled Baghel Singh, and allowed Lachman Kaur to rule Ferozepore. When Lachman Kaur, who was issueless, died in December, 1835, the estate came under the possession of the British Government. In July, 1838, Chanda Singh and Jhanda Singh, the two brothers of Baghel Singh (he died in 1826), made a claim to inherit the estate. But the case was decided against them.
The economy of the town was on the decline at the time of the British annexation. In 1838, the population of Ferozepore town was 2,732. In 1841, it rose to 4,841, mainly due to efforts of Sir H. Lawrence, who built a market place towards the east of the old fort, which is now no more. The main market was also completed under his supervision.
There was a time when the town was used surrounded by a wall, which had 10 gates, namely Delhi Gate, Mori Gate, Baghdadi Gate, Zira Gate, Makhu Gate, Bansanwala Gate, Amritsari Gate, Kasuri Gate, Multani Gate and Magzini Gate, providing protection to people living inside. Five of the gates are now no more, while the existing ones — Kasuri Gate, Multani Gate, Baghdadi Gate, Makhu Gate and Amritsari Gate — are in a state of utter neglect.
Rani-ka-Taalab, named after Lachman Kaur, is now a dry tank. Situated on a campus of an educational institute, it has the samadhis of Lachman Kaur and her husband Sardar Dhanna Singh on its side.
The temple of Radha-Krishan and Lord Shiva are also situated near the samadhis.
Old records state that Moti Bazar and Hira Mandi in the town were once big markets selling pearls and diamonds, respectively. Before Partition, Hira Mandi was the abode of singing girls. Most of the town's markets and lanes do not bear any number. They are named after eminent local personalities and philanthropists. For instance, some of them are called Gali Dugglan, Mohalla Sodhian, Mohalla Baurianwala, Basti Shekhan, Basti Balochan, Hata Khuda Bakhsh, Kuchha Harnam Das and Gali Kumrianwali.
Once the town was surrounded by gardens, including Tulsi Ram Bagh, Gole Bagh, Nishat Bagh, Ram Sukh Das Bagh and Kanshi Ram Bagh. Gole Bagh was the only garden which was under the supervision of the municipality. The remaining gardens were either the property of individuals or trusts. Around 1960, these individuals and trusts started disposing of the garden land as it became difficult for them to maintain it. Gole Bagh, which was once full of fruit trees, is now used to dump garbage.
The town has a number of institutes of importance. The Arya Orphanage was set up here with the blessings of Swami Dayanand, the founder of Arya Samaj, on October 26, 1877. The Swami was invited here by Rai Sahib Mathra Das, an engineer. The institute, which has given shelter to thousands of orphans and destitute, is spread over 21 acres.
Lala Lajpat Rai, who visited the orphanage, called it "the pride of the nation". Lord C.R Attlee, a member of the Simon Commission, who visited the institute on August 17, 1928, observed: "I was most favourably impressed by the excellent work by this orphanage which is an honour to society".
Another important institute here, the Home for the Blind, was established in 1956. The institute has two buildings. The aim of the home is to educate and rehabilitate the inmates. Since its inception, hundreds of blind youth have been rehabilitated. To overcome a financial crisis, some portion of the blind home has been rented out now.
This town has a municipal library and a district library as well. The Army has opened a library, named after Dronacharya, in the cantonment area for Army personnel as well as civilians. It has over 20,000 books on every conceivable subject. Around 50,000 books are expected to be acquired within the next three years. The library also has video games, computer games, and Internet facilities.
There are three educational institutions, namely DAV College for Women, Dev Samaj College for Women and Dev Samaj College of Education for Women, exclusively for women. Two other educational institutes — RSD College and Guru Nanak College — are co-educational.
Besides, there are a number of schools, including two government schools, one each for boys and girls. Shaheed Bhagat Singh College of Engineering and Technology has been set up on the Ferozepore-Moga road. Besides, there are two industrial training institutes, one each for boys and girls, and a government polytechnic.