Ode to immortality
Celebrating 1000 years of celestial ecstasy
By Ashwini Bhatnagar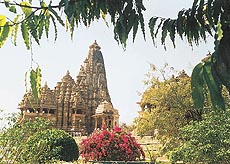 IT is a classical case of one beautiful thing leading to another. One summer night, Hemvati decided to take a dip in a pond near her house. As she bathed under the canopy of stars, her exquisite beauty caught the eye of the Moon God, who was on his daily journey across the heavens. The Moon God could not resist the charm of this young Brahmin widow and descended to earth. Hemvati submitted to the proposal of the Moon God. When the night ended, the Moon God rose to leave. He "blessed" his consort with a child who, he said, would start a dynasty of rulers who would be known not only for their valour and enlightened rule but also for their contribution to the culture and arts of Madhya Bharat. Chandratreya, the first Chandela, was born.