Question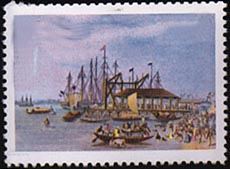 1. What is depicted in the stamp?
2. When was the stamp issued ?
3. In which denomination was it issued?
4. On what occasion was it issued?
5. How many stamps were issued on this occasion?.
6. What is the monetary unit of Palau?
7. If a stamp bears the name Klaipeda, can you tell the name of the country which has issued it?
8. What is the full form of VC in philately?
Answers
1. Custom-house, Wharf.
2. 27.12.93.
3. 200 paise.
4. Sixth India national philately exhibition held in the historic city of Calcutta.
5. Two.
6. US $ used.
7. Menel (Europe).
8. Value converted.
— NW