STD calls to be cheaper
CHANDIGARH, April 30 — STD calls to a large number of cities in Punjab, Haryana, Himachal Pradesh and parts of Uttar Pradesh, falling within a radius of 200 km from the city, will be cheaper while calling within Chandigarh and to places like SAS Nagar and Panchkula is going to be costly from tomorrow as the new telecom tariff of the TRAI comes into force.
Talks on wet dredging soon
CHANDIGARH, April 30 — The Dredging Corporation of India has been invited by the Chandigarh Administration for negotiations to start wet dredging of Sukhna Lake while the next phase of shramdan , the manual desiltation, will start on May 7.
Major dies in J&K mishap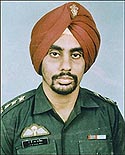 S A S NAGAR, April 30 — A young Major of the town lost his life when the vehicle in which he was travelling collided with a truck on the road between Rajouri and Sujankote last morning. Born on September 11, 1967, Major J. D. S. Dhaliwal was commissioned in the Corps of Electrical and Mechanical Engineers in 1988. He was commanding a forward field workshop attached to an infantry unit involved in counter-insurgency operations in the Rajouri sector.
Jessica murder linked to city
CHANDIGARH, April 30 — The Tata Safari that was allegedly used to murder Jessica Lal, a model in Delhi last night, has been traced to a sugar mill based based in Assandh near Karnal.
Cow kills man
CHANDIGARH, April 30 — In a rare incident of its kind a cow killed an old man in Sector 8 this morning. The old man, Balwant Singh, living in sector 8 was hit in his stomach when a cow that went beserk barged into him.
Godown catches fire
ZIRAKPUR, April 30 — A fire broke out in a godown of tent and other decoration items, here this morning.
Regular students get re-appear paper
CHANDIGARH, April 30 — Students of Panjab University taking their fourth semester examination of sociology (industrial sociology) here today got a paper meant for re-appear students. The paper was set according to the old syllabus and was meant for students taking their re-appear examination this year.
Gram Shree Mela opens
PANCHKULA, April 30 — The Gram Shree Mela, an exhibition-cum-sale of rural handicrafts and artefacts, began at the Mela Ground, Sector 9, here today.The mela is being organised by CAPART, Regional Committee, Chandigarh, in collaboration with a Gurgaon-based organisation.

A visitor checks out handicrafts in the Gram Shree Mela at the Mela Ground, Sector 9, Panchkula, on Friday. — A Tribune photograph
SSP shifted to Delhi
CHANDIGARH, April 30 — The local SSP, Mr N.S. Randhawa, has been transferred to Delhi. Meanwhile, Mr M.A.J. Farooqi, a 1979 batch Indian Police Service official of the UT cadre has been posted here in the anti-terrorist cell.
Radiographer's post lying vacant
DERA BASSI, April 30 — Patients at the local Civil Hospital are a harassed lot due to the non-availability of any radiographer, in the hospital.

Women panels 'toothless'
CHANDIGARH, April 30 — The National Federation of Indian Women has demanded that the states should establish state women commissions as autonomous bodies and that all public and private sector industries should set up complaint cells to check sexual harassment of women at work.

Housing for poor discussed
CHANDIGARH, April 30 — Mr P.C. Khanna, a former Urban Development Adviser to the Planning Commission, has called for a comprehensive housing policy for the poorer sections of society.
Congress favours different set-up
CHANDIGARH, April 30 — The President of the Chandigarh Territorial Congress Committee, Mr Venod Sharma, today advocated more say for the people in the governance of the Union Territory.
PU despatches roll numbers
CHANDIGARH, April 30 —Panjab University has despatched roll number cards of BA, B Sc and B Com for all the three years as well as BCA and BBA examinations, scheduled to commence on May 3 ( English compulsory compartment only) and May 4 (all others).