Man for all seasons
HE's back again on Star Plus with an altogether new look. Wagle Ki Nayi Duniya, as the name suggest, is about Wagle (Anjan Srivastav), his wife Radhika (Bharati Achrekar) and two sons.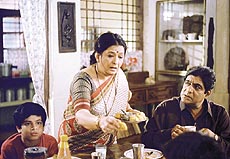 Each episode is a separate story about this middle class family and their day to day, almost mundane, yet exciting life. Anxieties, anticipation, apprehensions, appreciations, appalling incidents, ... all form a part of their small and simple world.
With all new episodes, this light-hearted, humorous serial will bring a smile on every viewer's lips. Wagle Ki Nayi Duniya is created and devised by cartoonist R.K. Laxman and directed by Kundan Shah thus guaranteeing clean entertainment for the family.
Millennium manager
In keeping with the flavour of the year, CNBC Asia has launched a search for the millennium manager.
The Indian manager 2000, a weekly show is featuring some of India's most successful CEO's in conversation with Raghav Bahl. The programme airs every Sunday from 8.00 p.m. to 8.30 p.m.
The first three episodes took an in-depth look into the mind of K.V. Kamath of ICICI, Ratikant Basu of Star TV and Jaidev Raja of Iridium. The discussion with these leading executives veers around the same topic — how will CEOs manage their companies and industries in the new millennium? What will it take to succeed in the 21st century? An absorbing programme which should not be missed by anyone who has an interest in corporate affairs.
Horse sense for all
With a relationship spanning over 4,000 years, the horse is one animal very deeply rooted in man's consciousness. Transformed into myth by ancient Greeks, displayed as symbols of power in medieval times and elevated to celebrity status in the modern-day "Sport of kings", horses are capable of inspiring awe and commanding respect in a way few other animals can.
From the graceful prance of an Andalusian stallion to the thundering galloping of prize-winning race horses, the breeds are as diverse as the tasks they have been domesticated to perform.
Animal Planet will explore the majesty of these equines throughout May with the premiers of the 13-part series Horse Tales which airs Sundays in May from 15.00 to 15.30.
Focusing on one horse in each episode, Horse Tales will ask: "What kind of horse is it? What sort of home does it have? What lies ahead for it and its owner? The answers to these questions will come from interviews, historical information and footage to form the very heart of this series, the crucial interplay between human and equine.
One for the cupid
They claim it's the first of its kind-an interactive show hosted by VJ Malaika. MTV Loveline showcases international and Indian romantic love songs airing Monday to Friday at 3 p.m.
Viewers get an opportunity to call, fax and write in with their love, dating, and relationship problems to Malaika. They are treated to several unusual segments.
There's the 'Horror Scope' a wacky horoscope; 'Love Bug' is about all the funny tips on love, romance and dating; 'Celeb Speak'; where Malaika quizzes celebrities on their views on love and romance using the video phone concept.
— Mukesh Khosla