Ravages of war and melodrama
By Ervell E. Menezes
THAT World War II continues to provide fodder for Hollywood even though it is over 50 years since it ended, is quite amazing. Steven Spielberg's Saving Private Ryan is about the landing of the Allied troops in Normandy and Terrence Malik's The Thin Red Line is about the oft-covered battle of Guadalcanal. What's more both are overlong films with graphic war footage.
We all know that with special effects and a plethora of lenses, one is able to show some gory scenes (and here Spielberg is more guilty). But does one need three hours and more to let the story sink in one's psyche? We've already dealt with Private Ryan. Based on James Jones' novel (Jones fought at Guadalcanal) it shows how the peace-loving inhabitants of the Solomon Islands, the Melanese and nature were affected by the ravages of war.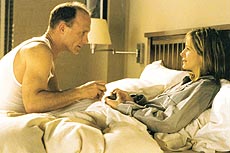 It also shows how the American soldiers involved in this war become a sort of family and they get so close that they fight for one another if not for the country. May be nationalism isn't what it used to be and this is being wise by hindsight. Of course there are an assortment of characters from Lieut Col Tall (Nick Nolte), an ageing lifer given a chance to lead a battalion to the insubordinate Capt Staros (Elias Kotias) to Pvt Bell (Ben Champlin), for whom the war is the cause of a broken marriage.
But all things considered (showing the enemy, the Japanese, only halfway through the film was clever) director Terrence Malick (he made Badlands, an excellent film) didn't have to prolong the agony. And the passing parade of actors (like in The Longest Day of big names like John Travolta, George Clooney, Woody Harrelson and others didn't help. John Toll's cinematography (he won back-to-back Oscars for Legends of the Fall and Braveheart is a compensation but then you don't go to see a film just for its cinematography, that is unless you are a cameraman.
Chris Columbus' Stepmom like the curate's egg is good in parts. It is a caustic comment on American society like Mrs Doubtfire but it gets too melodramatic towards the end. Actually Columbus received the screenplay soon after his mother died of cancer. He held it in abeyance for a while. And though it was months later that he made the film, the impact of his mother's death has a great bearing on the film.
Isabel (Julia Roberts), the future-wife and Jackie (Susan Sarandon), the ex-wife, are so dissimilar that they match the personal lives of the two actresses playing the parts. As for Luke Harrison (Ed Harris), he's like a wimp. Most of the time he is off-screen and when he is on screen, he is not always credible. It is the children, especially seven-year-old Ben (Liam Aiken), who keeps the film together with his cute comments.
"You are so self-involved you can't be a mother," Jackie tells Isabel. An ex-book editor, Jackie has given up her career to be a mother. Isabel is a fashion photographer who spends some of her spare time looking after Luke's children. Not surprisingly, she calls Jakie "the mother incarnate." That they go for each other is not unexpected. The 12-year-old daughter Anna (Jena Malone) also joins her mother in baiting the incumbent stepmom, Isabel.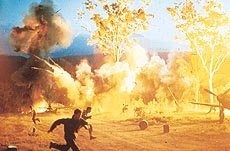 Stepmom begins promisingly but the constant sparring by the two women is overdone and Susan Saradon has too much of the dialogue. Ed Harris tries his best to make the part believable. But once the mother is struck by cancer, the film gets mushy and Hindi-filmi. In Girish Kasarawalli's Thai Saheb, the mistress and the wife get together to fight a male-dominated society. This is different. It is the usual love triangle but not as convincing. And then you have Christmas (how often does it not come in films?) and more weepy moments.
Like Mrs Doubtfire it has a strong current of pathos as it raises laughs on the surface. Though these grey areas are not always credible it is the descent into cloying sentimentality that puts paid to much of its better moments. And for all the hype that preceded the film Stepmom ends up neither here nor there, quite a disappointment.
Julia Pretty Woman Roberts (at least she's not dying in this film) fans will be glad to see her after a long absence even though she isn't half as enchanting.