Sonali is superb in Sarfarosh
By Madhur Mittal
SENSUOUS Sonali Bendre is a great looker and a convincing actress. She is popular with the masses and the leading men, both. She is definitely a "happening" heroine.........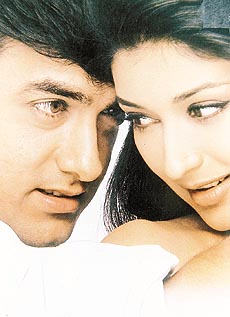 In the new, thriller of a film called Sarfarosh Sonali teams up with none other than Aamir Khan (for the very first time, if I've got my facts straight.) Even though the movie is heavily loaded with action and tilted, in favour of Aamir and Naseeruddin Shah, Bendre is beaming.
"Look, the basic story and script (by John Mathew Matthan, who also happens to be the film's producer and director) is a daring and honest look at the real reasons behind terrorism and insurgency in India. It begins in a dark forest bordering Maharashtra, moves to the awesome deserts of Rajasthan, then to the politically high avenues of New Delhi... and finally, to the sleazy underbelly of Bombay," she discloses. "In this taut and dramatic narrative, I provide all the oomph, the romantic as well as the comic content.
"Moreover," Sonali smilingly continues, "the music is a sheer delight, Jagjit Singh makes a fantastic comeback to film singing, Sarfarosh is full of excitement, twists and surprises; can you blame me for feeling so thrilled about being in such a thriller?
Lacking fizz
Wouldn't you agree that it's become rather sickening the way Bollywood stars are willingly permitting themselves to be used to endorse Cola soft drinks? I mean, leave alone the rivalry between the bottling companies... the competition amongst our actors and actresses has become even more cut - throat!
But, not surprising, really. Because I'm told that the going rate is anything between Rs 10 million to Rs 30 million per star — depending on his or her box office status! Isn't that sweet music to the ears of those chosen ones?
They probably, get more money for a 30-second ad shot than a three year feature film that is in the making. So, if the likes of Shah Rukh Khan, Kajol and Rani Mukherjee go for Pepsi, we have Aamir Khan and Twinkle Khanna opting for Coke. Then, of course, Amitabh Bachchan and Govinda are recommending Mirinda in the most inane way.
But, the ad that really takes the Cola is the one featuring Salman Khan as he leaps and sky dives to get his hands on a bottle of Thums Up Salman, has participated in an ad which, should be totally banned.
Buck up Anupam
So the rumour has turned out to be true, after all. As reported in these columns sometime back, Anupam Kher is in dire straits, indeed... and he has now come but to admit the same openly. Sad, but only too true.
"I have always been frank and honest in sharing my feelings, and this is no different," says Kher, frowning into the distance. "Let me confess that I've realised I'm no businessman — and this realisation has cost me very heavily. When I started my TV and enertainment company, I'd thought it would give deserving new artistes a prime platform to showcase their talent and come to the fore in films... and, at the same time, offer me growth in a diverse direction, enable me to extend myself.....
"But no such thing happened. Like, they say, man proposes and God disposes. I was so keen to direct a film, remember? But I'm not even thinking about it at this stage. In fact, to tell you the truth, I don't even feel like acting anymore I've done just about every kind of a role and now, a strange sort of melancholic monotony has gripped me. I hope I can get out of all this financial, professional — and personal mess, soon. Like, today, right now...!" Buck up, Anupam, you can do it.
Aye for Ash !
Looks like lissome Aishwarya Rai is determined to be the new dancing queen. She has been rehearsing real hard with famed choreographer Saroj Khan... and the astonishing results were more than obvious at a recent song picturisation on the sets of Subhash Ghai's Taal. Believe me, Ash performed the complex steps and body sculpting virtually like a seasoned pro, with eminent ease 'n' elan. Shall we say "Aye" for Ash?