By Karuna Goswamy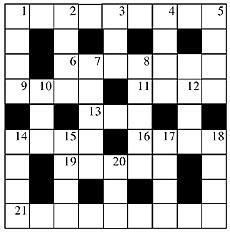 Across
1. Flowering tree of the trumpet creeper family.
6. Slip for identification.
9. The old custom of widow burning.
11. Cave-like dwelling.
13. Rome is the Papal —
14. Playful sea animal.
16. Among the greediest of birds.
19. The right side, as of a written folio.
21. Much contested territory in West Asia.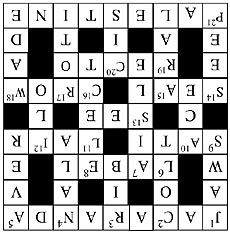 Down
1. Steven Spielberg's celebrated film on a shark.
2. Young male horse.
3. It is from this that Eve was fashioned.
4. Damayanti's suitor in the famous legend.
5. State; affirm and declare.
7. Passage between rows of seats.
8. Choose.
10. Top card.
12. Top international body concerned with labour issues (inits.)
14. Ooze; trickle.
15. Inland sea in the former USSR.
17. ------, Kapda aur Makan.
18. The English captain at Maharaja Ranjit Singh's court.
20. On this side of; not trans-