Brave in life, brave in death
By Illa Vij
AS bullets mercilessly riddled into her body, Neerja's body swayed, but she continued her duty of protecting the airline passengers. Finally her mortal body fell, but her soul rose to heights from where there can never be any fall ever again — the arms of God, the very Almighty who sent her to earth as a guardian angel of 400 passengers of the fateful flight of Pan Am. The citation by the Pan Am rightfully says: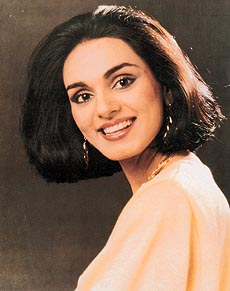 "Neerja was called upon under the most difficult conditions, at the most difficult time, to step forward in a position of leadership. And her heroic actions were, clearly responsible for the saving of hundreds of lives".
Neerja is the first and only woman recipient of the "Ashok Chakra" (India's highest civilian award for bravery). She was also awarded the "Tagme-e-Insaniyat" (Pakistan), the flight Safety Foundation Award and the Medal of Heroism of the National Society of the Sons of the American Revolution (U.S.A.). The Ashok Chakra citation states:-
"Her loyalties to the passengers of the aircraft in distress will forever be a lasting tribute to the finest qualities of the human spirit".
Neerja Bhanot was born to Harish and Rama Bhanot on September 7, 1963, in Chandigarh. She did her early schooling at the local Sacred Heart Senior Secondary School. When the family moved to Bombay, she continued her studies at Bombay Scottish and then graduated from St. Xavier's College.
Neerja grew into a sensitive, caring and compassionate being. Over and above, her inner beauty reflected on her serene, beautiful face. Following an advertisement-based, arranged marriage in March 1985, she joined her husband in the Gulf. Under the strain of dowry pressure, Neerja returned home to her parents, at Bombay, within two months. On return, Neerja signed modelling contract. Her husband dictated humiliating terms for her return to him. Neerja and her family did not comply and the marriage turned sour.
Very soon, she applied for a flight attendant's job with Pan Am. Upon selection, she went to Miami for training as a flight attendant but returned as purser.
Immensely dedicated, Neerja made a wonderful model as well as an air hostess. Never did she compromise on any of her commitments. The night prior to the fateful Pan Am flight on September 5, 1986, she had returned from a day-long shooting assignment. She was the "Senior Flight Purser" on the flight on which her intense compassion and undaunted courage was to be tested — that test which made her so very special to our country, to the world, to humanity.
At Karachi, the plane was hijacked by four heavily armed terrorists. Immediately, Neerja rushed towards the cockpit to inform the captain. A terrorist caught her by her ponytail but she managed to shout the 'hijack code'. Another flight attendant who caught the code conveyed it ahead. Unfortunately, the three-member cockpit crew of pilot, co-pilot and the flight engineer abandoned the aircraft, leaving 400 passengers and a 13-member cabin crew in the hands of brutal, thoughtless terrorists. Since Neerja was the cabin crew leader, she took over command. What followed was amazing. Neerja kept the passengers calm. Comforting them, she served coffee and sandwiches and her charming smile eased the tide of fear that had swept across their faces.
She realised that the Americans were the main target of the terrorists and in a brilliant move she discreetly collected all the American passports and hid them. There couldn't have been a better way to confuse the terrorists.
The real-life, high-tension drama continued for 17 hours! Suddenly as power began failing and the lights became very dim, terrorists began to fire blindly. Instantly, Neerja dashed to the emergency door and flung it open, letting out a cry "Get out, run!" — the words that will continue to ring in the ears of the survivors. She used all her strength to guide and push people down the chute and while shielding three children, she absorbed the onslaught of bullets into her own body. Weekend Review remarked:
"She was brave in life, brave in death. The only stewardess, to have commanded an aircraft and held the hijackers at bay, was an Indian,".
Words are not enough to describe the heroic deed performed by Neerja. In her memory, a trust has been set up by her parents with an initial corpus of Rs 36.50 lakh. The trust honours and awards those who reflect the basic features of Neerja's character:
* Do your duty, come what may.
* Never tolerate any injustice and never compromise on self-respect. For this, the trust has instituted two annual awards of Rs 1.5 lakh each.
The trust honours an airline crew member, on a worldwide basis, who acts beyond the call of duty in a difficult situation.
The other award goes to an Indian woman who has been subjected to social injustices, like dowry and desertion, which she overcomes with grit and determination and makes a success of life by helping other women in similar situations.
If it hadn't been for people like Neerja, absolutely selfless and morally strong, this world of war, strife and struggle would have given way under the weight of vices. At present we need more Neerjas to fight injustice and act courageously to make this world a better place to live in.