Being a winner makes a difference
By Nonika Singh
AT sweet sixteen when girls her age are busy weaving gossamer visions of romance, the world of stars lay at her feet. She had just been selected by the ABCL in nation wide hunt. Here she was — a trifle tentative, eyes cast downwards, toenails digging the ground — like a lost child who didn't quite know how to tackle her new-found success. But this is a dated picture, etched on my memory graph three years ago. Today with the title of Gladrags Mega Model tucked up her sleeve, Aanchal Kumar's metamorphosis is as breathtaking as her refreshing youth and innocence.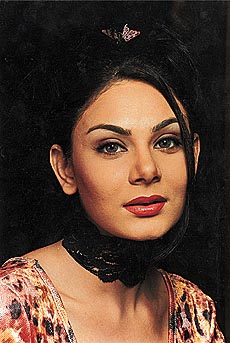 The transition from a schoolgirl from downtown Chandigarh to a young lady who wears her 'I can do it' attitude with elan is complete. Brimming with confidence at the beauty pageant held at Bombay this year, she braved a jury which read like who's who of the world of rich 'n' famous. When handsome hunk Karan Kapoor tried to flummox her by interrupting her answer, she didn't bat an eyelid. Pat came another replay. About the mandatory question-answer round which invariably throws up ludicrous queries, she wholeheartedly agrees that a lone question cannot be the barometer of one's grey matter. "Nevertheless", she adds, "It is indicative of one's alacrity and presence of mind".
And that Aanchal possesses both in abundance was evident in the popular chat show Movers and Shakers where for once the usually garrulous host Shekhar Suman allowed the celebrity guest (Aanchal) to speak her mind. But then as our queen bee remarks, "Being a winner makes all the difference". Indeed the title has paved her way to stardom. A bountiful of prestigious assignments have landed in her lap. About the dare and bare requisition of the glamour galaxy, she remarks, "Sure one cannot afford to be inhibited. However there is a thin demarcation line between vulgarity and sensuality. While a woman can look stunning in a bikini, she can send out lewd signals even while draped in yards and yards of fabric".
She observes that so far she hasn't encountered the much talked-about flip side of this glamorous world with beautiful men and women. Caught in a piquant situation she would exercise her discerning power which is steeped in middle class values imbibed from her father with whom she shares a very special relationship. Already the lissome beauty has learnt to cope with mad bad Mumbai where she is living with her two sisters.
From Mumbai to Bollywood! The next logical stopover for her is bound to be tinseltown. Though Aanchal was first discovered as an actress, her career in films was nipped in the bud. As ABCL sank, so did her filmi graph. With the title behind her, offers are trickling in — even Yash Chopra has sent feelers but laced with a contract. Small screen hasn't beckoned her. Not as yet, that is. However, she has acted in several musical videos with top-line singers like Udit Narayan and Harbhajan Mann. Plus, she is busy reaping the benefits of being a frontrunner model. For the diet coke ad, she collected a cool Rs 1.25 lakh, all of which found its way to a bank deposit. This money smart girl doesn't believe in blowing up her hard earned money.
But then she has three elder sisters to spoil her silly. Thanks to her eldest sister who happens to be an air hostess with an international airlines, Aanchal's wardrobe boasts of an enviable collection of clothes teamed up with world's best accessories. She herself too has been flitting around the globe. Recently she went to Germany to participate in an intercontinental contest. The title eluded her (she was amongst the last five) but the experience of rubbing shoulders with a bevy of international beauties was truly exhilarating, she says. Besides, she got a chance to model for a renowned company which has on its list clients like Naomi Campbell.
Back home she is basking in the limelight, appearing in celebrity shows as the 'hallowed' guest. As a kid Aanchal was obsessed with her good looks, but as of now she is revelling in all the attention that is coming her way. And from men too! You bet. Mr Right still hasn't crossed her path. So all you six-footers possessing the lethal combination of passion and humour, hold your hearts. The charming Scorpion-Libra cusp's heart is unattached. The lovely lady happens to be single and footloose.