An out-and-out Suman show
HERE'S Shekhar Suman playing his real life role — that of a superstar. Main every Monday on Star Plus is a psychoanalytical look at a superstar and how he deals with success and failure.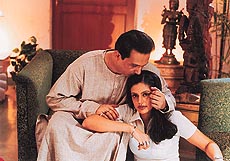 Shekhar Suman as Shekhar Suman — the superstar — is riding high on crest of success. In his star-trek to the top, he uses and abuses friends and family. His mother is disillusioned with him and his estranged wife resigned to her fate.
But then the Gods conspire and the superstar has a great big fall. Suman realises that the only friend he has left is his make-up man (Vikram Gokhale). Suddenly there's a unique bond that strengthens the already existing affection between the two.
Through his journey of repentance he starts making amends to people whom he neglected, used, exploited, cheated in his quest for stardom. While he takes this introspective journey he is plagued by fears, insecurities and finds himself alone.
Considering the amount of serials he's acting in it is surprising how the small screen superstar has drawn that extra ounce of energy to turn out an excellent performance in Main. An out-and-out Shekhar Suman show.
Sudden death
Jaane Bhi Do Paaro, Nehle Pe Dehla and now Pati Patni Aur Saleji. Cinevista, the production house for all these serials, sure is taking comedy seriously.
Pati Patni Aur Saleji coming soon on Doordarshan is the story of a couple, their two children and the wife's brother (saleji) all staying under one roof. Everytime the saleji tries to help his jeejaji he creates an utter mess.
Though in normal circumstances the serial would have passed off as a run-of-the-mill comedy, the untimely death of Jatin Kanakia who plays the lead role of jeejaji makes Pati Patni Aur Saleji special and heart-breaking.
Watch it as a tribute to one of the most refined comedy stars who made a mark for himself on the small screen in such a short span.
Who will win and why
As India goes to polls once again, the Star News Channel is once again all ready with its programmes, from the start of the campaign until the time the new Prime Minister is sworn in.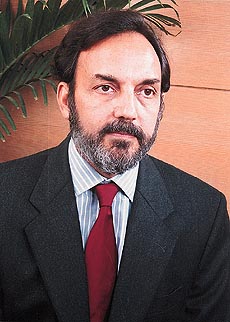 Watch Prannoy Roy in Battleground — the channel's flagship poll programme, which gives an analysis of who will win and why.
Based on opinion polls in the major states and Union Territories, each episode of Battleground will focus on one or two states, analyse the main issues, report on the opinion poll and end with a forecast of the results for every individual state.
However, the plans have received a setback with the ban on exit polls between September 5 and October 3. Known around the world to be the most accurate form of election forecasting, the viewers will not now have a chance of knowing the results before they are out partly taking the zing out of election coverage.
Legend on wheels
In 1901 two friends in Wisconsin (US) attached a motor engine to add speed to their bicycle. They could have never imagined that their product would revolutionise the world. William Harley and Arthur Davidson are credited with creating the largest motorcycle production company in the world.
Discovery Channel jumps on the seat of the celebrated bikes in Motorcycles — Born To Be Wild which premieres on September 26.
The programme profiles the legendary Harley-Davidson motorbikes — sleek, innovative and powerful machines that have cruised through war and peace. Harley Davidson owners gathered by the tens of thousands in 1998 to celebrate the 95th anniversary of the bike.
Join in the celebration and also in it the battlefields of World War I, where the United States forces utilized the Harley Davidson's mobility and speed to astounding effects. Experience the thrill of Marlon Brando's performance in The Wild Ones and meet some proud Harley Davidson owner.
Actor Peter Founda narrates the programme, which is highlighted with rare photos and archival footage as the early years of motorcycling are resurrected and traced till present times. An engagingly engrossing programme for every speedhog.
Rollicking comedy
If you thought television was all mindless programming which passes for entertainment, here's a show which will change your opinion.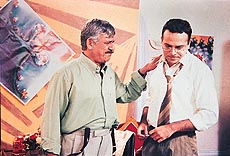 Gubbare every Friday on Zee is a sitcom which boasts of some of the top film personalities associated with light hearted films. Gulzar has penned the lyrics and music is by Vishal.
The serial with a new story every week includes a wellknown comedy star cast. Devan Verma acts the role of a 'dead body' in the episode titled Chandan Ki Chita. In Hajamat Saurabh Shukla plays a petty conman and bald barber who sports a wig. In Piya Ka Ghar, Kiron Kher is a woman wed in a family of wierdos. And in Maaji Paheeli Chori Sadashiv Amrapurkar, a pious villager, is forced by rollicking circumstances to become a thief.
Professor in trouble
When the star cast comprises Ashok Saraf, Raakhee Tandon and Priya Tendulkar, can comedy be far behind? The trio have proved their flair for humour in Hum Paanch. Now they are upto their tricks again in Professor Pyarelal.
The serial on Zee every Thursdays at 8 p.m. is a take-off on the Nutty Professor theme. Except, that here the professor is not just nutty but also suffers critical memory lapses.
His life is further complicated by a stern wife, an irrepressible daughter and a love-lorn son. Comedy is purely situational revolving around the professor's amnesiatic condition.
Week after week, the series comes up with a whacky new storyline about the corny adventures of the clueless professor. Suspend reason. This is laughtime for the entire family.
— Mukesh Khosla