From China with flavour
By Harkiran Sodhi
INDIA is a country with a very varied cuisine of its own, yet there are many different types of food from all over the world which have not only made a place for themselves but are as popular as our own food.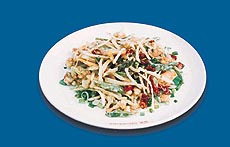 Chinese food can be tasted in all its different Indianised variations in almost every part of India. Undoubtedly, it is often very different to the authentic cuisine that is found in China, but it does have some likeness to the original food style often. The bigger restaurants and hotels try to keep their Chinese food as near the original as possible but the smaller eating places try to keep the tastes and palate of the masses in mind and do tend to give the food a distinctly Indian touch. Cooking authentic Chinese food is not really very difficult. You do need though to use certain ingredients that are specified in the recipe rather than an alternative as far as possible, as these are what give the food that special flavour.
Apart from this there are a few cooking terms that are unique to the Chinese region and need to be understood before trying to cook the food. There is much more to Chinese food than we often give thought to. More often than not it is the, sweet corn soup, spring rolls, chopsuey and chilly chicken that rule the taste buds of the Indian palate but believe it or not Chinese food is almost as varied as our Indian food is. They also have different flavours and cooking from province to province and area to area.
Broadly speaking, there are four main schools of Chinese cuisine: Cantonese, Huaiyang, Szechuan, and Peking. Each of these regions has its own food styles and specialities which depend a lot on the climate of the place as well as the availability of produce grown locally. Cantonese cooking has a lot of fish and seafood, which is all easily available locally. Crispy pork and stuffed vegetables often using shellfish for the filling are popular Cantonese style dishes. Huaiyang has many steamed dishes among which are the famous Chinese dumplings. Most of the noodle recipes which have that special subtle flavouring are also from the area near the bank of the Yangtze river while the duck dishes are all from Nanking area.
The food from the Szechuan area is spicy and full of rich flavours. The dishes from this area are characteristically spicy and tend to use a lot of chilly peppers, hot chilly oil or their special hot pepper oil or Szechuan peppercorns. Peking cuisine is possibly the most varied of the four schools.
Chefs from all over China brought their specialities to the Capital making it the culinary centre of China, where the food had flavours from all over China represented here as well as their own speciality dishes. Peking duck is one famous dish of this region as is the Mongolian Hot Pot. Many of the Chinese sweet and sour recipes originate from this province.
In Chinese cooking, the emphasis is on the preparation of food rather than the cooking itself. A lot of time and effort is put into the initial preparation process which is what puts many people off from trying to cook Chinese food at home. The point to remember is that, undoubtedly, the preparation time is long and the method tedious but the time is far shorter in the actual cooking process, and this takes to a total cooking time that is comparable with any other type of food.
A lot of emphasis is put on chopping the vegetables and meat correctly. All the ingredients should be cut in a similar size. This is done to ensure that they will all cook evenly when put together in the end. Vegetables in Chinese cooking should be sliced straight or diagonally or shredded or diced. Meat should preferably be cut across the grain as this helps tenderise it. Normally, it is either diced or shredded.
If you want to slice a vegetable diagonally hold the knife at a 45-degree angle to the vegetable to be cut with the blade pointing away from you. To shred a vegetable, cut it into diagonal strips and then into thin strips.
If you have been asked to dice then simply cut the food into 1 cm or ½ inch cubes.
Among the cooking methods used in Chinese cooking, frying, steaming and braising are the most common. When a recipe asks you to stir fry, this means that you have to use a little oil and constantly stir the food over high heat till it is cooked which often does not take more than a few minutes. Stir-frying is perhaps the most common Chinese cooking method. This method ensures that the food is cooked quickly whereby the flavours are all sealed in very effectively. A Chinese wok (which is very much like our local kadai) is best used for stir-frying.
Steaming is usually traditionally done in bamboo steamers. These traditional Chinese steamers are made in a variety of sizes that fit inside a wok or over a saucepan. They have a bamboo lid that has been designed so that the steam can pass through the tiny holes in the bamboo to cook the food. The food is first placed in a heat resistant plate that is placed on the perforated base of the steamer. Metal steamers are also available and can be easily used on top of a saucepan instead of the bamboo steamers. Red braising is a unique Chinese style of cooking in which the food is cooked in a mixture of soy sauce, water and sugar, with ginger, spring onions and cooking sherry till it is done. Typically, the food has a reddish colour and, hence, the name.
Bamboo shoots are a typical Chinese ingredient in many recipes, which gives the food a delicious flavour. Often canned or dried bamboo shoots can be used when there is no other option, though it is important to soak the dried bamboo shoots before use. Typical Chinese noodles are transparent noodles, which are often called cellophane noodles as well. These should also be soaked in hot water for five to seven minutes before use. Rice stick noodles are long noodle sticks, which are made from rice flour and do not require any soaking before use.
Often a recipe calls for what they call "Five-spice powder". This is a mixture of five spices-anise pepper, star anise, cinnamon, cloves, and fennel seeds. This is very pungent and should be used sparingly. Hoisin Sauce is a thick brownish red sauce with a soy sauce base. It is used during the cooking to flavour dishes. Seasame seed oil is a nutty flavoured oil used in very small quantities often at the end of cooking.
Chinese dishes can be tasty to eat and fun to make if you happen to know all the terms and ingredients that the recipe asks for as well as know what to substitute them with, if necessary.