A weighty problem
By Madhur Mittal
SUCCESS, they say, goes to one's head first and later settles down somewhere in the belly area. But in Akshaye Khanna's case, there's been no such success except media euphoria and Border, yet the guy is showing all the signs of prosperity. It's incredible, how from a boyish, charming young lad, Akshoo's transformed into a mature man, who looks much older than his 25 years.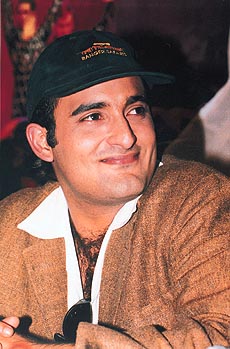 First, it was the receding hairline, then the beer belly and now the flab seems to have acquired a will of its own, setting down wherever it can.
Not done, not done. Especially in a profession where your assets are a sexy body and a sensational talent-strictly in that order. So, Akshoo baba, take a leaf out of papa Vinod's book and get back to your terrific, trim self. You won't regret it. I promise!
And Rani's too
Another one to join the weight-wagon is Rani. Everytime she appears on T.V she seems to have added a couple of kilos — and all in the wrong places too. For starters, Rani Mukherjee is short, then her entire frame is square (and that includes her face) and to top it all she is putting on so much weight.
In reality, she's a lovely looking woman with tons of talent. All she has to do is shed all those ugly pounds and we will have a stunner who can silence all her detractors.
Preity act
She wowed the audiences with her cameo in Dil Se, then she zapped the viewers with her sensuality in Soldier and now Preity Zinta is all set to shock everybody with her stark performance in Tanuja Chandra's (remember Dushman?) Sangarsh.
Hey, the girl has come up with such an amazing act — in an intense film — that it's going to make everybody sit up and go gaga/wah-wah!
For appearances sake!
First, it was Salman Khan, then Anil Kapoor and now it's Sunny Deol's turn to opt for the magic and moolah of special/guest/friendly appearances. For starters, the Punju guy is appearing in Deepak Shivdasani's Yeh Raaste Hain Pyaar Ke, which already has on the marquee Ajay Devgan, Madhuri Dixit and Karisma Kapoor.
Funnily enough, all these stars insist that they are doing such miniscule roles as "a favor for a dear friend" but it seems that the reasons are absolutely material. After all, when did you hear of stars doling out favors or having so many dear friends?! Like they say — and wisely so — appearances can be deceptive!
A promise from Yash
Yash Chopra's Mohabbatein promises to be a multi-starrer in the true, magnificent style one has always associated with the Yash Raj banner. Even at the time of writing Amitabh Bachchan, Shah Rukh Khan, Aishwarya Rai — Jimmy Shergill and newcomers Uday Chopra (Yash's other son and Aditya's brother) Shamita and Preeti had already signed on the dotted line. Talks are on, to rope in Sridevi to play Bachchan's wife otherwise Yash will approach "another beautiful actress of yesteryear" for the role.
The film that will span three generations promises to rekindle the memories of Kabhie Kabhie. One hopes for everyone's sake it does, for movies like that come but once in a lifetime and a repeat performance, if not entirely improbable, is going to be very tough especially with the spectre of Yash's last star-spangled Vijay looming large!