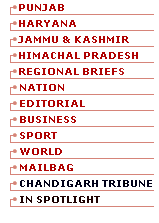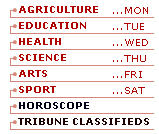 Sunday, January 2, 2000, Chandigarh, India

Pak engineered hijacking
India may move SAARC
NEW DELHI, Jan 1 — India today held Pakistan responsible for engineering the hijacking of the Indian Airline Airbus IC-814 from Kathmandu to Delhi on December 24.
Steps to tighten security at airports: PM

No whereabouts of hijackers
| | |
| --- | --- |
| After almost one week in Afghanistan, an empty Indian Airlines plane that was hijacked by militants takes off for India in Kandahar on Saturday. — AP/PTI photo | |
Bomb scare delayed return of IA plane
MUMBAI, Jan 1 — An engine snag and later a bomb scare delayed the arrival of the hijacked Indian Airlines A-300 aircraft from Kandahar to Delhi this morning.
Plane 'didn't carry body'
Hostages celebrate homecoming
NEW DELHI, Jan 1 — For the freed hostages, it was yet another sleepless night yesterday. But for a different reason.
Millennium sunrise eludes Katchal island
KATCHAL (Andaman & Nicobar Islands), Jan 1 — There is probably nothing more calming than watching the sunrise. For the few hundred persons aboard the 'Swarj Dweep' it was a moment they had risen early for.
India overcomes Y2K hurdle
NEW DELHI, Jan 1 — There was a smooth roll over to the new millennium and no glitches were experienced due to Y2K in 11 critical sectors, including defence, power, aviation and telecommunications, the Union Information Technology Ministry said here today.
Subversives carve out new routes
JAMMU, Jan 1 — Troops today foiled a plan to storm a brigade headquarters in Surankot area of Poonch by killing two "fidayeen" volunteers (members of suicide squads).
MPs bare plans for year 2000
AS calendars and planners are replaced and fresh resolutions are pledged to ring in the New Year — this time 2000 — The Tribune takes a look at the agenda of the elected representatives of our region. Most parliamentarians we spoke to said there was nothing special about the year 2000.
CAST YOUR VOTE
Did India do the right thing by exchanging militants for hostages?
IN PASSING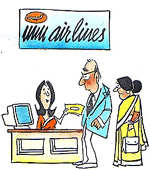 Sir, these are your air-tickets. Departure time, is 0016 hours, arrival time God knows.
by Sandeep Joshi