Sunday, January 2, 2000,
Chandigarh, India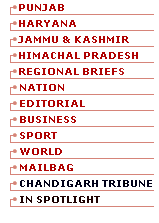 M A I N N E W S
Millennium sunrise eludes Katchal island
From Gautam Singh
KATCHAL (Andaman & Nicobar Islands), Jan 1 — There is probably nothing more calming than watching the sunrise. For the few hundred persons aboard the 'Swarj Dweep' it was a moment they had risen early for. And though the chanting of Sanskrit shlokas and the dull throbbing of the ship's engines resounded in one's ears, it could not distract from the sight the canvas of the eastern skies turning from a dull grey to myriad shades of orange and red.
In that quiet passage of time, as the clock crawled towards 5.29 a.m., each one was aware of the uniqueness of the moment. Though the clouds tantalisingly denied us the first rays, one could not help but acknowledge the silent power of the greatest life force on our planet as it slowly cast its warm glow on this very special day.
It was 0000 hours at Greenwich as the sun rose making this little island called Katchal in the central group of the Nicobar Islands situated at 8° latitude and 93.09° longitude the first landmass on the globe to receive first sunrays of the year 2000. For the voyagers on this ship and many others present in the waters and on the Katchal Island, it was an occasion to participate in a very special moment that happens but once in a thousand years — the dawning of a new millennium. And though they were denied the first rays of the sun, for most the disappointment was trivial compared to their just being there, "I'm very happy to be here, even though we were not lucky enough to get the first rays of the sun" said 72-year-old Dilip Pal from Calcutta who had planned to be in the middle of the ocean at the turn of the century.