Sunday, February 27, 2000,
Chandigarh, India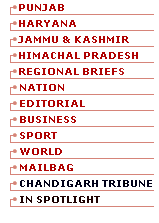 S P O T L I G H T
Punjab Mail fire: sabotage ruled out
NAGPUR, Feb 26 (PTI) — The railway police has ruled out any act of sabotage in the fire that engulfed six coaches of the Punjab Mail on February 19 near Bhusawal, killing 18 passengers and injuring 20 others. "Short circuit could possibly be the reason as the train compartment is made of combustible material", Mr S. Chakravarty, Special Inspector-General of Police, Railways, who conducted an on-the-spot investigation into the mishap, told reporters yesterday.
TDP man killed
HYDERABAD, Feb 26 (PTI) — A Telugu Desam Party (TDP) leader was killed in a bomb attack by rivals, allegedly belonging to the Congress, at Yadavalli village in Andhra Pradesh's Prakasam district today, the police said.V. Obdula Reddy, who is also the branch Postmaster, had gone to the village outskirts to attend nature's call when Congress worker Chinna Reddy and some others allegedly hurled three country-made bombs at him. Reddy died on the spot.
Cyclone kills 29
HARARE, Feb 26 (DPA) — The toll in Zimbabwe from cyclone Eline today rose to 29 as rain continued to fall over the stricken east and south of the country. The police said most of the deaths were of people washed away, including an entire family of seven in the south-eastern village of Cashel, as rivers continued to burst their banks.