Monday, February 28, 2000,
Chandigarh, India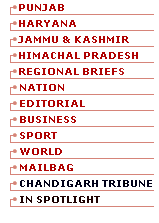 M A I N N E W S
SGPC chief ends 'retreat' today
Tribune News Service
AMRITSAR, Feb 27 — Bibi Jagir Kaur, President, SGPC, will pay obeisance at the Golden Temple and Akal Takht tomorrow after 24-day 'ekantwas' (retreat), according to Mr G.S. Bachan, Secretary, SGPC.
The SGPC offices remained open today to make arrangements for the proposed visit. The Bibi had attended office on January 26, a day after her excommunication.
The SGPC had deployed its task force in the Golden Temple complex today. Members of the task force headed by Capt Channan Singh (retd) were seen persuading Baba Mangal Singh Satlani, acting President, Sant Samaj, not to address a press conference in the Golden Temple or at Akal Takht where "paths" of Sukhmani Sahib were being performed.
Meanwhile, Baba Mangal Singh of the Sant Samaj and a close associate of Giani Puran Singh, when contacted, claimed that the latter had not received any letter from Bibi Jagir Kaur requesting for an appointment with the Jathedar at Akal Takht.
According to Sikh tenets, a written request is necessary if an ex-communicated Sikh wants to appear before Akal Takht.