Monday, February 28, 2000,
Chandigarh, India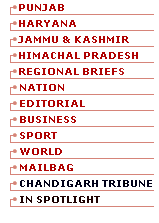 S P O T L I G H T
BJP legislator dead
LUCKNOW, Feb 27 (PTI) — BJP legislator from Soron Assembly seat in Uttar Pradesh's Etah district Onkar Singh died here yesterday after protracted illness, a party spokesman said today. He was 45. Chief Minister Ram Prakash Gupta and state BJP chief Om Prakash Singh have expressed deep sorrow at his death.
M'rashtra quake
NEW DELHI, Feb 27 (UNI) — Parts of Maharashtra today experienced and earthquake of slight intensity measuring 2.8 on the Richter scale. According to the India Meteorological Department here. The tremor occurred at 2.42 p.m. and its epicentre was located at 16.9° north latitude and 73.8° east longitude. No damage was reported.
UF stakes claim in Manipur
IMPHAL, Feb 27 (UNI) — The ruling United Front today formally staked its claim to form a government in Manipur to Governor Ved Marwah submitting a list of 36 MLAs. Chief Minister W. Nipamacha Singh, who is also the president of Manipur State Congress Party (MSCP), the major partner in the United Front, told a press conference today that the front already had a strength of 28 and had managed to muster the support of six MLAs each of the Manipur Peoples Party (MPP) and Nationalist Congress Party (NCP) besides one MLA of the Rashtriya Janata Dal (RJD) and an independent.