Sunday, March 19, 2000,
Chandigarh, India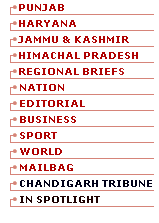 S P O T L I G H T
SAARC meeting from March 23
HYDERABAD, March 18 (UNI) — A three-day SAARC meeting on management of competitiveness in South Asia will be held in Pune from March 23. SAARC Secretary-General Nihal Rodriso will inaugurate the meeting, whose theme is "Competitive advantage of South Asia : opportunities and challenges for management development". Over 200 registered delegates from seven South Asian countries and Canada, France, the UK and Fiji islands will participate.
Volunteers held
CHENNAI, March 18 (UNI) — Hundreds of Pattali Makkal Katchi (PMK) volunteers were arrested for burning the effigy of Tamizhaga Rajiv Congress President and former Union Vazhapadi K. Ramamurthy in different parts of Tamil Nadu today. According to information received at the police headquarters here, 15 volunteers were arrested in Tiruvanamalai, 12 each in Mettupalayam and Tuticorin, 11 in Thanjavur and 10 each in Salem, Cuddalore and Pudukkottai.
Mass suicide by 230
KAMPALA, March 18 (Reuters) — Up to 230 members of a Ugandan doomsday cult have set themselves ablaze, the police said today, taking their lives in the world's second biggest ritual mass suicide. Followers of the obscure "Ten Commandments of God" sect gathered in a church 320 km southwest of the capital Kampala yesterday, a police spokesman told Reuters.