Tuesday, March 21, 2000,
Chandigarh, India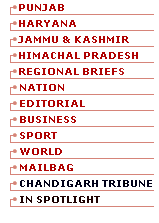 C H A N D I G A R H
Holi celebrated with traditional fervour
CHANDIGARH, March 20 (PTI) — Holi, the festival of colours, was celebrated with traditional fervour in Punjab, Haryana and Chandigarh union territory today, reports here said.
People greeted each other on the occasion by applying 'gulal' and splashing colour. Youngsters went around the city, throwing coloured water filled balloons on the passersby. Sweets were also exchanged on the occasion.
Police had made tight security arrangements on the occasion by deploying additional force at major traffic intersections, residential areas and markets.
Chandigarh traffic police had set up special nakas to warn and challan violators of traffic rules. Those warned and challaned included for triple riding on two wheelers and driving without helmets and overloading cars.
Official sources said that no untoward incident had been reported from any place in the region. Reports of celebrations had come in from a number of places, including Ambala, Hisar, Sonepat and Rohtak in Haryana and Patiala, Ludhiana and Moga in Punjab.














I helped Home Secretary take bribes, confesses Goel
March 20, 2000
Official tortured for 'knowing misdeeds of top UT officers'
March 19, 2000
Tonnes of coal dumped at railway station
March 18, 2000
UT Home Secy N.K. Jain goes on long leave
March 17, 2000
The stage is set for panchayat poll
March 16, 2000
IAF gadget not used for 15 years
March 15, 2000
Who received kickbacks?
March 14, 2000
Excise policy for Chandigarh after March 14
March 13, 2000
Crores of rupees fail to check slums
March 12, 2000
Petrol costlier by Rs 1.75 a litre in city from today
March 11, 2000
Servant kills lady of house; caught
March 10, 2000