Tuesday, March 21, 2000,
Chandigarh, India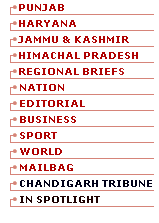 S P O T L I G H T
Koirala appointed Nepal PM
KATHMANDU, March 20 (AFP) — Nepal's King Birendra today appointed Mr Girija Prasad Koirala, the country's new Prime Minister, the palace announced in a statement. Mr Koirala was elected on Saturday by a majority ruling Nepali Congress (NC) lawmakers to head their parliamentary group, automatically making him the successor to the former Prime Minister Krishna Prasad Bhattarai. Mr Koirala will be officially sworn on Wednesday, when he also plans to make his initial cabinet appointments, sources close to the prime minister's office said.
President rule sought in Pondy
CHENNAI, Mar 20 (PTI) — BJP's Tamil Nadu unit today called for imposition of the President's rule in Pondicherry, saying the new coalition government to be headed by the congress in the union territory might not survive for long. In a statement here, BJP State General Secretary I. Ganesan said TMC's decision to support the congress to form the government was against the 'wishes' of the people of Pondicherry who had voted for the DMK-TMC-CPI combine in the 1996 state elections.