Friday, April 7, 2000,
Chandigarh, India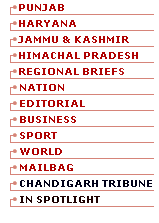 C A L E N D A R
Friday, April 7, 2000
Vikrama Samvat
2057
Chaitra
25
Shaka Samvat
1922
Chaitra
18
Hijri
1421
Moharram
1
Chaitra Shukla Paksha Triteeya up to 5.23 p.m.
The third lunar day of the bright half of Chaitra.
Bharani Nakshatra up to 11.36 a.m.
The Moon enters Taurus at 5.05 p.m.
Beginning of Bhadra at 4.10 a.m. (April 8).
Gangauri fair (Rajasthan)
Matsya Jayanti
Hijri New Year Day.
Vishva Swasthya Divas (World Health Day)
Third Navaratra.