Friday, April 7, 2000,
Chandigarh, India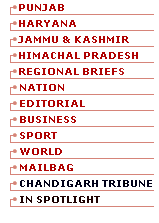 S P O T L I G H T
Kashmiri militants reject talks offer
SRINAGAR, April 6 (PTI) — Militant outfits operating in Jammu and Kashmir today demanded withdrawal of the Army from the state and release of all detainees to facilitate peace talks with the Centre. ''Before initiation of a dialogue, the government should create a conducive atmosphere for talks which could be the issue of autonomy but within the framework of the Constitution", a spokesman of the Hizbul Mujahideen said. "Without involving Pakistan, India and representatives of Kashmiris, every effort aimed at resolving the issue is not only a futile exercise but would not be acceptable to the people of Kashmir," the spokesman added.
Notices to Laloo, Rabri
PATNA, April 6 (PTI) — Close on the heels of being charge-sheeted in a disproportionate assets case, fresh demand notices of Rs 18 lakh have been slapped on beleaguered RJD President Laloo Prasad Yadav and his wife Chief Minister Rabri Devi by the Income Tax authorities. Mr Jagdish Jha, Income Tax Director (Investigation), said today the department had issued a notice to Mr Yadav, now in judicial custody in connection with the DA case.
Lashkar man shot
HYDERABAD, April 6 (UNI) — Azam Ghauri, commander of a Pakistan-supported fundamentalist outfit, the Lashkar-e-Taiba, was shot dead in an encounter with a special police party at Jagitial in Karimnagar district of Andhra Pradesh this evening. According to Superintendent of Police Nalin Prabhat, the encounter took place when the special police party was checking vehicles following a tip-off. Ghauri, who was travelling in a vehicle, opened fire on the police party which returned fire, killing him.