Friday, April 14, 2000,
Chandigarh, India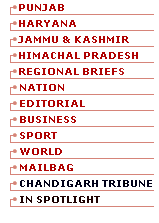 S P O T L I G H T
Shourie among 50 Press heroes
NEW DELHI, April 13 (PTI) — Minister of State for Planning and Programme Implementation Arun Shourie, known for a string of exposes during his stint in The Indian Express, has been chosen among the 50 "world Press freedom heroes" by the International Press Institute (IPI), the global network of editors and media executives. The selection was made from a long list of journalists who have made a significant contribution to the defence and promotion of press freedom in their country or on a global basis over a period of time in the past 50 years, IPI said in a press note.
Samjhauta Express
NEW DELHI, April 13 (UNI) - Indian and Pakistani officials will meet tomorrow at Zero Point on the Waghah border to sort out problems relating to running of the Samjhauta Express, the only rail link between the two countries. A five-member team comprising officials of the Indian Railways headed by Executive Director (Coaching) M.N.Chopra will discuss the issue with Pakistani officials.
Maoists kill 7
KATHMANDU, April 13 (AFP) — At least seven persons were killed and five others seriously injured by a boobytrap mine laid by Maoist rebels, police sources said today. Six policemen and a helper were killed yesterday in southwest Nepal when their vehicle drove over a mine laid under the road, the sources said.
250 feared drowned
SYDNEY, April 13 (Reuters) — More than 250 suspected illegal immigrants, including women and children, were feared drowned after three boats went missing between Indonesia and Australia in the past month, immigration officials said today. Australia's Immigration Department said the largest boat, carrying many family groups from Iraq and Iran, left Java in a storm on March 25 for Christmas island, a common stop for boat people bound for Australia.
56 die as ship sinks
ZEMBOANGA CITY (Philippines), April 13 (DPA) — At least 56 persons were killed and more than 100 others went missing after an inter-island passenger vessel sank off the coast of a strife-torn island in the southern Philippines, officials said today. The wooden-hulled motor launch Anahada sank last night off the coast of Indanan town, Sulu province, 1,000 km South of Manila, after tilting on the left side, according to the Coast Guard.